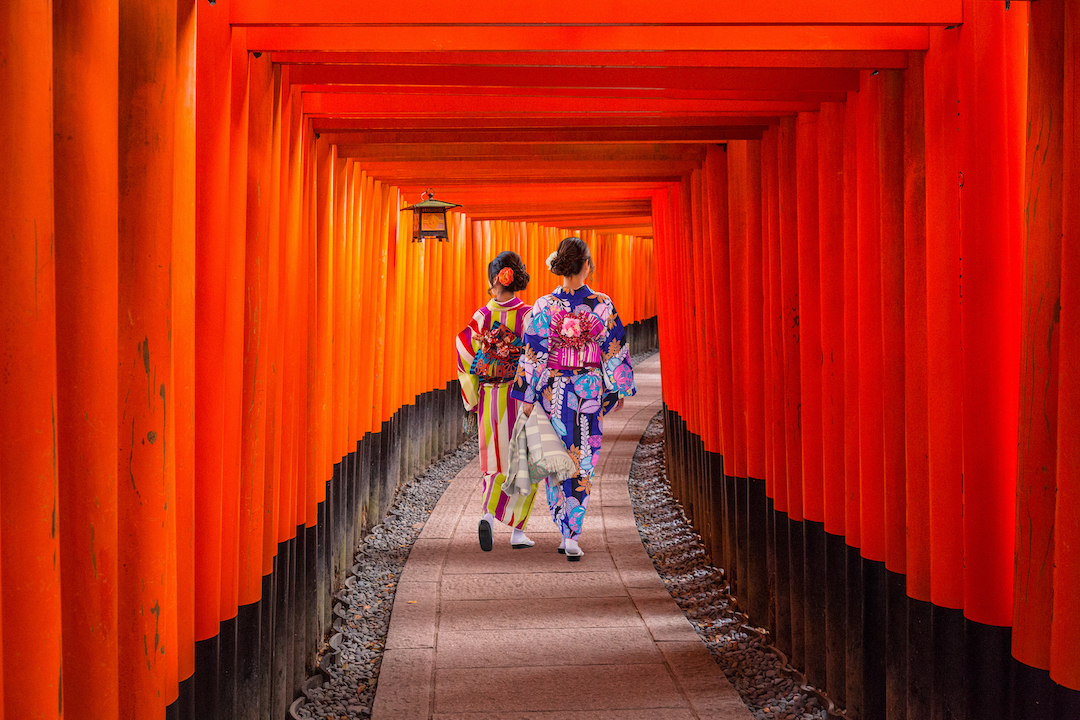 Memoirs of Meeting A Geisha – why Kyoto is still the cultural capital of Japan
Tokyo is the home of the Olympics but Kyoto, the former Imperial capital, boasts geisha, samurai and karaoke which makes it the perfect cruise destination
She looked like she'd stepped straight out of the pages of Arthur Golden's award-winning novel. With her white face, crimson lips, Nihongami bun, and violet antique kimono, Tomi-Tae was the double of Chiyo Sakamoto, the heroine of the historical best-seller, Memoirs of a Geisha.
But while Golden's geisha was a work of fiction, this exotic apprentice was standing in front of me, waiting to perform in a traditional okiya house in Gion, the geisha district of the former imperial capital of Japan, Kyoto.
The maiko – a geisha in training, literally translated as 'dance child' – bowed so low that the flowers pinned into her hair fluttered, trying to escape her elaborate hairstyle. Then she knelt down, careful not to sit on her obi sash, which was tied around her kimono and hung down to her ankles, and began to play a koto – a traditional string instrument.
Sad, lilting notes filled the small room, conjuring up images of the water of the Kamo River rushing through the city, and Tomi-Tae and her friends hurrying along the narrow streets of Gion on their high-heeled okobo. The song ended, and the mood changed as the maiko performed a mesmerising dance – her hands creating stories of their own, while her body rocked gently, like one of the fragrant cherry blossom trees outside swaying in the wind.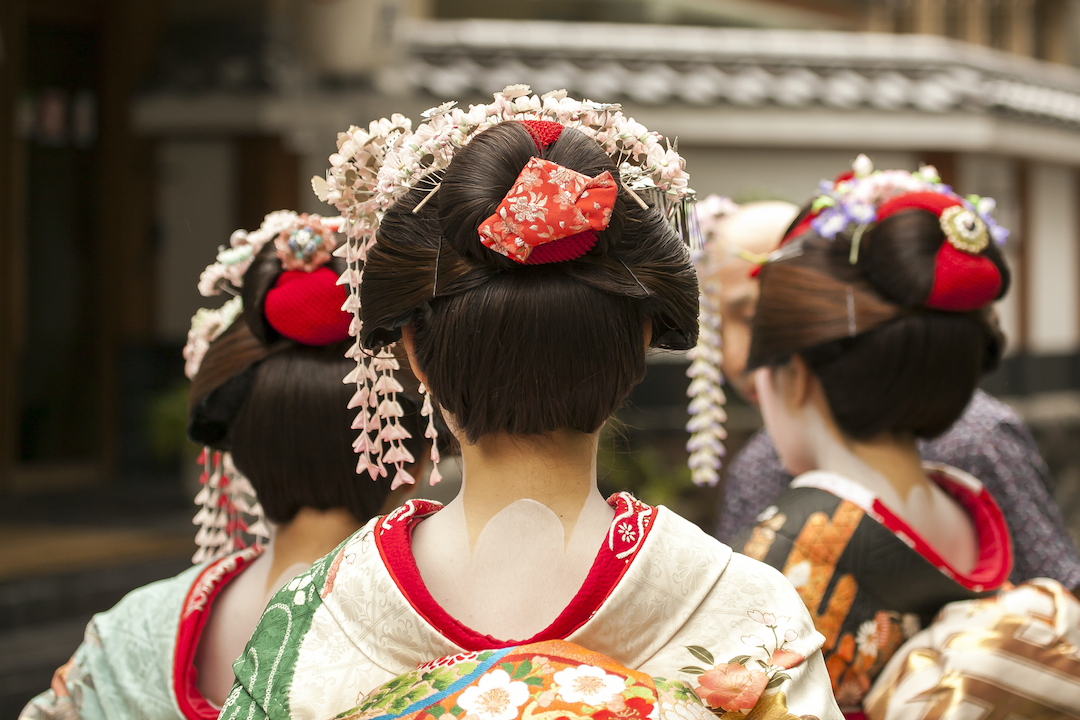 The nape of the neck is considered sensual in Japan and Geisha decorate theirs with make-up 
As she twisted, I caught a glimpse of her bare neck. Maikos don white make-up on the nape, which is considered sensual, leaving just a tiny patch of skin exposed. It's part of the rich history of the geisha and their coveted role in Japanese culture.
The role of geisha can be traced as far back as 794 when the Imperial Court moved to Kyoto and the Japanese became obsessed with beauty. Geishas were considered the epitome of Japanese femininity, and entertained the elite.
Now they play a pivotal part in tourism as well as entertaining rich businessmen with their musical and dancing skills. Tourists flock to Gion to see the geisha of Golden's novel and subsequent Academy Award-winning film, starring Suzuka Ohgo.
But it's rare to get a private audience with a maiko like this. And so after showing us how to play a parlour game that involves clapping, singing and trying to outwit your partner, the 18-year-old sits down to talk.
'I wanted to be a geisha since I was a little girl,' she explained through her translator. 'My parents weren't very happy at first as they knew I would have to leave home, but they supported me when they realised how serious I was. I came to Kyoto aged 15. I now study very hard, especially at music and calligraphy.'
'I love to wear make-up and dress up but I have to be careful about my hair and sleep on a special pillow so I don't mess it up.'
She explained how she works for Okaa-san, the mother of the house, who chose to train her because she was a gifted musician, and because she is so pretty.
'I love to wear make-up and dress up,' Tomi-Tae said. 'But I have to be careful about my hair and sleep on a special pillow so I don't mess it up.'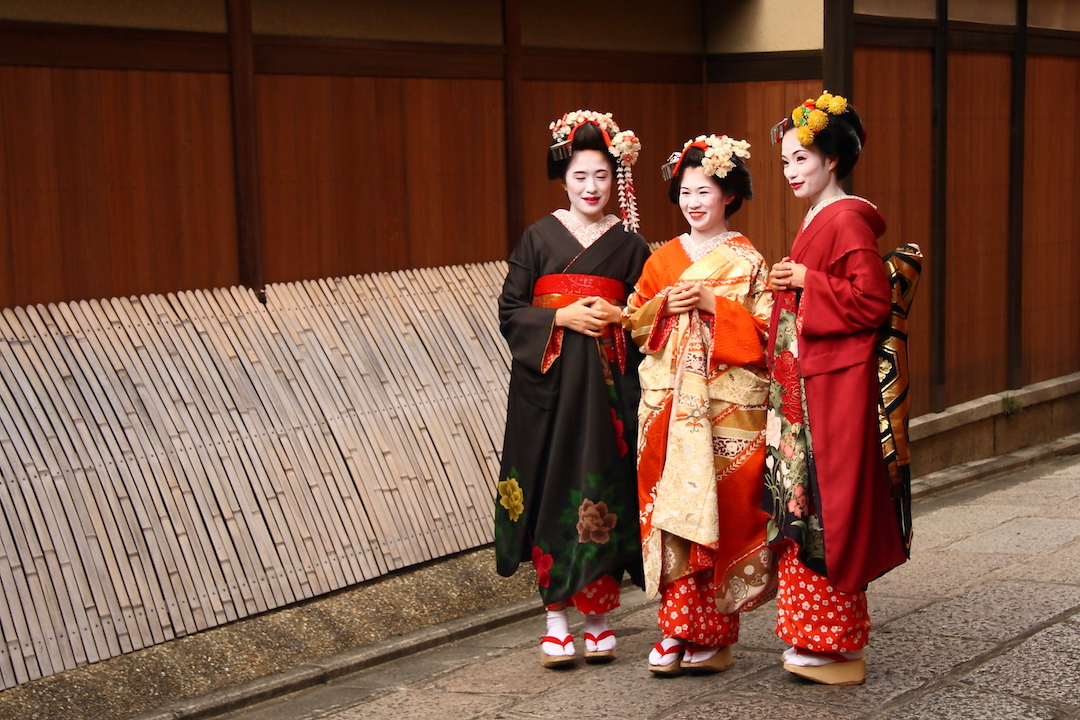 Geisha in the Gion district of Kyoto, the former imperial capital of Japan 
Everything took a while as my questions were translated into Japanese, and her replies relayed back in English. 'Have you heard of Justin Bieber?' I asked, and suddenly she didn't need the translator. 'I love him,' Tomi-Tae replied in perfect English. 'I'm a big fan. My favourite song is Baby. I would like to meet him one day.'
It was strange to think of this maiko relaxing in jeans and a T-shirt on a rare day off, devoid of make-up, listening to the biggest pop star on the planet in her bedroom, just like other teenagers.
But now it was time to leave, and she escorted me outside, where we posed together for pictures while curious tourists stared.
Before she could take her leave, she bowed not just once, but twice, then again, and I found myself caught in the complicated social and cultural code that I simply did not as a Westerner understand.
So I bowed every time she did, and finally, after about 10 minutes of this, the mother rescued Tomi-Tae and ushered her back inside the okiya.
Walking away, it was the first of many pinch-me moments in a country that is abundantly rich in heritage, history and culture as well as the home of this year's Tokyo Olympics.
Next stop Tawaraya Yoshitomi for a Japanese sweet tea ceremony, an elaborate ritual where a female tea master made a bowl of green tea – a task so ritualistic it took around an hour.
It takes 10 – 15 years to become a tea master, and I could see why. I was mesmerised by the delicate movements of the tea master, who was every bit as graceful as the geisha, with her intricate ritual involving myriad bowls and a whisk which resulted in a bowl of frothy green liquid that looked like soup, and tasted nothing like tea.
I was fast learning that everything in Japan has some deeper meaning. The entire culinary world, and tea, is not simply about satisfying one's thirst or hunger – the experience is a cultural one.
Kyoto reigned as the capital of Japan for more than 1,000 years after Emperor Kammu made the city the centre of his Imperial Court and Japan's political world.
Having escaped most of the destruction of the Second World War, it now has more than 2,000 shrines and temples, and 17 Unesco World Heritage sites.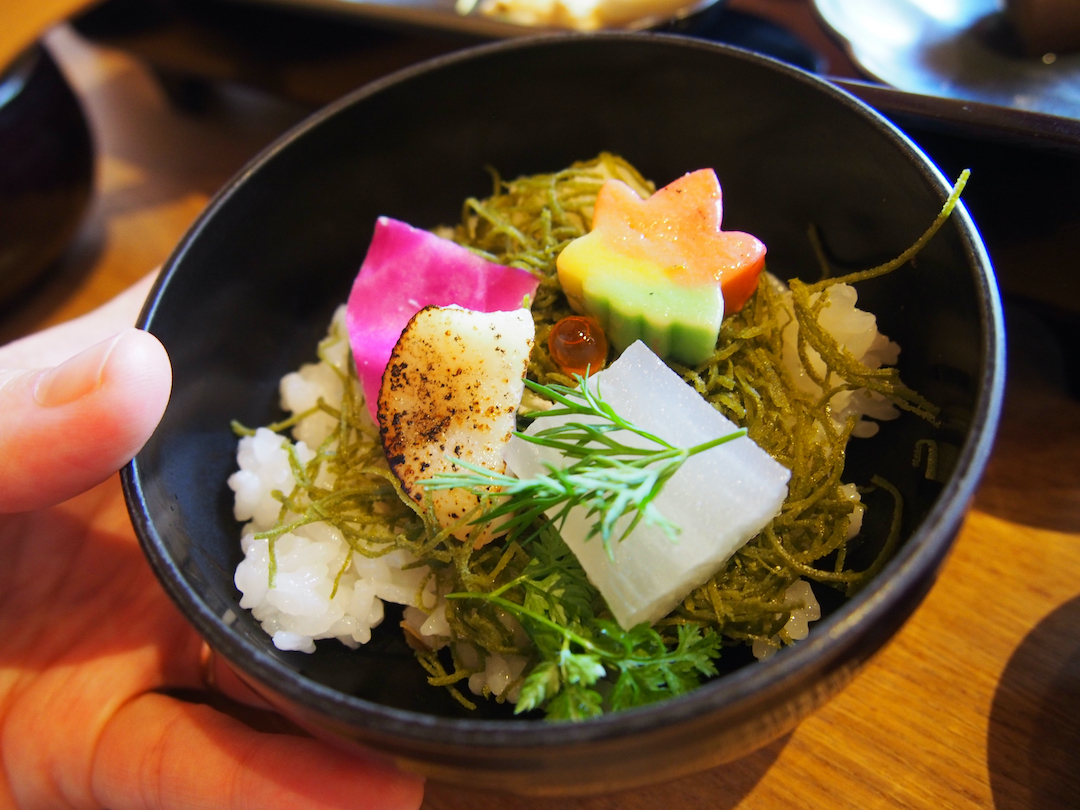 Kyo-ryori food in Kyoto looks almost too good to eat but it's delicious too
Kyoto residents are proud of their noble heritage and traditions, which include kaiseki ryori – food beautiful enough to be called art.
Four styles of cooking relating to the imperial court, the Buddhist temples, tea ceremonies and formalised samurai events developed Kyoto's most sophisticated culinary culture, Kyo-ryori.
So it was no wonder that I spent as much time taking photos of meals during my stay in Japan as I did consuming them.
I fell in love with tofu, which is part of the authentic Buddhist vegetarian cuisine, Shojin-ryori, which came to Japan from China with Zen Buddhism in the Kamakura period from 1192 to 1333.
But the stand-out meal, apart from the must-try bento boxes, is lunch at Misoguigawa, a fusion of French and Kaiseki-style food.
It comes in delicate bowls with dishes so beautifully presented that I hardly dared touch them, and instead stared at them as if they were paintings before finally tasting them.
An explosion of flavours danced in my mouth, a sumptuous blend 
of French and Japanese coming together in harmony.
The chef Teruo Inoue would seem more at home on a runway than a kitchen, with the smartest chef's whites I'd ever seen and a tie so impeccably knotted that it's no wonder his dishes are as visually appealing as they are delicious.
Later, I collapsed on the bed back in my room at Hotel Granvia, a modernist homage to glass and steel, directly in front of Kyoto Central Station, where bullet trains speed past en route to Tokyo.
The ultimate in modern Japanese chic, the hotel is part of the JR Kyoto Station building, and houses a theatre, underground shopping mall, museum and department store.
The rooms are small by Western standards, but big for Japan, and have all the mod cons and then some – I had to call downstairs to the concierge to ask how to work the shower, which comes with a bucket.
The patient concierge explained that it's normal in Japan to wash using the bucket and soap before you go into the shower. It doesn't make any sense to me, but neither does the heated toilet complete with musical options. They're de rigeur in Japan, and have so many buttons on them that I'm sure I'm going to be launched out of the cubicle into space if I press too many.
So I indulged my passion for music over the road in a karaoke bar, which has private booths for parties of friends and colleagues, who dine, drink and sing their favourite songs.
Our guide, Ted, along with the management of Hotel Granvia Kyoto, took us along for another pinch-me moment when I found myself hogging the microphone wailing along to Jon Bon Jovi's Living on a Prayer and Madonna's Material Girl.
'You're a really good singer,' Ted told me, and I wondered if he was being sarcastic, tone deaf or if it's part of that bewildering Japanese social code again. Either way, I bowed, and watched as he belted out Elvis' Suspicious Minds pitch perfect and complete with jiggling hips and a Presley-style pout.
Then it was off to bed, because we were up early the next day to visit Kiyomizu-dera temple, in the east of the city, where a resident Buddhist monk greeted us for a guided tour.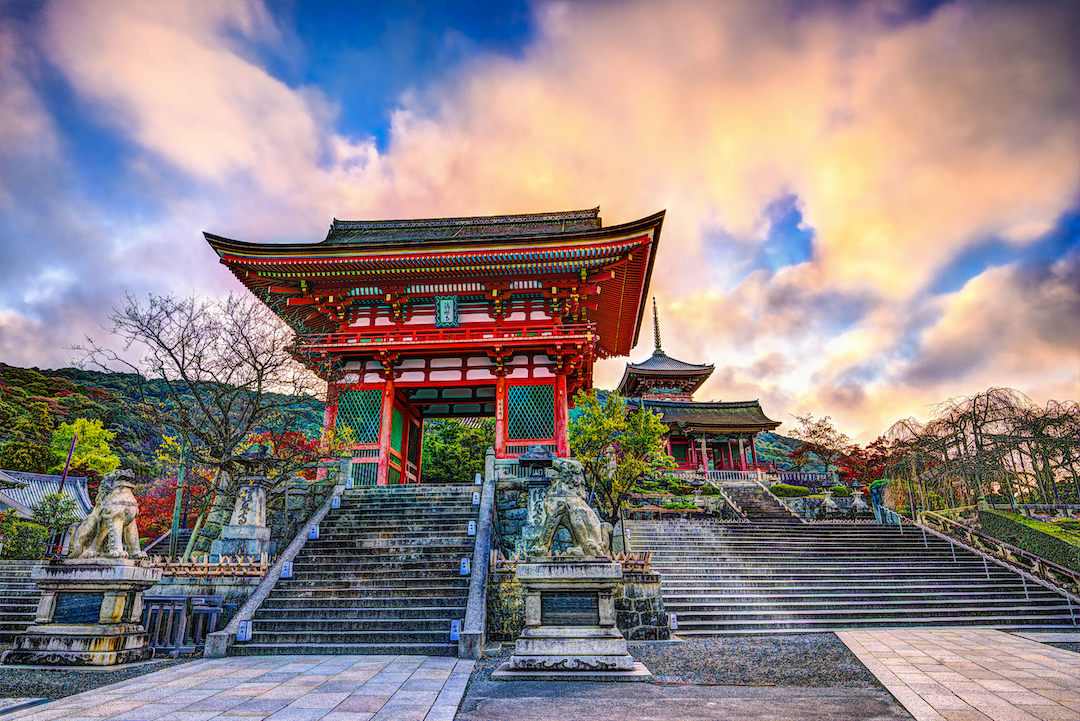 Kiyomizu-dera temple in Kyoto, Japan, was built without using a single nail 
Swathed in black silk robes and a golden sash, he guided us round the temple, which was built in the early 17th Century without using a single nail.
I marvelled at the bright orange of the temple, the intricate work inside and out, but refused to go down into a special, pitch-black corridor, which is said to leave people who enter it reborn when 
they come out the other side.
Instead I smiled at the Japanese visitors in their kimonos, and headed outside to the stalls and shops to stock up on Hello Kitty merchandise for my daughter and a gold and black Bieber-style baseball cap, complete with an ornate embroidered dragon, for my teenage son.
Fashion is big business in Japan, and we ventured across the city to Hosoo, a traditional weaving studio that produced silks and fabrics for Dior and other top designers.
It was fascinating to see the gorgeous designs being created and then programmed into a computer, which works the weave. It takes ages to make – I was there for a couple of hours and only a few centimetres are made in that time – so of course the workmanship doesn't come cheap. But the quality is incredible, and I drifted back to the hotel wishing I had a Hosoo keepsake to take home.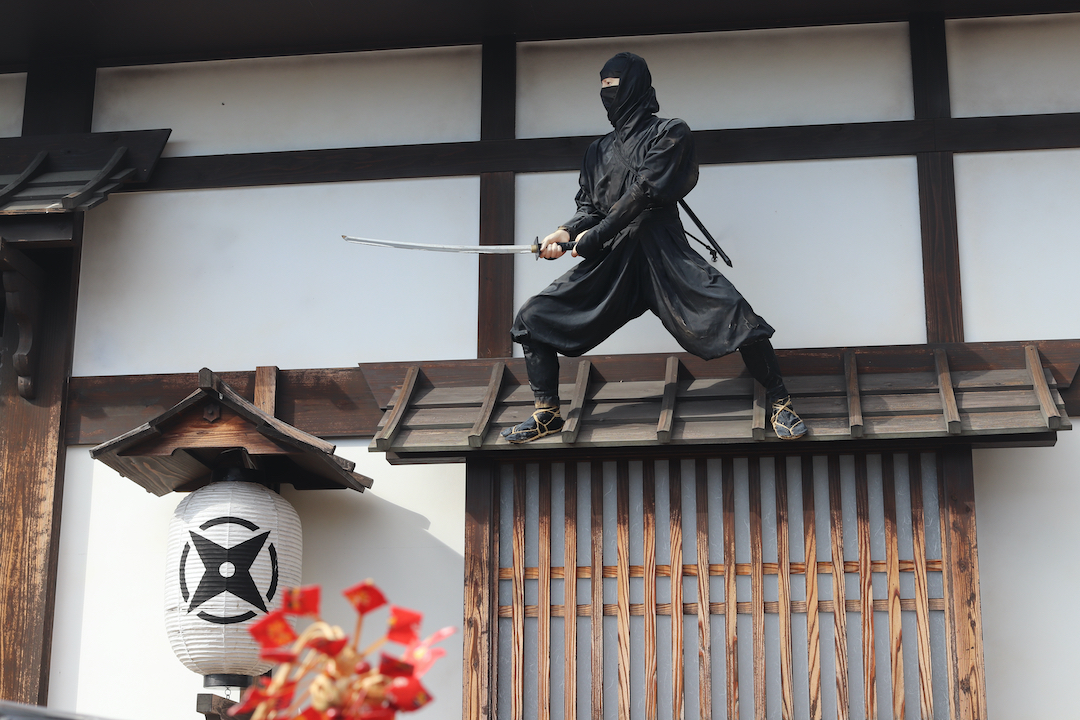 Ninja on the move in the Toei Kyoto Studio Park, Kyoto, Japan 
I consoled myself with the thought of the next day's activity – a visit to the Toei Kyoto Studio Park – a theme park that also houses a real-life film studio.
More than 200 Jidaigeki movies are made here every year, and walking down one of the streets, set in the Edo period, we came face to face with samurai performing chambara – a sword-fighting play – watched ninjas in the theatre, and smiled at the couples dressing up as a samurai, or geisha for a date with a difference.
And then I was off to my final stop in Japan – a traditional inn or ryokan. These are the places we see on TV or in films, with rush mats, sliding paper walls and great omotenashi, or traditional Japanese hospitality.
Our inn, Yoshida Sanso, was incredible – an authentic ryokan built on the hillside of Mount Yoshida in 1932 and the former villa of Highashi Fushiminomiya, who is the uncle of the current Emperor Akihito.
Designed in part by Tsunekazu Nishioka, who also restored Japanese national treasures including Yakushi-ji temple and Horyu-ji temple in Nara, the villa is made from Hinoki cypress with views over Mount Daimonji and the range of Kyoto's eastern mountains.
Our hostess, Tomoko Nakamura, whose family owns the villa, let us decide between ourselves which rooms we wanted. I chose one with a balcony overlooking the gardens, complete with futon, which is a mattress on the floor. I was sure that meant an uncomfortable night ahead, but after feasting on kaiseki, I fell into a deep sleep.
I awoke in the morning feeling refreshed and ready for breakfast while watching the sun rise over the gardens. Sadly it was time to head home, but I wouldn't forget Kyoto in a hurry.
Luckily I already own a copy of Golden's book, which I vowed to 
re-read. It will be fascinating to revisit now that I've walked through Gion, met a maiko – and I now have fantastic memoirs of my own.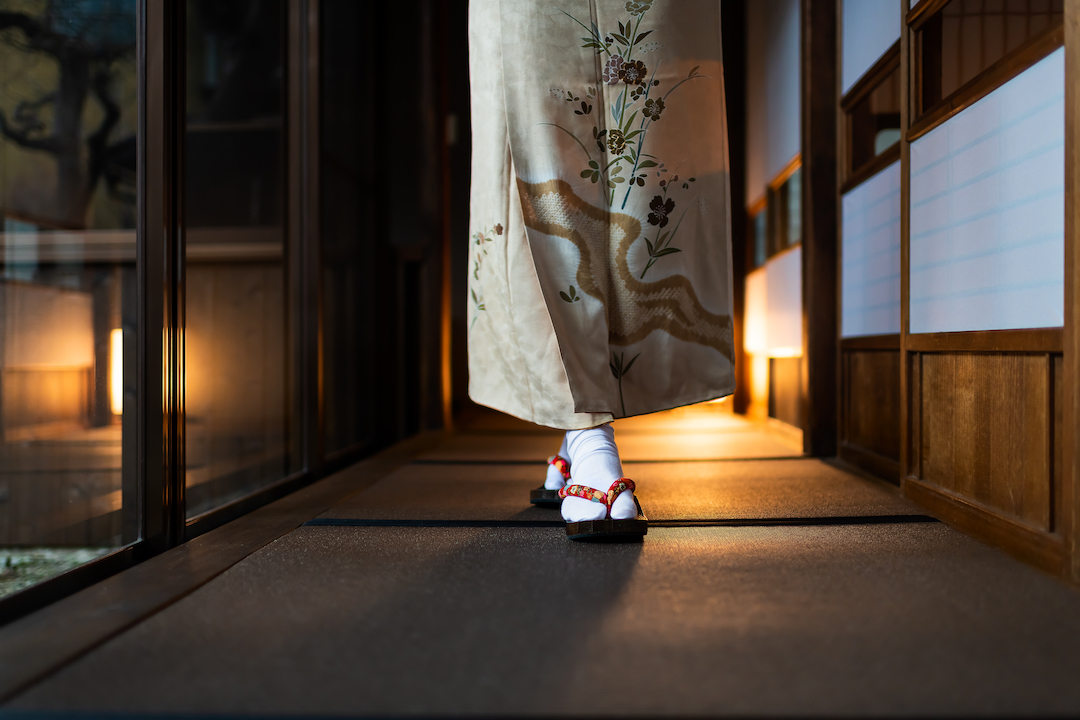 A traditional Japanese house or ryokan is surprisingly comfortable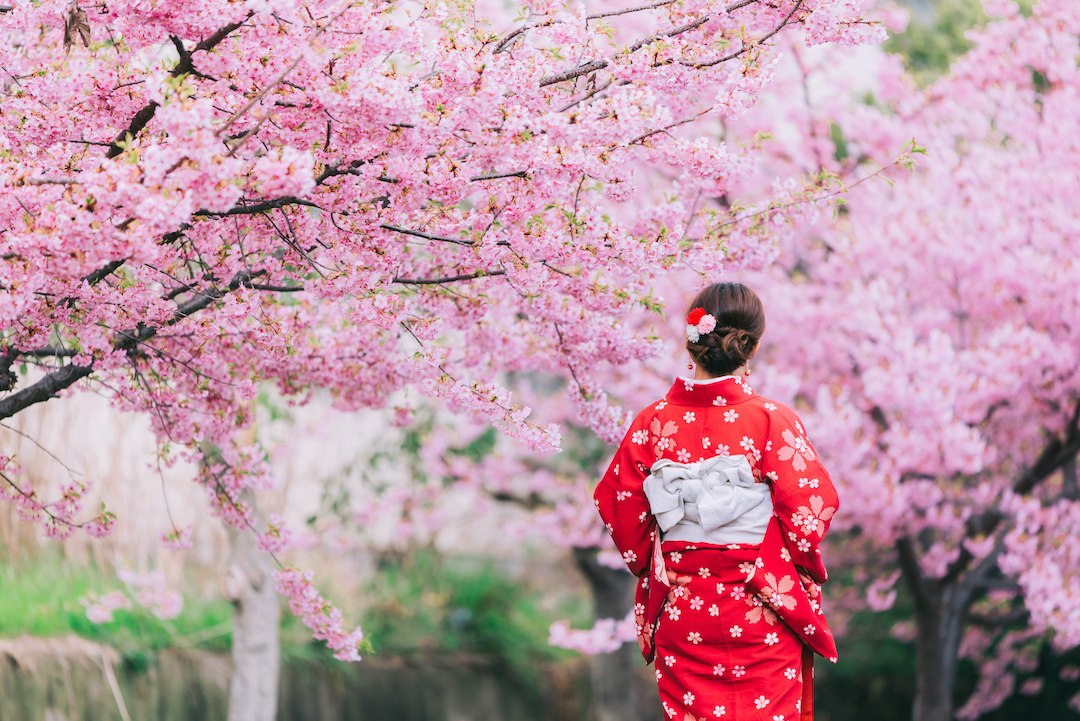 Cherry blossom blooms from mid-March to May in Japan each year 
 The home of sprawling neon-lit cities, and the world's most sophisticated public transport systems, Japan still retains its oriental charm.
While Tokyo, the world's largest city, is an adrenalin rush of blurring cars, a crush of people and futuristic sights, the countryside is dotted with shrines, paddy fields and parks, which for just a few weeks a year, are covered with pink snow.
Japan transforms into a pink wonderland from mid-March until early May as the cherry blossom bloom. Locals gather under the blossoms to eat, dance and sing to celebrate Hanami, a traditional ceremony to welcome spring.  
Next year, in 2022, the cherry blossom are expected to open around March 15 in Tokyo.
A 15-night Japan Intensive Voyage with Azamara departing Tokyo on 27 March 2022 and calling at Hakodate, Aomori, Akita, Kanazawa, Sakaiminato, Busan, Kitakyushu, Hiroshima, Takamatsu, Kobe, and Shimizu, before returning to Tokyo, starting from £3,477 per person for an interior stateroom, cruise only.  
Visit Panache Cruises or call 0161 516 5890.