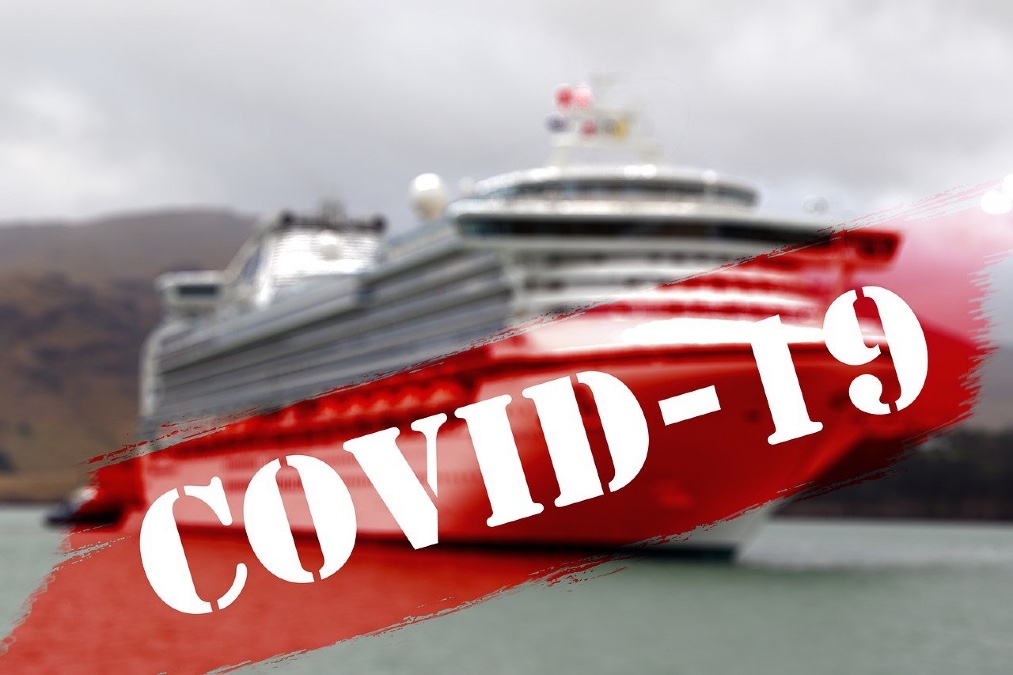 Cruising in the time of coronavirus: No buffet, a negative Covid-19 test result and cleaning robots will be the 'new norm'
Cruise lines are introducing a raft of improvements to make sailing safe including testing all passengers and crew before they're allowed on board
It's the question on every cruise lover's lips – when can we sail again? As lockdown eases and the world resets to a new normal, we're looking forward to getting back on board to explore the world.
Who hasn't missed waking up to a different view of a dreamy destination out of our cabin window each day, exploring every crook and cranny of a ship and sipping sundowners on the top deck before a Michelin-style dinner at sea?
And while we don't know exactly when all the cruise lines will resume operations (or when the British government will change their advice not to go on ocean cruises which effectively nullifies your travel insurance), they're all busy making sure a strict new raft of health initiatives and protocols make it safe for all of us when it is time to embark for a longed-for adventure at sea.
The first port of call in doing this has been consulting with the experts including the World Health Organisation (WHO), the EU Healthy Gateways, Cruise Lines International Association (CLIA), and the European Centre for Disease Prevention (ECDC) to draw up enhanced policies and protocols to help protect us.
The cruise industry has become the first in the travel and tourism sector to announce it will be testing all of its crew and passengers for Covid-19 worldwide, on all ocean ships that can carry more than 250 guests. A negative test is required before anyone can board.
'We see testing as an important initial step to a multi-layered approach that we believe validates the industry's commitment to making health, safety and the well-being of the passengers, the crew and the communities we visit our top priority,' CLIA announced in a statement on 6 October, 2020.
Cruise lines are working hard – and together – to set the bar high when it comes to health and safety standards helping to get the industry ship-shape to deal with cruising after coronavirus.
Norwegian Cruise Line and Royal Caribbean Group stateside have created a Healthy Sail Panel who will share their recommendations so that other cruise lines can adopt their new measures worldwide.
'We are focused on proceeding cautiously and learning,' says Richard Fain, chairman and CEO of Royal Caribbean Cruises Ltd. 'Our protocols will raise the bar even higher on health, safety, sanitation, and medical care, with guidance from a blue-ribbon panel of experts.
And it's working. Silversea's Silver Spirit has become the first ultra-luxury cruise ship to sail with a certificate in infection prevention for maritime after enhancing their already exceptional sanitation on board.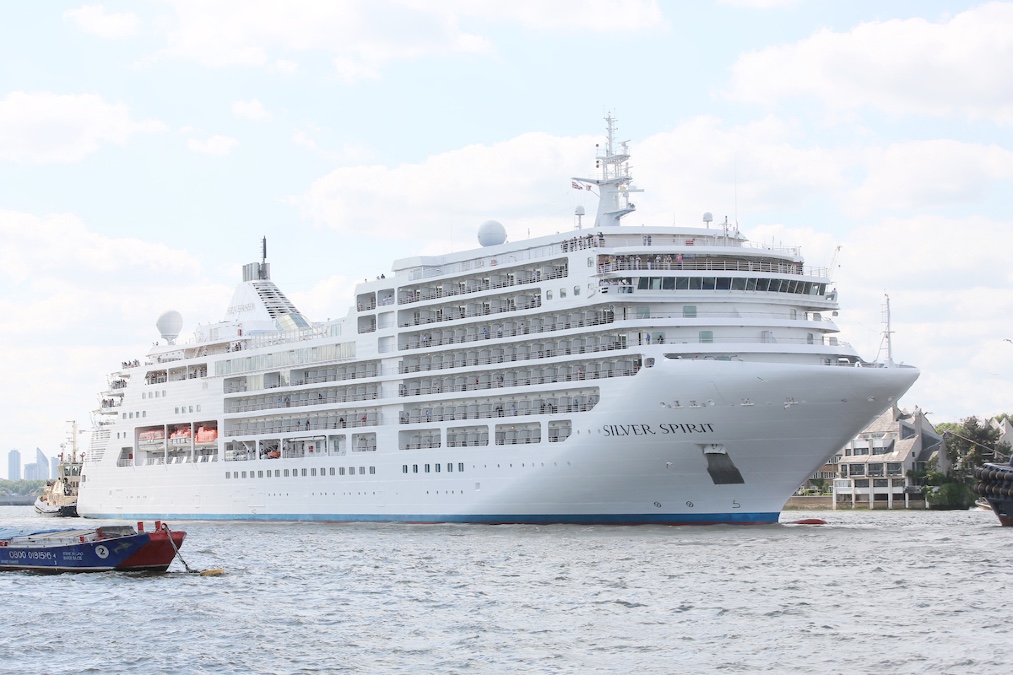 Silversea's Silver Spirit is the first to be awarded a certificate in infection prevention 
The cruise line's Covid-19 outbreak prevention and response plan was just one of four areas they were commended for. Silversea is now working hard to get certification across its fleet so guests can go cruising knowing everything is being done to battle the spread of coronavirus.
'We are proud to become the first ultra-luxury cruise line to gain the certification in infection prevention for maritime, demonstrating our unwavering commitment to protecting the health, safety and wellbeing of our guests, crew and the destinations we visit,' says Roberto Martinoli, Silversea's President and CEO.
It won't be long before other cruise lines follow as we resume cruising during the coronavirus crisis. 'The public should feel assured that the cruise industry has placed public health at the heart of our response throughout,' CLIA UK & Ireland director Andy Harmer says. "As well as introducing enhanced screening measures and protocols from the outset, we were among the first industries to voluntarily suspend our operations globally. Health and safety will continue to be our number one priority when we sail again.'
Long gone are the days of self-service buffets and making new friends in the hot tub – cruising in the time of coronavirus is all about stopping the spread of Covid-19 with deep-cleaning robots and enhanced protocols
But long gone are the days of self-service buffets, exploring ashore alone, and making new friends in the hot tub on the pool deck. Here's what the future of cruising in the time of coronavirus will look like.
Cruising is popular with all ages, but when sailing resumes anyone with pre-existing medical conditions, or chronic illness, and most at risk from coronavirus complications could be denied boarding.
Older travellers – 70 plus – will need a letter from their doctor to say they're fit to travel.
Pre-boarding health checks
We're all used to filling in questionnaires before going aboard, but until now cruise lines have relied on us all being honest about our health in the 14 days prior to cruising.
Now, expect to have to undergo a test for Covid-19 and produce a negative result, mandatory touch-free temperature checks and other possible medical screenings. If you have a high temperature or show signs of illness, you won't be able to sail.
Once you've passed all the health checks, there will be a touchless embarkation, with a staggered boarding time and passengers will have to wear face masks in public areas and adhere to social distancing. Your luggage will be sanitised before loading.
But don't expect the health checks to end once you're on board. It's likely that temperature checks and even coronavirus tests could be part of everyday cruising from now, and documentation showing you don't have the virus could be mandatory to go ashore at many destinations.
Some ports and even countries can refuse ships to dock or guests to disembark so guests will need to be more flexible about the itinerary. The Seychelles is closed to cruise ships until 2022 in a bid to stop the spread of coronavirus across its islands.
To allow social distancing on board, ships will sail with fewer passengers. That will impact everything from dining to using the gym, where equipment will need to be sanitised between use, and even using the library where books are likely to be offered via apps.  Remember to pack enough clothes for the entire cruise as the laundrettes on board will almost certainly be closed.
Even the amount of people who can watch the entertainment in one setting will be reduced as will the number allowed into a cinema, ice rink, casino, and bars.
That means it's not only safer, but you'll be able to get a mojito quicker and a sun lounger in your favourite spot without having to wake up at the crack of dawn. Result!
Ships are cleaned frequently in normal circumstances with hand sanitisers used by passengers and crew alike in public areas, but this will be stepped up to another gear post-pandemic.
Deep-cleaning disinfecting will take place constantly, with high-frequency touch surfaces such as lift buttons, handrails and gym equipment disinfected constantly.
New cleaning innovations are already being introduced such as Avalon Waterways' electrostatic spray system, which uses eco-friendly detergent to protect against the virus.
Cleaning robots – as used in the hotel industry – could become de rigueur to ensure hospital-grade sanitisation on board.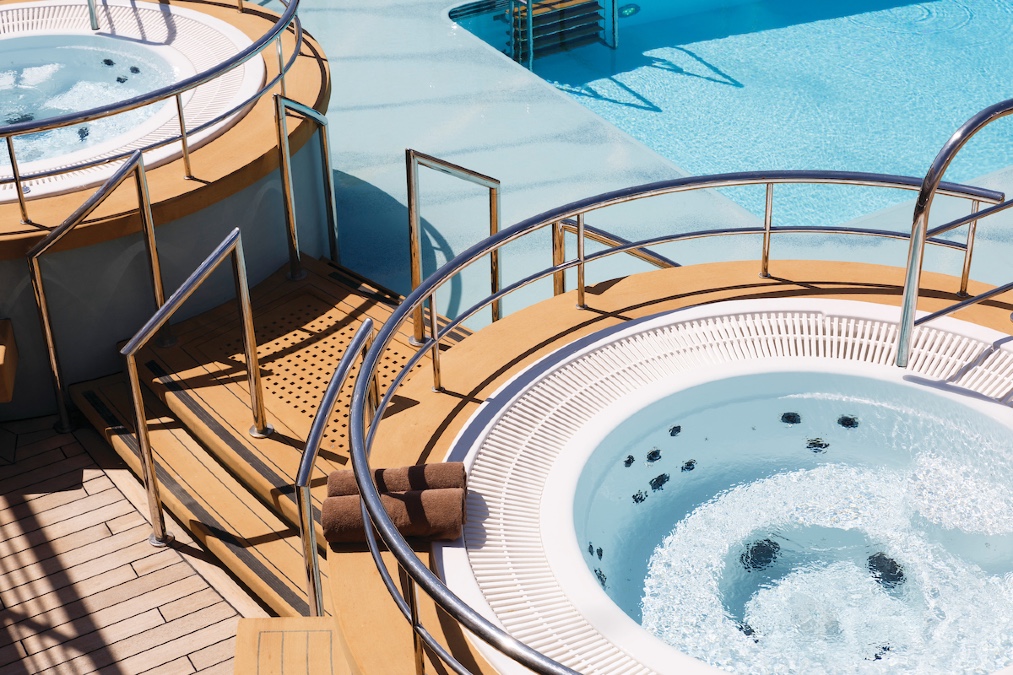 Forget making new friends in the hot tub back when we're all back on board
Expect the hot tub, whirl pools, saunas and steam rooms to be off limits for the foreseeable – you will also need to shower before using the outdoor pool. Sun worshipers will have to keep their sunbeds socially distanced and outdoor food and drink menus or service buttons will need to be deep cleaned constantly or disposable.
Expanded medical facilities on board will have adopted the latest protocols, with staff trained to administer Covid-19 tests and place passengers in isolation before arranging to transfer them to medical facilities ashore.
Air filtrations systems on-board will be improved for cruising during the coronavirus pandemic. These will provide 100 per cent fresh air to staterooms and public spaces through non-recirculating air conditioning systems using hospital-grade HEPA filters.
Yes, we know they're the epitome of a cruise, but for now our favourite, self-service buffets have been put on pause for obvious reasons – it's impossible to socially distance while fighting over the lobster salad and cutlery sharing is a no-no.
Instead, crew in PPE will man serving stations – complete with barriers – or serve you at your table. Traditional dining, where you're placed with other passengers, will be eschewed for pre-booked tables at assigned times with your own family and travelling group.
Maybe Richard Branson knows a thing or two, as his first foray into cruising with Scarlet Lady has done away with buffets – though he has done it to save the planet as there would be less waste, not to stop the spread of Covid-19.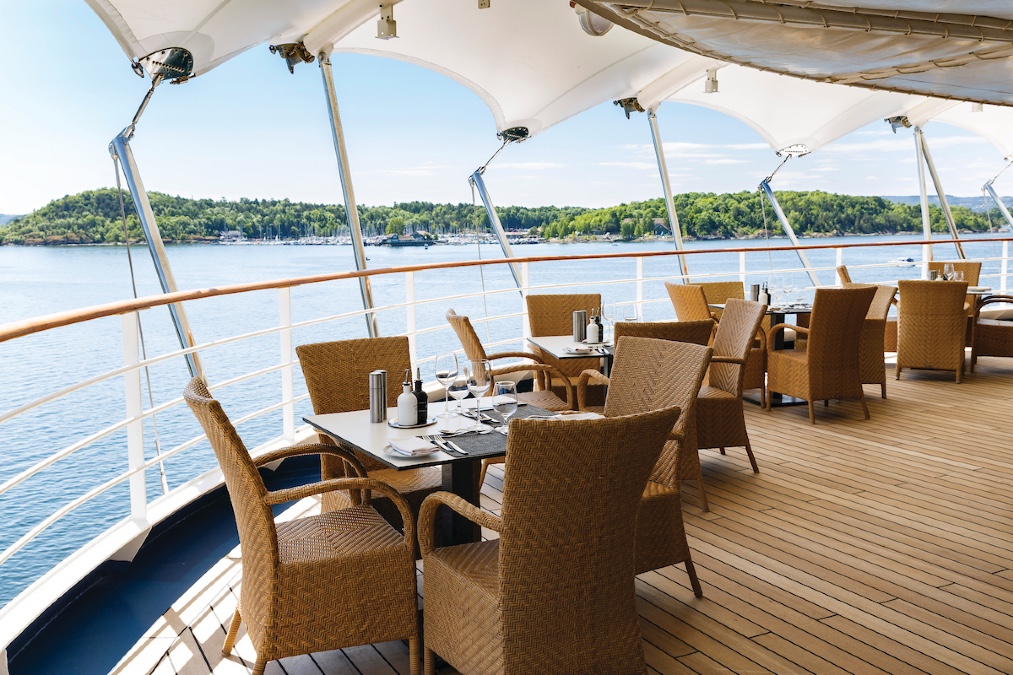 Dining alfresco will be the new norm weather permitting to stop the spread of coronavirus 
Condiments will come in single servings and the menu will be disposable. It's not just the buffet that could be off the menu – self-service coffee, tea, wine and snacks could all vanish and room service expanded to make up for it.
And, weather permitting, outdoor venues will be encouraged and maximised, with multiple seating times brought in to allow socially-distanced dining to stop the spread of coronavirus while cruising.
Printed daily programs may be history as they're replaced with digital apps and interactive TV. Little luxuries that we've become accustomed to – turn down and a chocolate on your pillow anyone? – could also be a thing of the past as safety in your stateroom becomes paramount.
Along with shampoo, body cream and soap, expect to see face masks, gloves, hand sanitiser and disinfectant wipes in your bathroom. Your TV remote control may have a disposal cover on it, and who knows if towel art – the highlight of most kids' and young-at-heart adults' days – will survive post-pandemic sailings.
Inside cabins without balconies, windows or access to fresh air, may well be empty for the near future, and there could well be a limit to how many people can get in the lift at one time. Expect a longer wait or use your time on board to get fit going up and down the stairs.
Every port may well have a different set of health and social distancing rules so be prepared to be flexible, but one thing's for sure – hand sanitiser will be your best friend wherever you go. Most cruise lines will only let passengers on official shore excursions disembark. While this might seem daunting – and more expensive – than exploring solo, it's for your own safety. 
Tour guides, drivers and the entire excursion itinerary will have been tested to make sure everyone is as protected as possible and will be back on board in time.  
Coaches will carry fewer passengers and won't let you eat or drink on board. You will have to wear a face mask too, but it's a small sacrifice to see some of the world's most exciting and cultural highlights. 
Bernhard Stacher, vice president of hotel operations at MSC, who started sailing (sadly us Brits weren't invited as the UK Foreign Office is still warning against cruising) from Italy in August, told Seatrade Cruise Virtual Conference that their guests appreciate the increased focus on safety and protocols. 'People feel very comfortable and safe, and the communities we go into also feel safe,' he said. 'It's a two-way street.'
Closer to Home Itineraries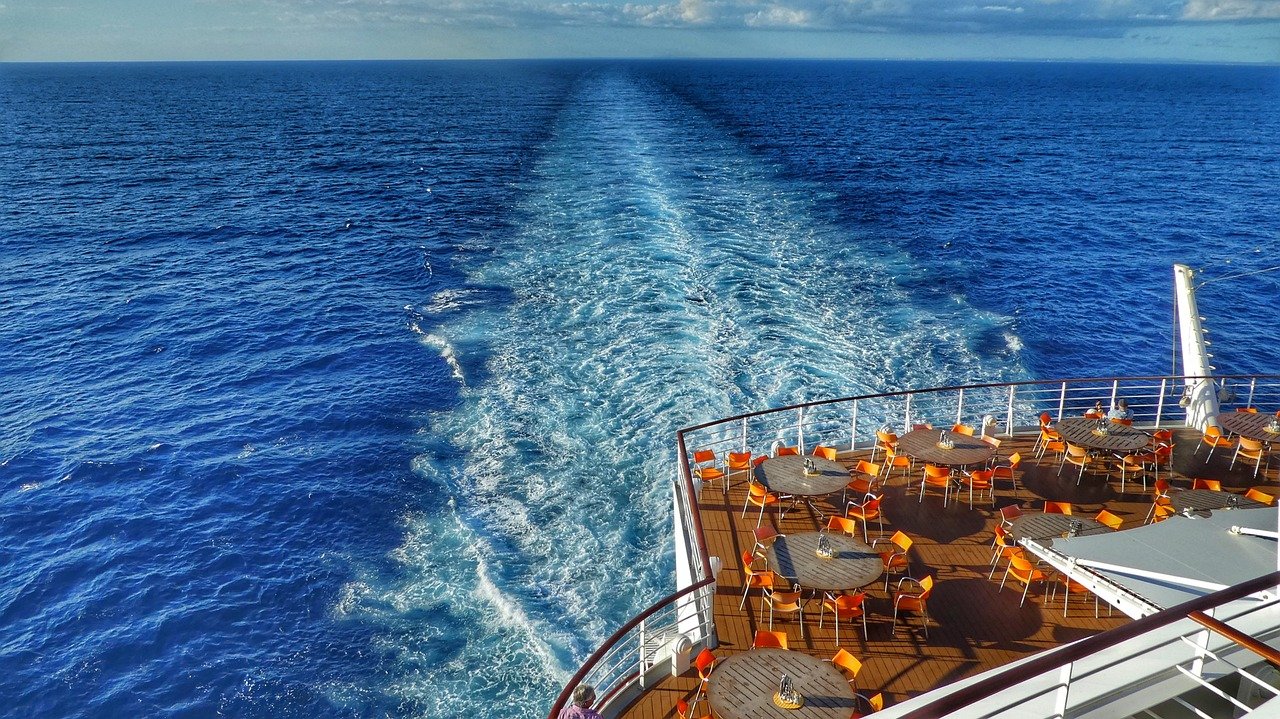 Cruises could be shorter with closer-to-home itineraries in the wake of coronavirus 
As the industry gets sailing again, not all ports will be open, and so cruise lines will create itineraries around those that are.
There will be different rules and regulations in each one, and many lines are expected to create closer-to-home itineraries to avoid the added complication of flying to the embarkation port.
Sailing from Britain is likely to become even more popular and cruise lines may well offer shorter cruises so we can dip our toes back in before committing to a fortnight cruising the Med (if only!).
So, just like we had to adapt at home when the virus struck, our expectations of cruising post-Covid 19 have to change, too. And while it might be irritating to have to take a test prior to boarding and forgo the buffet for now, it's shorely a small sacrifice to make to get back on board.