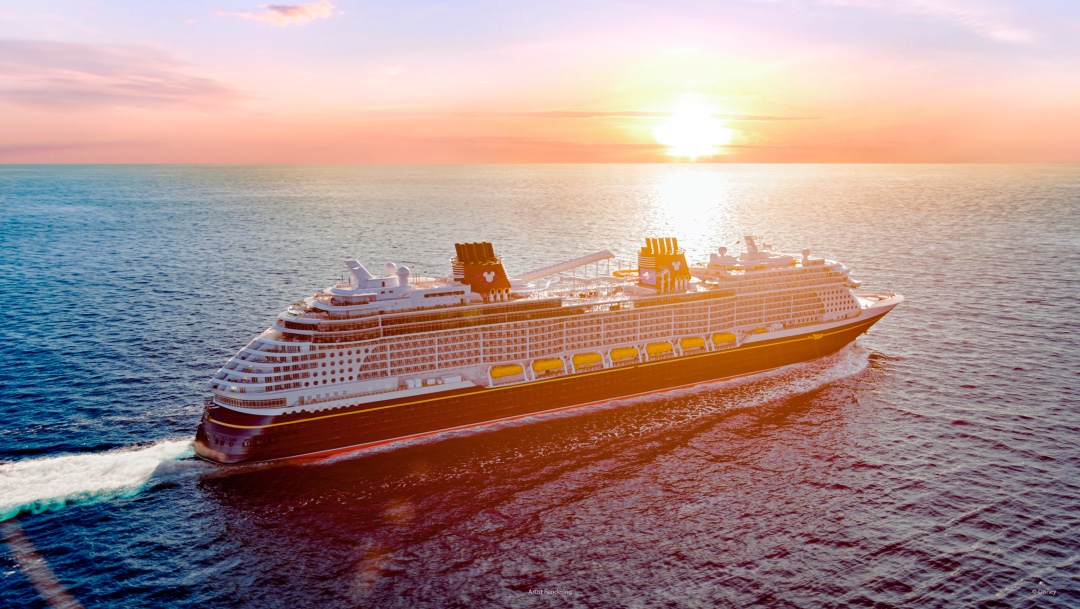 To the Infinity Pool and Beyond! Why adults will love Disney Wish just as much as kids
Stellar cocktails in a spaceship zipping around the Star Wars galaxy, a gourmet menu created by a three-Michelin-starred chef and Royal suites with ocean views will make Disney's new ship magical for grown-ups as well as families
Disney Cruise Line has pulled off the impossible with the Disney Wish by magicking up a cruise ship that adults will love just as much as children – if not more.
While there will plenty on board to keep little ones more than entertained – AquaMouse, a first-ever Disney attraction at sea, which will whizz them 760ft around the upper deck on a wild water ride with Mickie and Minnie, is sure to make a splash – it's the glamorous additions for adults which will make all their wishes come true.
Cocktails in a sophisticated spaceship? Check. Myriad fine dining options including a menu from a three-Michelin-starred chef? Check. A Senses Spa oasis offering VIP beauty treatments, adults-only entertainment district and a private Quiet Cove pool district in which to catch the sun? Check! Check! Check!
In a ship full of firsts, Disney seems to have thought of everything for the fifth addition to its fleet which sets sail next June, will run on liquified natural gas and is captained by Minnie Mouse.
They've taken the best from its other ships – Disney Magic, Disney Wonder, Disney Dream and Disney Fantasy and added in some ultra-luxurious and enchanting touches to make the Disney Wish even bigger and better.
'With the Disney Wish, we're continuing our tradition of delivering the most magical and relaxing holidays at sea, combining legendary service and entertainment with imaginative storytelling and all the care you expect from a Disney holiday," said Josh D'Amaro, chairman, Disney Parks, Experiences and Products. 'Our newest ship will celebrate everything that families love about sailing with us, from the incredible dining experiences and character interactions, to dazzling shows and the crew's thoughtful attention to detail.'
Disney Wish features inspiration from Beauty and the Beast, Frozen, Fantasia, Marvel Super Heroes, Toy Story and Cinderella from bow to stern to bring its movies and fairy tales to life.
'Our guests are often surprised by just how much fun and relaxation there is for adults on a Disney cruise'
But among the family favourites there are plenty of elegant, exclusive spots for adults to enjoy – whether they have come with children, a partner or on a solo cruise.
'Our guests are often surprised by just how much fun and relaxation there is for adults on a Disney cruise,' said Laura Cabo, portfolio creative executive, Walt Disney Imagineering.
'With the Disney Wish, we wanted to give our adult guests even more variety and options to customize their experience. Whether they're looking for elegant sophistication with just a touch of pixie dust, or full-scale immersion into some of their favourite Disney stories…adults will experience legendary Disney storytelling in all-new ways aboard the Disney Wish.'
The cruise line has unveiled the latest news on Disney Wish to select media globally – and guess what –  Cruise Blondes was invited! So without further ado, let's take a magical journey through the largest ship ever being built by Disney to discover the treasure trove of fun for all ages.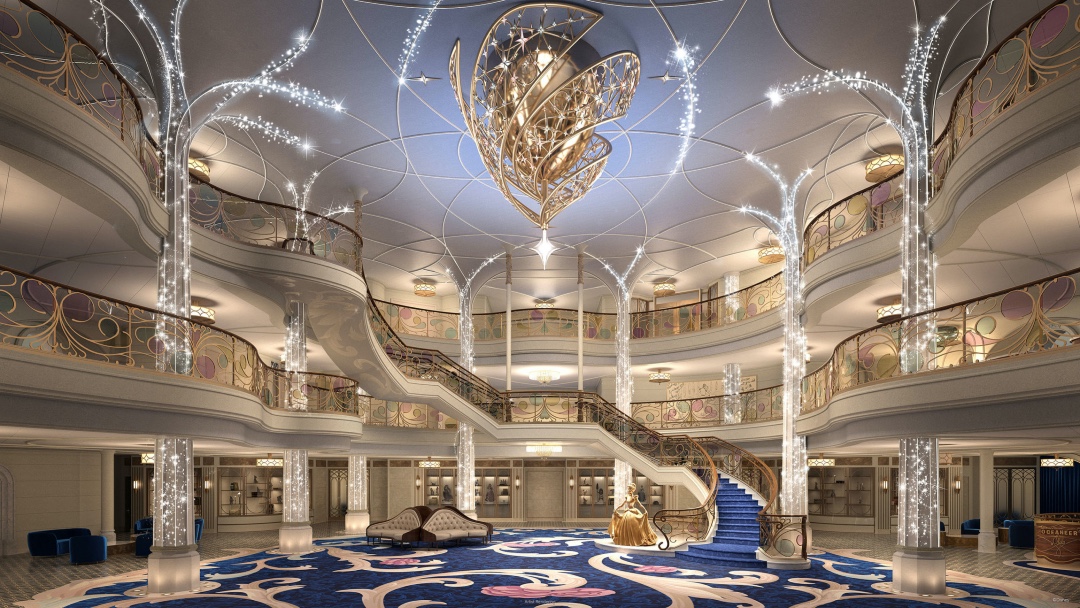 The Grand Hall on Disney Wish is a castle at sea 
Like the rest of the fleet, Disney Wish celebrates the golden age of ocean liners with its décor, but she will also be 'inspired by the beauty of an enchanted fairy tale,' according to the Imagineers.
This will be apparent from the moment guests step into the Grand Hall where a sweeping staircase leads to a bronze statue of Cinderella, a dazzling wishing star descends from a chandelier, and a Juliet balcony overlooks an atrium stage.
It's a castle at sea where impromptu and scheduled shows will take place featuring characters, performers and even surprised guests.
Entertainment Disney Style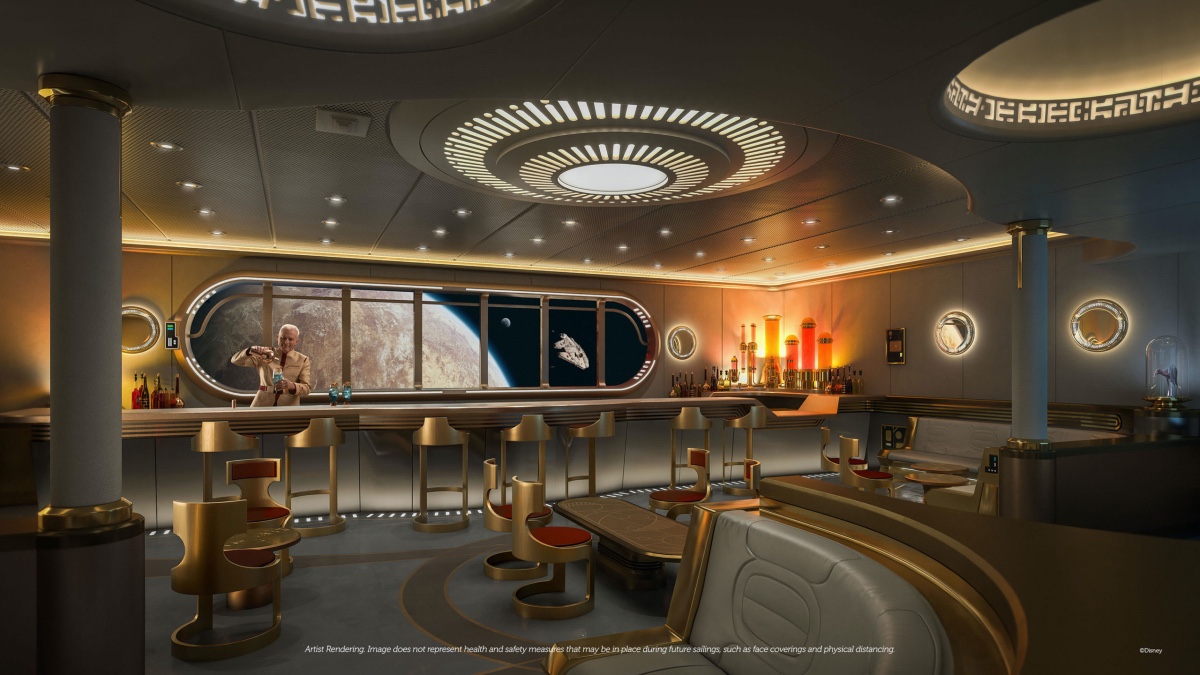 A night sipping stellar cocktails at Star Wars: Hyperspace Lounge will be out of this world 
The nearby Luna is a new entertainment hub inspired by the Disney and Pixar short film 'La Luna' which will transform from a daytime setting for family fun to an elegant adult-exclusive area at night. With a full-service bar, secluded seating in booths or on the balcony, this is the perfect spot to catch a live show.
For a Broadway-style stage production, guests can head to The Walt Disney Theatre or catch a classic or premiere movie from Disney, Pixar, or Marvel at the Wonderland and Never Land Cinemas.
Up on deck, there will be the usual fun parties and spectacular fireworks at sea while below there are more adult-only bars, cafes and lounges.
Over 18s can have an out-of-this-world experience at Star Wars: Hyperspace Lounge – a sophisticated bar styled as a luxurious spaceship. They will be whizzed around the Star Wars galaxy while sipping stellar cocktails inspired by destinations such as Batuu, Tatooine and Mustafar. There will be intergalactic nibbles on offer too but for a fine-dining menu, guests can head to a trio of adult-exclusive restaurants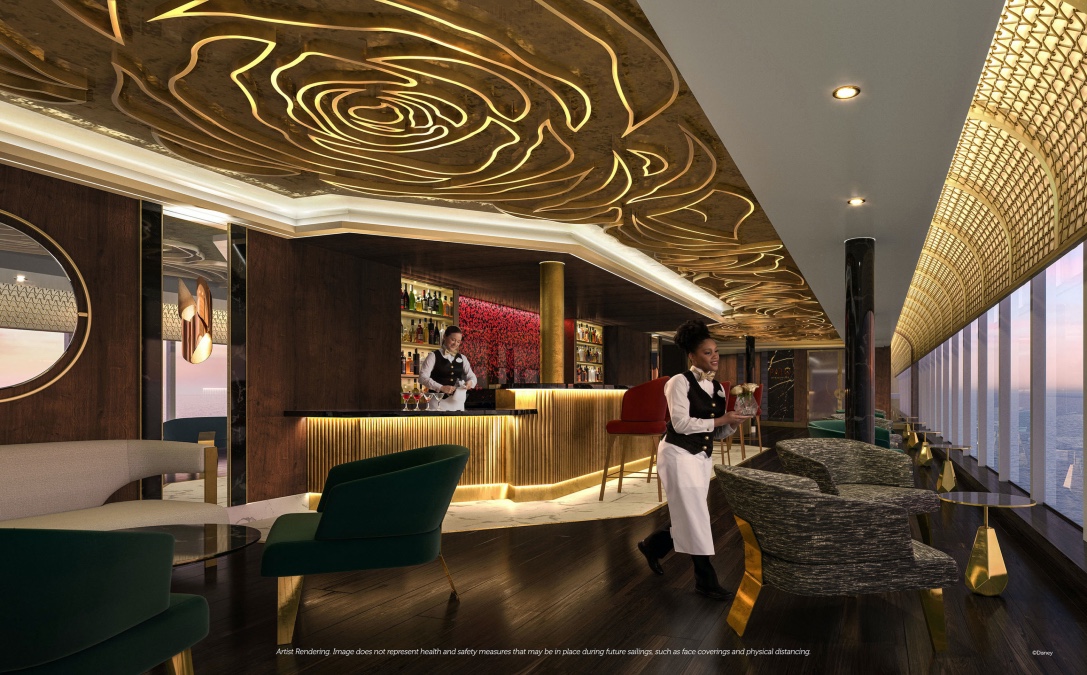 The Rose is perfect for pre or post dinner drinks 
The most sophisticated of palates will be impressed with the upscale adults-only fayre available on Disney Wish inspired by the icons of Disney's Beauty and the Beast.
Head to The Rose – a chic lounge inspired by the fateful flower at the heart of the story –  for an aperitif before dinner or after dessert cocktail.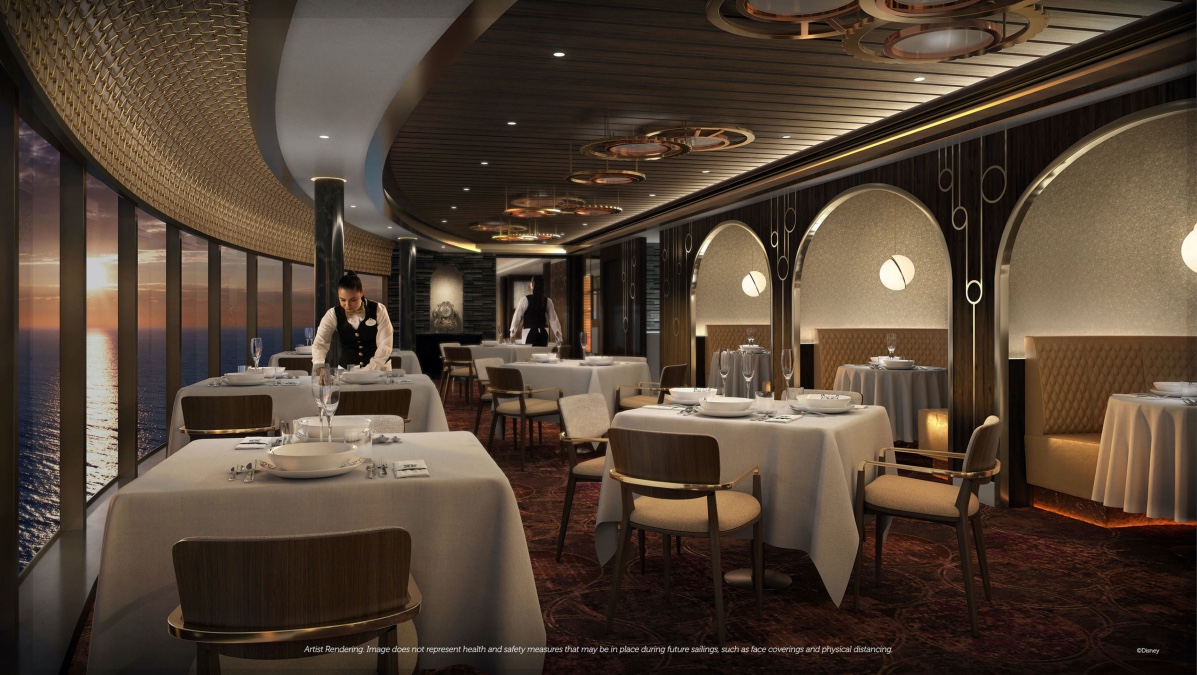 Palo's modern steakhouse has an Italian twist. Delizioso!
Palo Steakhouse is the evolution of the Italian Palo restaurant that Disney cruisers know and love. The Venetian flavours are now paired with a modern steakhouse in a 'genteel setting' inspired by Cogsworth, the film's majordomo-turned-enchanted clock.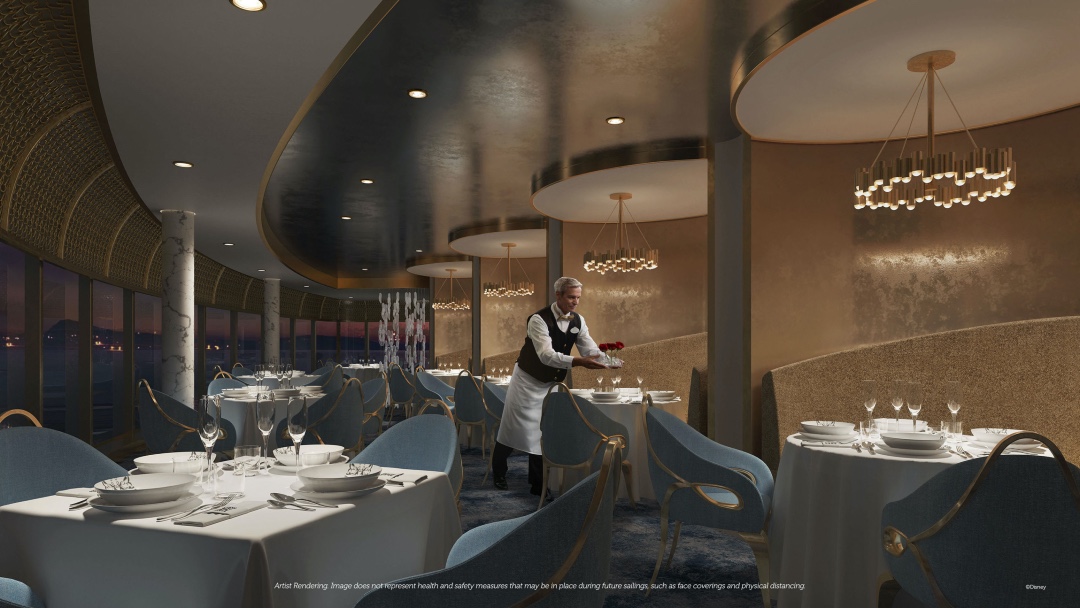 A dazzling evening awaits at Enchante, inspired by Lumiere 
Enchanté by Chef Arnaud Lallement will offer the most luxurious dining experience on board, featuring a gourmet menu crafted by the three-Michelin-starred chef. This romantic and intimate venue will evoke the dazzling spirit of the film's candelabra maitre d' Lumiere.
Dining onboard Disney Wish will be far more than just a meal. It will be a chance to meet and interact with favourite stories and characters in only ways that the Disney Cruise Line can cook up.
So while the other restaurants are for families, too, these culinary cabarets are sure to hit just the right note with everyone.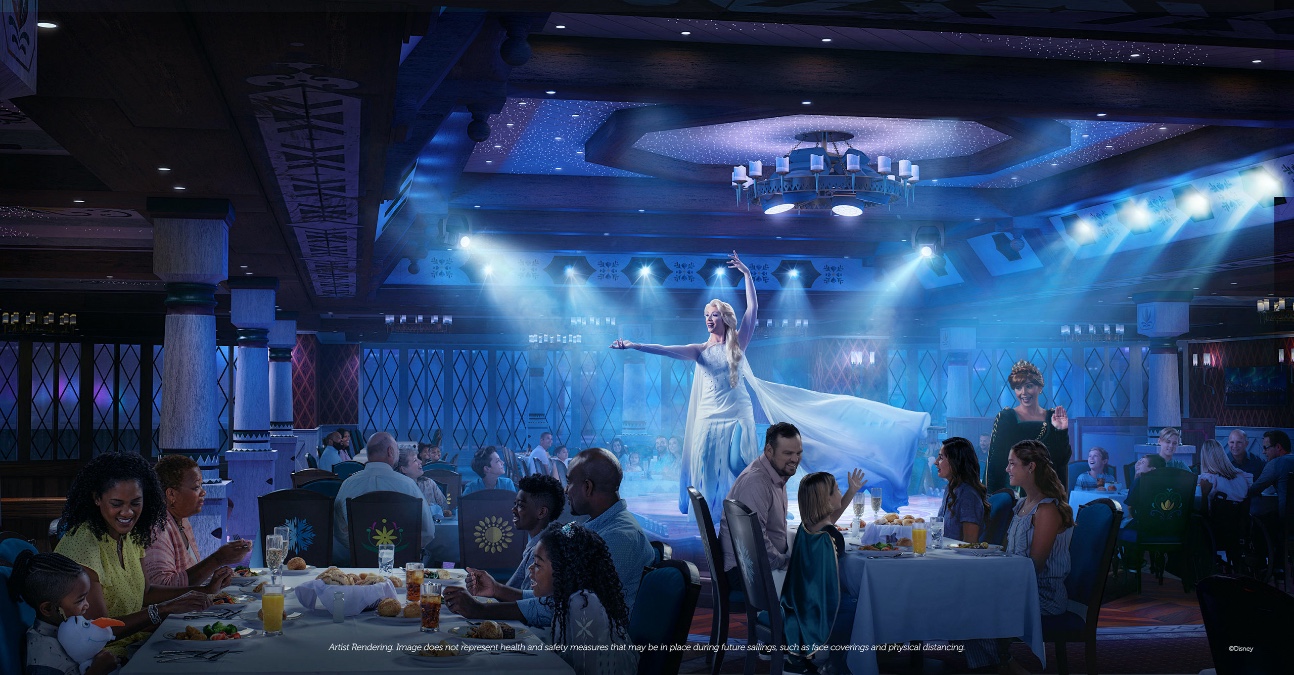 Nice Ice baby! We'll never be able to let a night at Arendelle: A Frozen Dining Adventure go 
Join Elsa, Anna, Kristoff and Olaf at Arendelle: A Frozen Dining Adventure – another first onboard Disney Wish. The characters and world of Arendelle is brought to life while world-class cuisine infused with Nordic influences is served.
Fancy taking part in an Avengers mission while tucking into a Marvel-inspired menu? Worlds of Marvel is the first-ever Marvel cinematic dining adventure and is packed with enough action to suit every taste.
Finally, don't forget 1923, named to celebrate the year The Walt Disney Company was founded.  It's an elegant eaterie that pays homage to the golden age of animation while offering the best Californian dishes.
After all that food, it might be time to head to Senses Fitness for some state-of-the-art exercise or book a pampering session at the Senses Spa which boasts lavish spa villas and steam and aromatherapy rooms.  Or, if it's still daytime, head to adults-only Quiet Cove, a haven of sun-drenched tranquilty that will feature an infinity pool, bar, and chic café.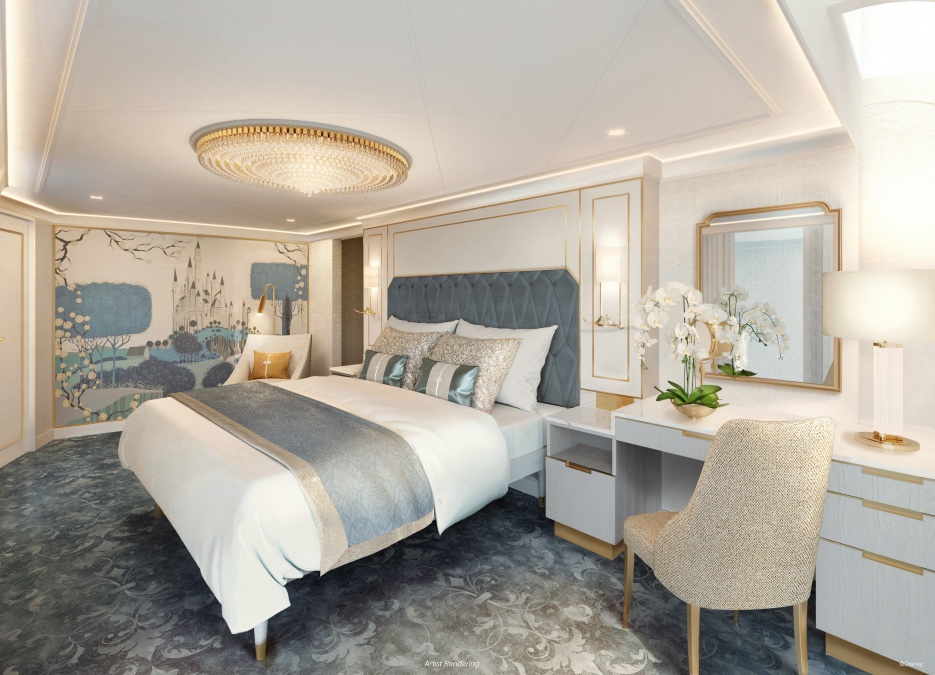 This suite is fit for royalty…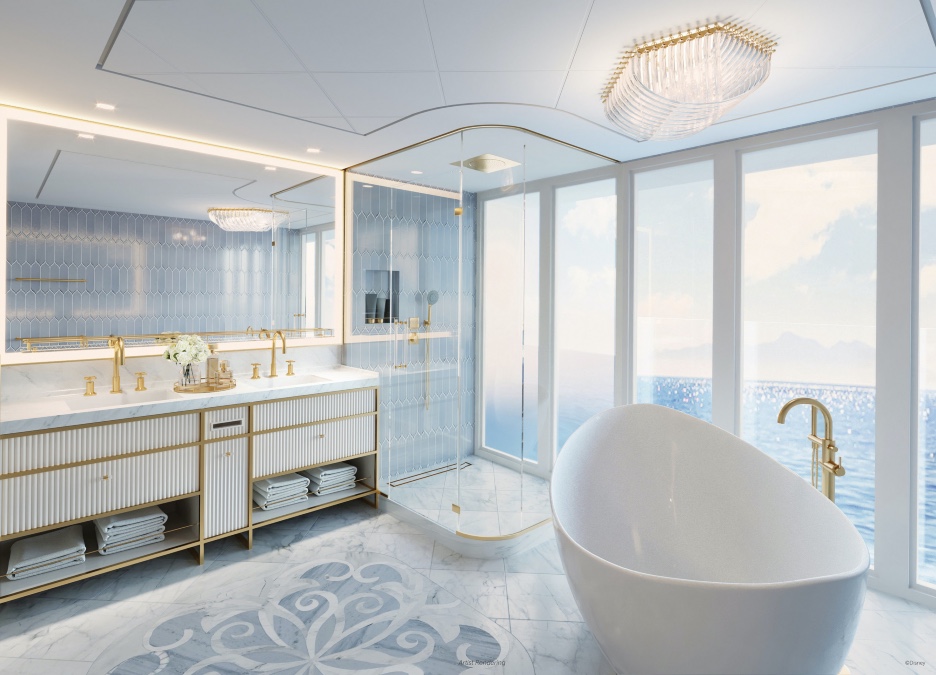 And has a tub with an ocean view 
While the 1,254 staterooms onboard are enchanting, guests can opt for a truly magical stay in Disney's first-ever stateroom above the bridge overlooking the bow of the ship or in one of the four royal suites.
The bridge staterooms – like all premium concierge staterooms – come with use of an exclusive lounge with private sun deck where guests can relax, and sip a cocktail or two.
 The four royal suites are – yes you guessed it! – a first for Disney and can accommodate up to six guests and feature first-class amenities. These include a pair of two-story suites, the first of their kind within the Disney fleet, which will feature a spiral staircase and two-deck-high stained-glass frieze.
To Swim-finity and Beyond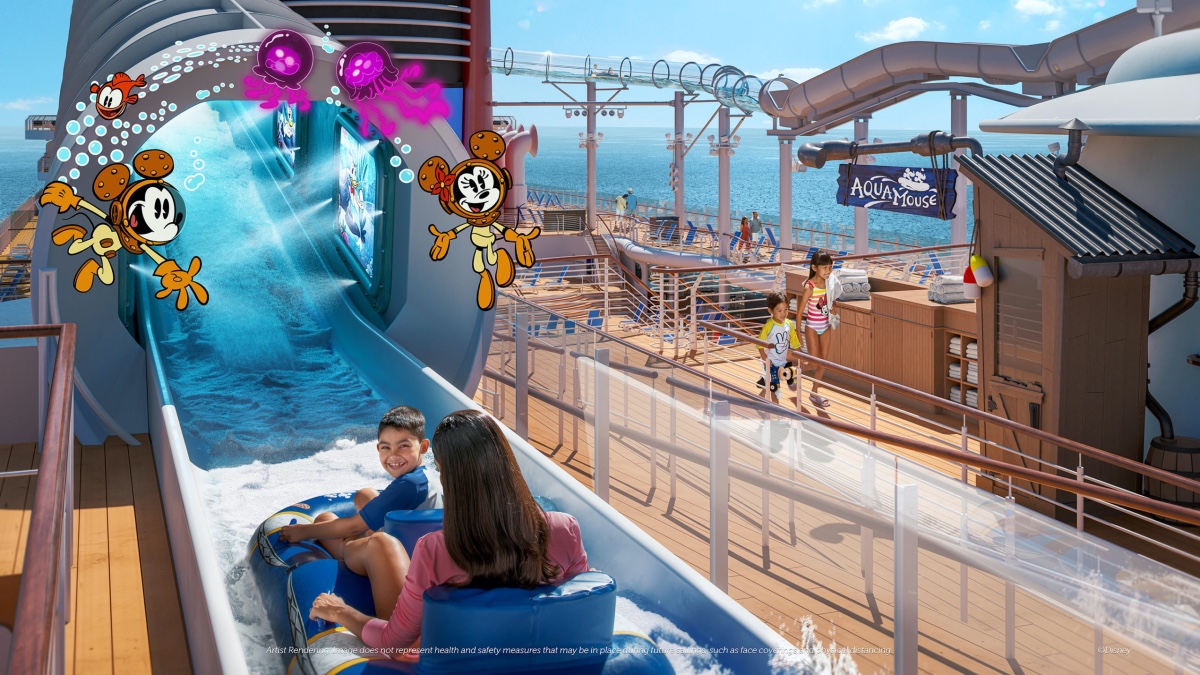 AquaMouse is two-minute wild water ride that soars above Disney Wish
OK, they're not for adults only but they should be – these family attractions are too much fun to ignore.
After hurtling above the Disney Wish on AquaMouse, complete with special effects and splashtacular suprises, choose one of the three themed districts – one of which, Quiet Cove, is adult-exclusive  – and swim in one of the infinity pools, or watch the little ones join Buzz Lightyear and friends in the Toy Story district.
Along with a splash zone, family waterslide and wading pool, there's a smoothie bar enough to make the bigger guests jealous. There's also a Mickie and friends district with six pools, staggered among tiered decks and casual food with a character twist.
There are kids' clubs included for every age group – including a Marvel Super Hero Academy, Fairytale Hall, Walt Disney Imagineering Lab and the trendy Edge and Vibe for tweens and teens. The main kids' club, Oceaneer, will offer a giant slide as the entrance from the Grand Hall. Sadly it's only for the for children while adults have to use the door.
Maybe they'll rethink that for the other two Disney ships that will be built after the Disney Wish. A slide into the adults-only spaces would be fun – and a touch of magic!
Disney Wish will sail its maiden voyage — a five-night cruise from Port Canaveral, Florida, to Nassau, Bahamas, and Disney's private island, Castaway Cay — on 9 June, 2022, followed by an inaugural season of three- and four-night cruises to the same destinations. Bookings open on 27 May, 2021.  
 Visit www.disneycruiseline.co.uk or call 0800 171 2317