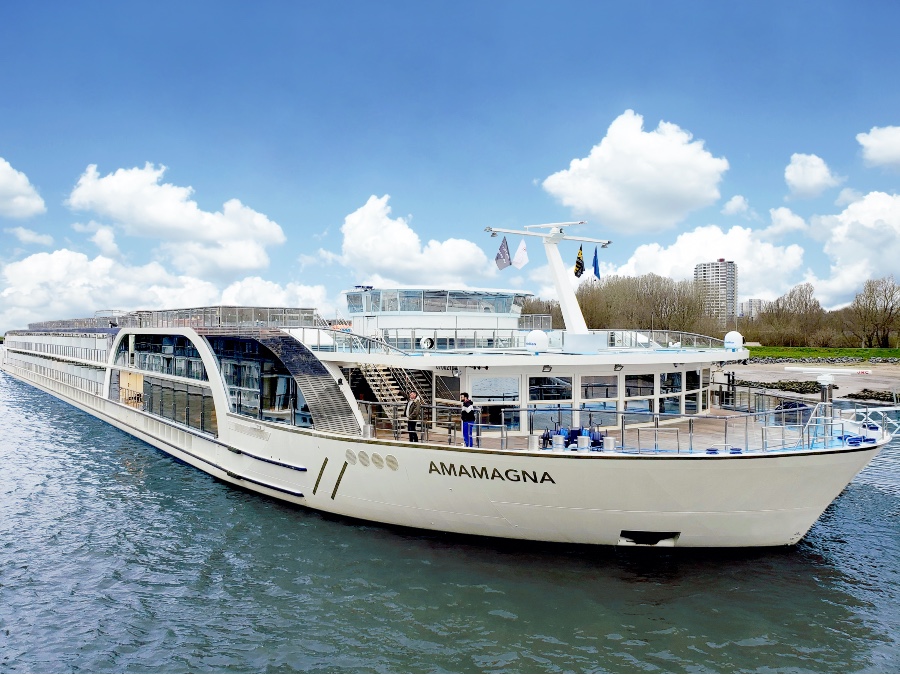 'We don't want it to feel like a week in hospital,' AmaWaterways' boss on setting sail again in the summer
The luxury river cruise line's president Rudi Schreiner says minimal changes will be made after passengers are vaccinated against Covid and get back on board in August
AmaWaterways co-founder Rudi Schreiner believes the river cruise line will start sailing in Europe again in August – and insists he doesn't need to make a raft of changes in the wake of the Covid pandemic.
The luxury river company boss, who has cancelled April departures and is reviewing the May ones, says he needs just two to three weeks' notice to get his fleet ready.
But he insists he needs to give his passengers the same luxury feel as before the pandemic once they're on board.
'It's important that you don't feel like you're coming for a week in hospital. So we will minimise the testing to whatever is necessary but people coming on board will be vaccinated.'
'It's important that you don't feel like you're coming for a week in hospital,' he told the Clia Virtual River Showcase from his home in California. 'So we will minimise the testing to whatever is necessary but people coming on board will be vaccinated.'
Rudi, who founded the luxury boutique river line 39 years ago, added that he was being 'realistic' with the August date even though his sales and marketing team were hoping for an earlier start in June and July.
'I have to be pessimistic to protect the business,' he said. 'The public feels that the summer time is when they can start again. I would say August though the marketing team hope for earlier.
'The vaccine programme is an important factor for getting restarted. We can be ready within two to three weeks. 'It all depends on government, flight and quarantine restrictions…If we have reduced capacity, if our ships are only 20-25 per cent occupied we will go.'
The primary market for the line, who has the highest rated river ships in Europe, according to the Berlitz Guide to River Cruising, is North America whose vaccination programme is going well, he said.
'Americans have sped up the vaccination process so predictions are by the end of May everyone over the age of 18 there could be vaccinated,' he told the virtual audience. 'A lot of people have been vaccinated but restrictions are still continuing in the EU. When Americans can enter Europe without quarantine they will come.'
On board there will still be Covid testing and face masks will need to be worn in areas where social distancing measures aren't possible, such as corridors.
The biggest change is the removal of the buffet – a long-time staple of all cruises. 'Our restaurants will be a la carte,' Rudi explained. 'But I've been thinking of moving away from a buffet for some years.
'If you go to breakfast is a nice hotel you get a menu to choose from not a buffet, so this is the idea.'
Shore excursions will be in small groups. 'That's already key to us as our excursions are included and so there's so much choice they naturally break down into small groups.'
Rudi is confident they can sail safely on AmaWaterways once they get the go-ahead. 'We restarted last summer in Europe with our German guests and we didn't have a single incident from May to November,' he said.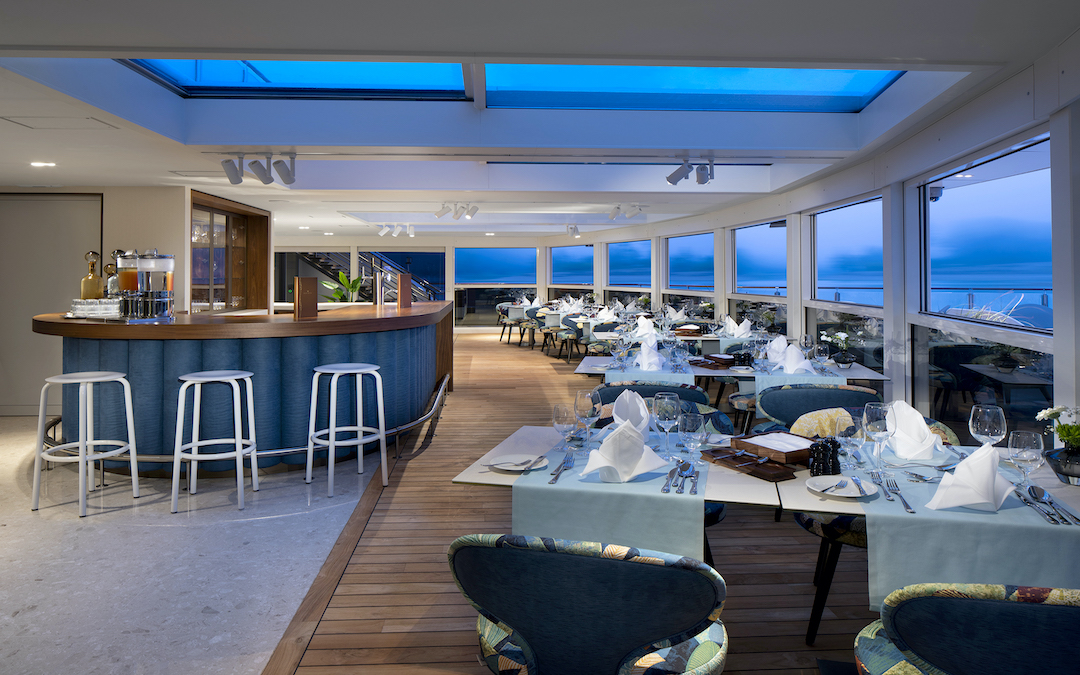 Alfresco dining on AmaMagna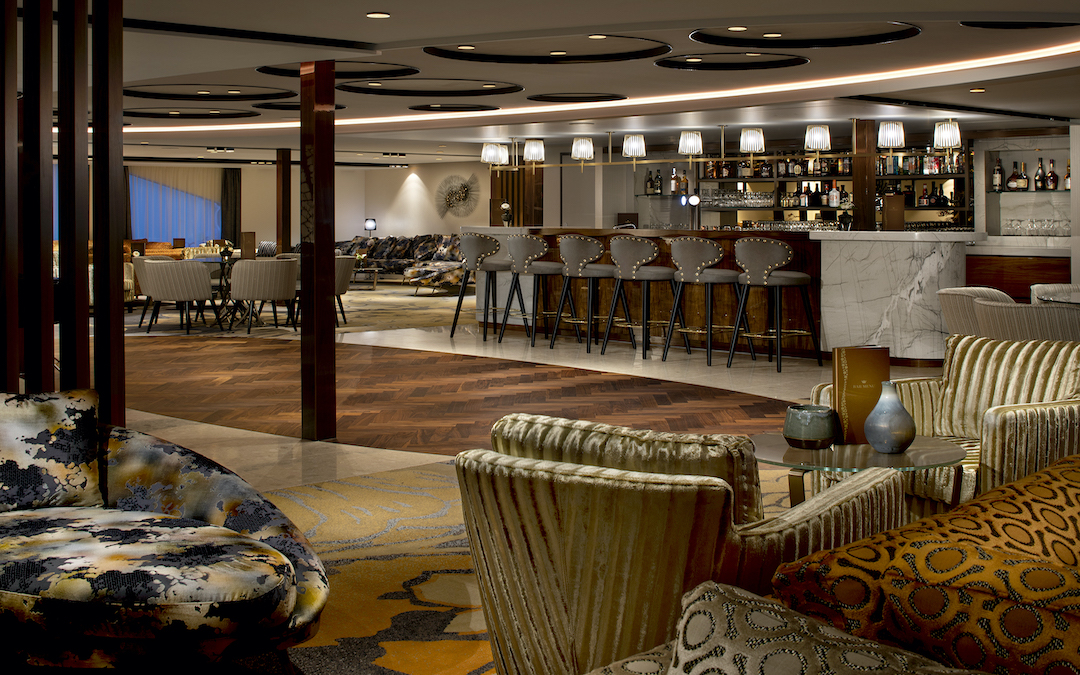 The river ship's sumptious bar 
The line has also created a new 46-day cruise taking in seven European rivers for 2023 which is already proving popular as travel-starved guests try to make up for being in lockdown for so long.
After sailing on the Seine for seven nights, passengers will transfer from Paris to Lyon to sail along the Rhône and Saône.
They will take their second transfer to Basel in Switzerland, and spend three weeks on the Rhine to Amsterdam, before sailing back along the Rhine and Moselle to Luxembourg. They will then cruise along the Main to Nuremberg to spend the rest of the voyage on the Danube to Budapest, sailing to Romania and Bulgaria.
AmaWaterways' marketing team created the bucket list cruise after seeing the success of ocean world cruises. 
'It seems like ocean world cruises are selling like hot cakes," he said. 'So we devised this and went to our past guests. We haven't even announced it publically and we're already looking for a second and third cruise as it's proving so popular.'
The AmaWaterways boss also confirmed that their new 68-passenger vessel AmaDahlia will be ready to start sailing the Nile in September.
'The décor is Egyptian with all warm tones,' he said. 'We looked at history and local style and incorporated that. It's beautiful.
'The Nile has always been so popular and there's so much to see. I have been and I couldn't get enough.'