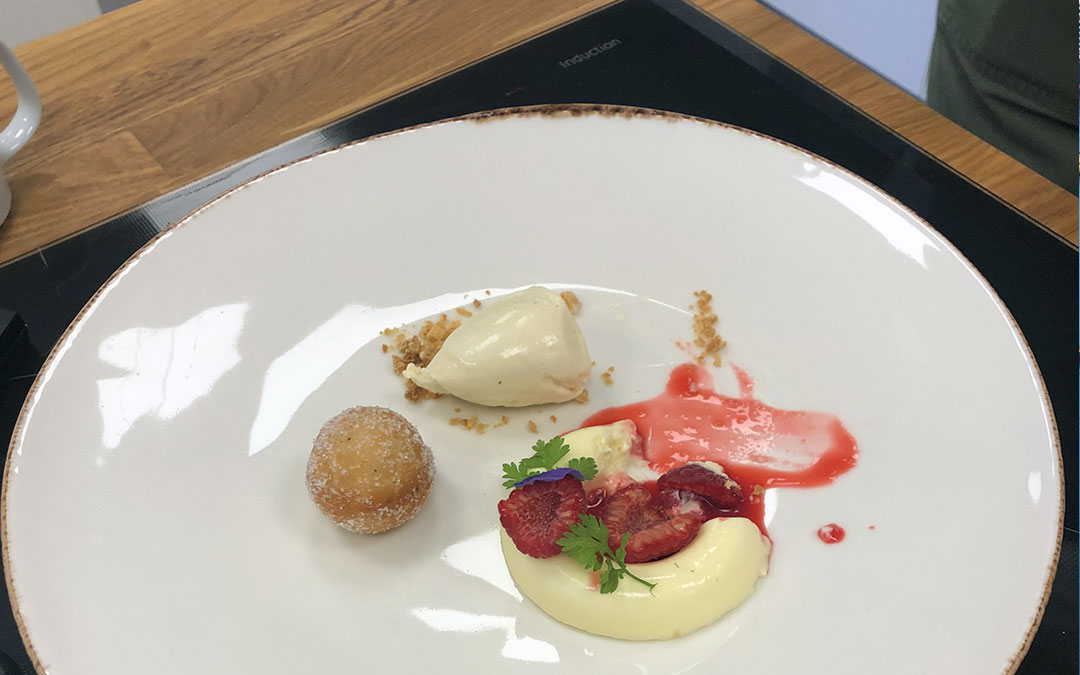 Cruising With Master Pâtissier Eric Lanlard: The Inside Scoop
Norway is the land of trolls, fjords and frozen bars – it's also the perfect place to cruise and learn how to make ice cream
Taking a deep breath, I steady my hand as well as my nerves. I'm about to create a MasterChef-perfect quenelle of ice cream, and it doesn't help that I'm standing in front of two food legends – master pâtissier Eric Lanlard and Norwegian MasterChef presenter Kjartan Skjelde.
I plunge my spoon into the tub of hay – yes, hay of the dried grass variety – ice cream. In one swift action, I push it forward, scooping up the creamy dessert as I go, then twist it round.
'Yes,' I mutter, triumphantly. No mucking around with hot water and two spoons for me to create that special shape – this is a one-handed one-off quenelle de excellence. 'Manifique, Karen,' Eric says.
Eric Lanlard's Frozen Masterclass
Kjartan agrees. I bask in the glory before they call the next contestant forward: my 10-year-old daughter.
She, of course, does a quenelle even better than mine, eclipsing my achievement in one deft move of her left hand.
But at least we have graduated from our masterclass in Kjartan's cookery training school – part of the Food Heroes Cruise on board P&O Cruises' Britannia to Norway and the first time Eric and his students – us! – have been allowed in Kjartan's school.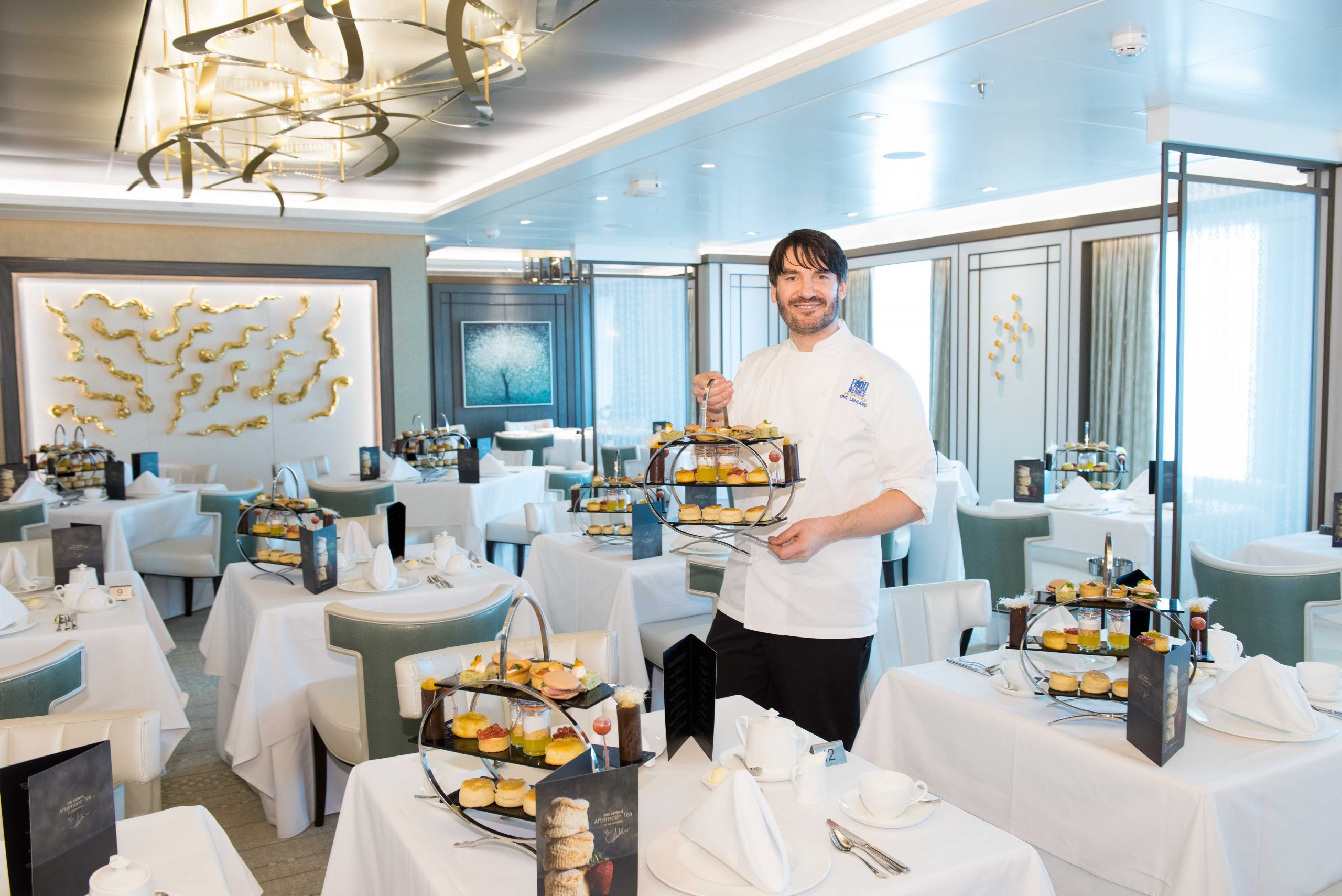 The King of Cakes Eric Lanlard
We're in Stavanger in southwest Norway, where we've spent the morning being shown local produce, including homemade goat's cheese, beer from a micro-brewery and created hay ice cream with caramelised white chocolate (baked in the oven for a nutty flavour) and raspberry sauce.
The hay is toasted and adds a delicate aroma to the ice cream that no doubt horses would love as much as we do. As we're on a foodies' tour, we feast on the sweet we've baked, then stroll around the many food emporiums. With a thriving culinary scene, Norway has come a long way from its tinned sardine heritage.
Preikestolen was named one of the world's most spectacular viewpoints by Lonely Planet and the BBC. Tourists can climb up there if they're fit and brave enough, but we prefer to cruise the local supermarket and epicurean stores instead.
The food fun started as soon as we embarked the 3,647-passenger cruise ship in Southampton. There was just enough time to enrol my daughter Anais into The Reef kids' club – the best at sea according to my jet-setting tween – before I headed off to dinner with Eric in the Cookery Club.
Eric, star of Glamour Puds and Baking Mad with Eric Lanlard on C4, is cake maker to the stars and royalty, as well as being our Food Heroes host for this cruise.
He'll teach us how to bake in The Cookery Club's state-of-the-art culinary school on Deck 17, help us explore the local produce, give us culinary tours of Norway's cities as we cruise, and answer guests' questions and cook for us, a small group of dessert devotees.
'He's certainly the host with the most – full of hilarious anecdotes, baking tips and stories. His sweets are incredible too, and there's a waiting list for afternoon tea at his luxurious Market Café on board.
'It's all hard work,' Eric says, discussing juggling his TV shows, writing his best-selling books, running Cake Boy, his London patisserie, and his Food Hero Cruises. 'I get up at 5am when I'm in London, but I would never miss cruising,' he adds. I absolutely love it – I get to see the world, share my food and have fun. Britannia is my second home.'
Eric Lanlard: 'I get up at 5am when I'm in London, but I would never miss cruising. I absolutely love it – I get to see the world, share my food and have fun. Britannia is my second home'
And what a home it is. Just five years old, the cruise line's flagship Britannia has been given a million-pound refit to make sure it rules the waves as a five-star hotel at sea.
There's a multi-million-pound art collection, 900-plus seater theatre, fine-dining and speciality restaurants including The Epicurean which serves modern British cuisine, Indian fine-dining eaterie, Sindhu, Olly Smith's wine bar The Glass House, a cinema, an opulent spa, state-of-the-art gym and endless movies on demand in our cabin.
Eric's café has been given a sumptuous makeover alongside the atrium, which boasts live music and informal performances under a Starburst chandelier.
For beauty-lovers there are two express spa pods offering a zero-gravity lounger, express skin treatments as well as LVL lash treatments, an Artic cold room, thermal and hydro pool suite and an aroma steam room.
I'm annoyed that I didn't have the foresight to book a treatment before sailing as tonight is the Captain's Gala Party. It's black tie and I love any excuse to dress up – Eric is looking dapper and we even get to say hello and pose with Captain Wesley Dunlop.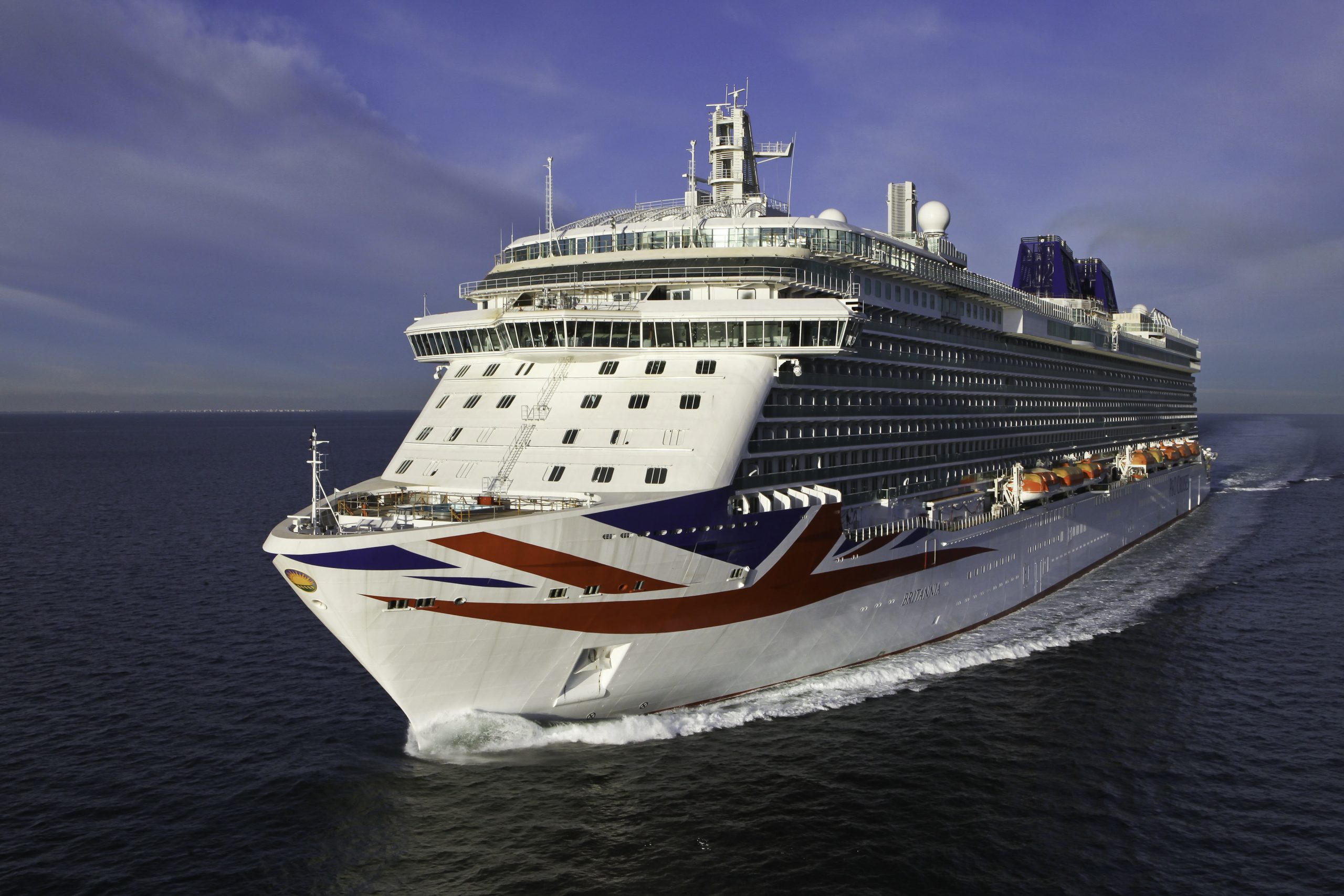 Cool Britannia – the ship has been given a million pound refit to make sure it rules the waves as a five-star hotel at sea
But we can't stay up late. Tomorrow we are in Flam and it's an early start to board the Flam Scenic Railway Tour – the world's steepest journey to mountain-top Myrdal on the Bergen Railway. It took 20 years for construction workers to build the route, which was first used by steam trains in 1940 and electric trains from 1944.
Along the way we pass waterfalls cascading down the sides of snow-covered mountains, rivers that cut their way through deep ravines and hurtle through the blackest tunnels carved through Norway's wildest landscapes.
We're docked at the foot of the mountains in the Flam Valley, part of the majestic Aurlandsfjord, a branch of the world's longest fjord, the Sognefjord.
All that sightseeing is enough to make anyone hungry – luckily that evening we're booked into Sindhu, the fine-dining Indian restaurant on board, where we feast on Navratten Kofta dumplings made with vegetables and paneer, and Khatta Meetha Teeta, chilled mango and passion fruit parfait with chilli.
Next stop, Olden, a port at the top of Nordfjord, an almost 65-mile long inlet cut into Norway's coastline. We watch wild goats clambering up the steep sides, then rushing down to be fed with bread.
Olden lies in a wide valley overlooked by towering mountains and was created when the glaciers moved in the Ice Age a million years ago 
Olden lies in a wide valley, overlooked by towering mountains and with a wooden Old Church in the centre. Created when the glaciers moved in the Ice Age a million years ago, the fjord is shallow at the mouth, and can be seen from the Loen Sky Lift.
The cable car lifts you 1011m from the fjord to the tip of Mt Hoven in just five minutes and is not for the faint-hearted, but the view is worth the nerve-wracking ride where you can drink in the wild landscape and the fjords stretched out beneath you.
Back on terra firma we try the local delicacy of vafler – waffles served with sour cream and strawberry jam. It's delicious, but we leave room for dinner at The Epicurean back on board.
It's my daughter's 11th birthday and she's spoilt with two cakes, one in the fine-dining restaurant on deck 16, and one in our cabin. After dining on Emmental cheese soufflé with baby spinach and potato terrine, we head to watch the Gravity show in Headliners Theatre. 'It's been the best birthday ever,' she says.
The entertainment is non-stop onboard with singers Chesney Hawkes and Gareth Gates performing in the Limelight Club, while magician Stephen Mulhern wows with his illusions and magic show.
Bergen is our last stop before heading back to Southampton. Known as the gateway to the fjords, we eschew the history of King Olav III Haraldsson, The Peaceful, to check out the Mathallen food hall at the fish market, at the head of the bay Vaagen.
Smoked salmon is a popular delicacy here, but you can also pick up fruit, vegetables, flowers, local handicrafts and souvenirs, including gravet laks (cured salmon with dill), sweaters, glass and painted wooden plates known as rosemaling.
We're told to try the Koldbord – cold table – where locals serve up dishes such as cheeses, shellfish and cold fish. I opt for a smorrebrod, which is a large open sandwich made of cheese and salad. It's fantastic and more than enough for the pair of us, though Anais does find room for a skillingsboller – a cinnamon and sugar-coated coil of dough deep-fried like a giant doughnut.
Back on-board Britannia and even more culinary delights await. We're reluctantly ready to sail home to Southampton but – just like at the best of restaurants and dishes – we can't wait to come back for seconds. We're already saving for another helping of a Food Heroes cruise.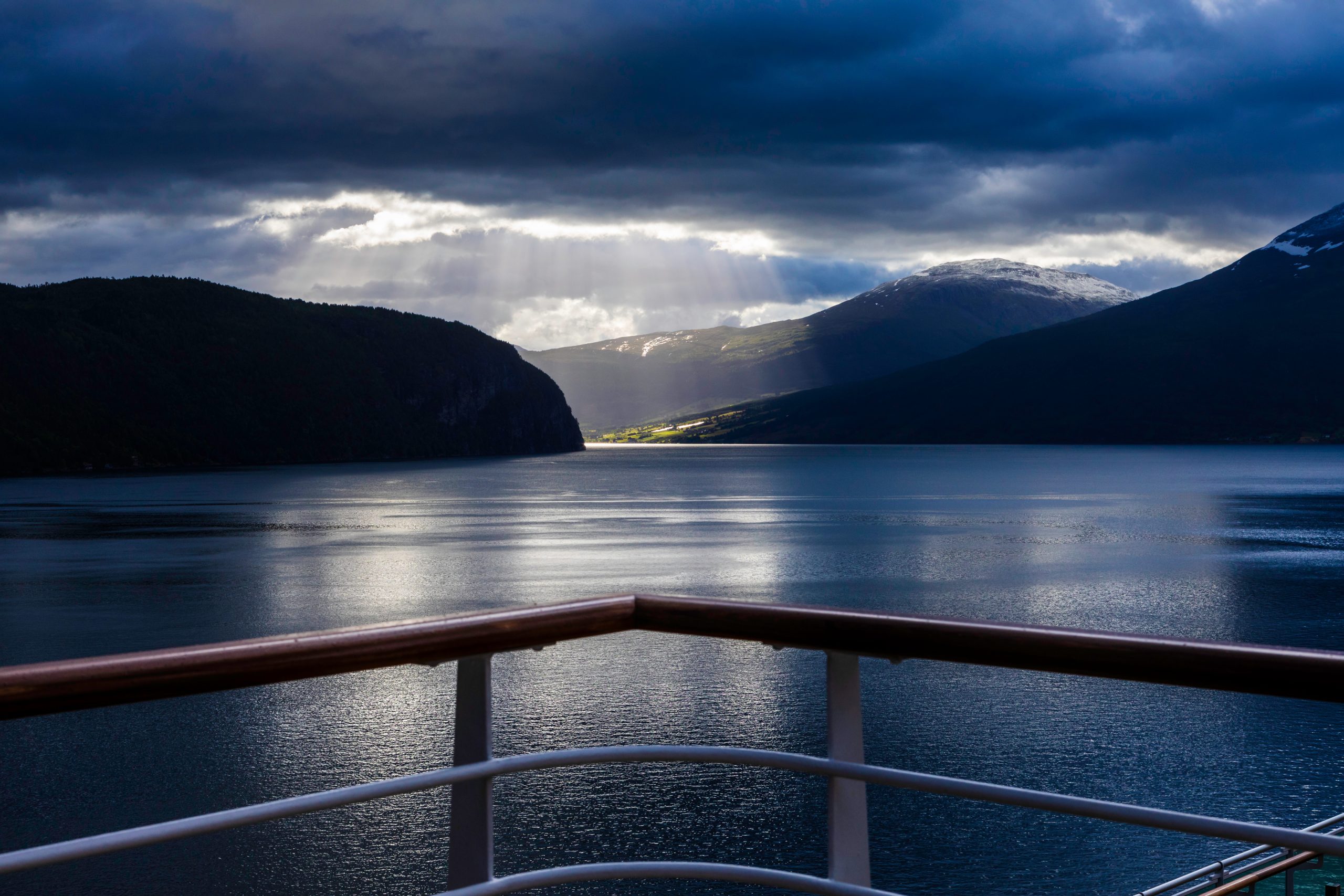 No filter required: Olden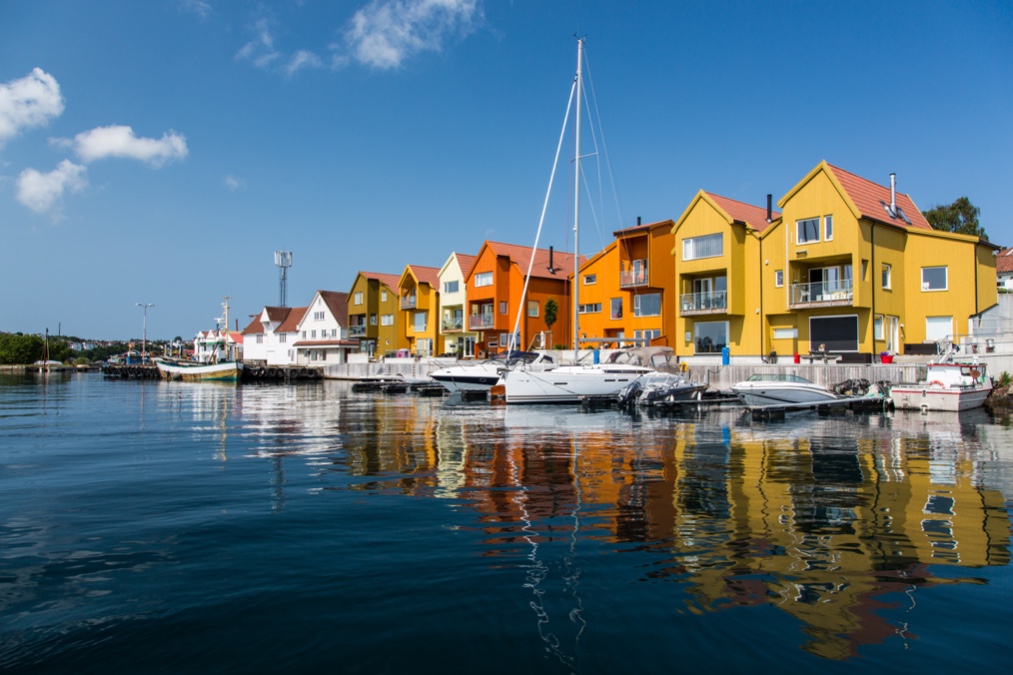 Eric Lanlard is one of P&O Cruises Food Heroes, along with chef Marco Pierre White and wine expert Olly Smith. Itineraries include interactive cookery shows, masterclasses, private hosted dinners and bespoke shore experiences.
Eric will be hosting a Food Heroes Cruise as soon as P&O is sailing again.
Find out how P&O are helping to save the world's oceans here.
Visit www.pocruises.com