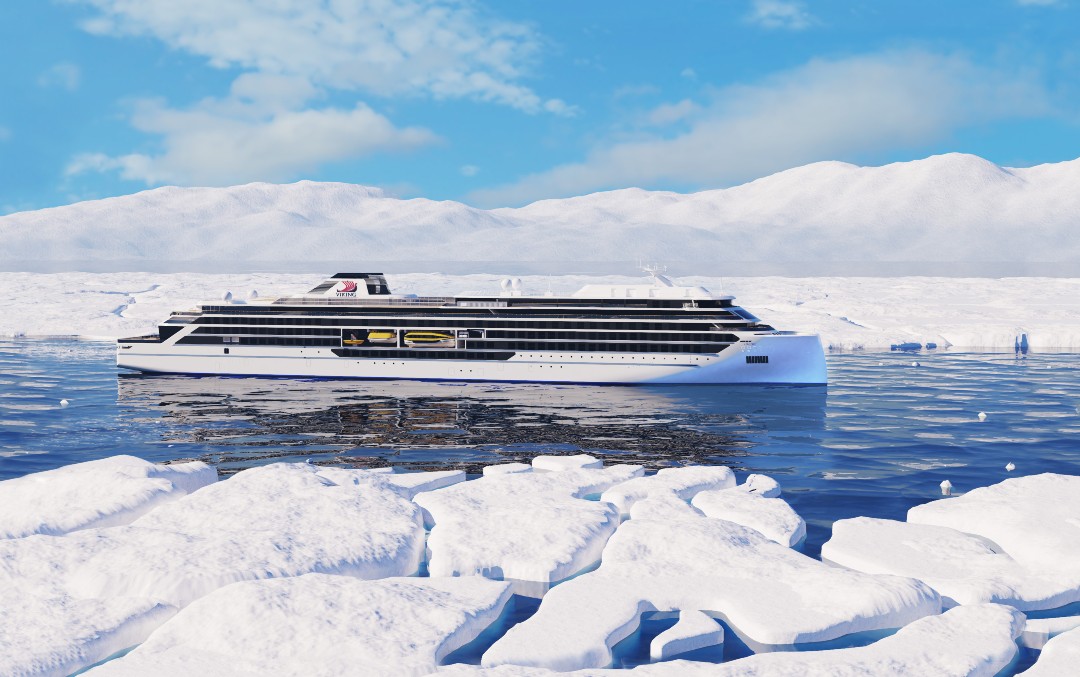 Nice Ice Baby: Viking's forthcoming expedition ships are pretty damn cool…
Attention adventure lovers: are you ready to sail the polar regions on Viking's super stylish expedition ships?
Now this is exciting – Viking, the cruise line known for its super-stylish yet functional ocean ships has launched Viking Expeditions, and as you might expect, the new expedition ships are real head-turners.
The Scandi river and ocean cruise line recently announced the expansion of its destination-focused travel experiences, with the launch of new expedition voyages to the Arctic, as well as Antarctica and the Great Lakes.
To complement these adventurous itineraries, Viking's two new expedition ships – the Polar Class 6 Viking Octantis (launching in January 2022) and Viking Polaris (launching in August 2022) – will accommodate 378 guests, along with a raft of state-of-the-art expedition equipment available to guests at no extra charge.
Built in Norway by Fincantieri, on board you'll find familiar features including the Aquavit Terrace; a two-deck, glass-walled Explorer's Lounge in the bow; and a Nordic spa and fitness centre with thermal suite.
All 179 staterooms and suites will, instead of a traditional balcony, feature a 'Nordic Balcony,' a floor-to-ceiling balcony concept with the top half of the window lowering to create your own al fresco observation platform. Cool! 
Viking Expedition is for cruise lovers with a real sense of adventure, and the itineraries are looking very enticing, even to this Blonde who tends to favour sun over snow, but does have a bit of a penchant for penguins.
Sailing from Tromso, the 13-day Arctic Adventure itinerary includes discovering Norway's Svalbard archipelago, one of the most remote regions on earth. It's a pristine wilderness with native and migratory animals that are uniquely adapted to life in the extreme cold.
Highlights include visiting Bjørnøya, "Bear Island," Svalbard's most remote and southerly island, where over a million seabirds gather to breed annually; exploring Svalbard's glaciers and fjords from a RIB and keeping an eye out for whales and icebergs; and sailing to the southernmost extent of the Polar Cap. Here you can expect to see polar bears, who spend much of their time on remote ice floes hunting seals. This region is also home to white beluga whales and the rarely seen narwhals.
The design of Viking's existing ocean ships is completely on point – contemporary but also incredibly homely – and the expedition ships follow the same design footprint with many familar features.
The forward-facing Explorers' Lounge is a popular feature on Viking's ocean ships. Spanning two decks, this relaxing space with double height windows is ideal for catching up with your fellow sailors and drinking in the spectacular views over a mug or two of mulled wine.
We predict there's going to be plenty of those (views and mugs of mulled wine).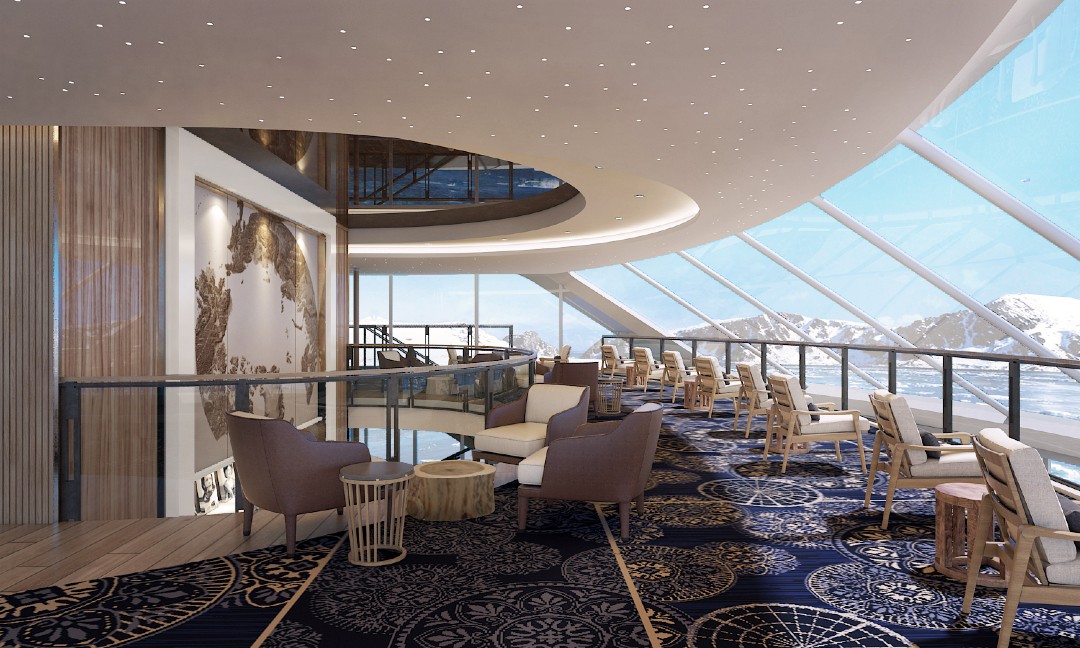 Viking's popular Explorers' Lounge is also featured on the line's expedition ships
It might be hard to drag yourself away from the mulled wine and amazing spa, but outside is where the action is on expedition cruises. And the outside space on the new expedition ships is just as good as what you'll find inside.
The Finse Terrace is an outdoor lounge area with couches and warming lava rock firepits – a great place to sit and enjoy panoramic views of the ever-changing landscape. 
Located at the stern of the ship, the Aquavit Terrace and Pools will feature a retractable glass dome. At this indoor-outdoor sanctuary, you'll be able to swim from inside to out in three different temperature-controlled pools. The aim is to immerse guests in the destination while they soak up some rays, and of course, those vistas.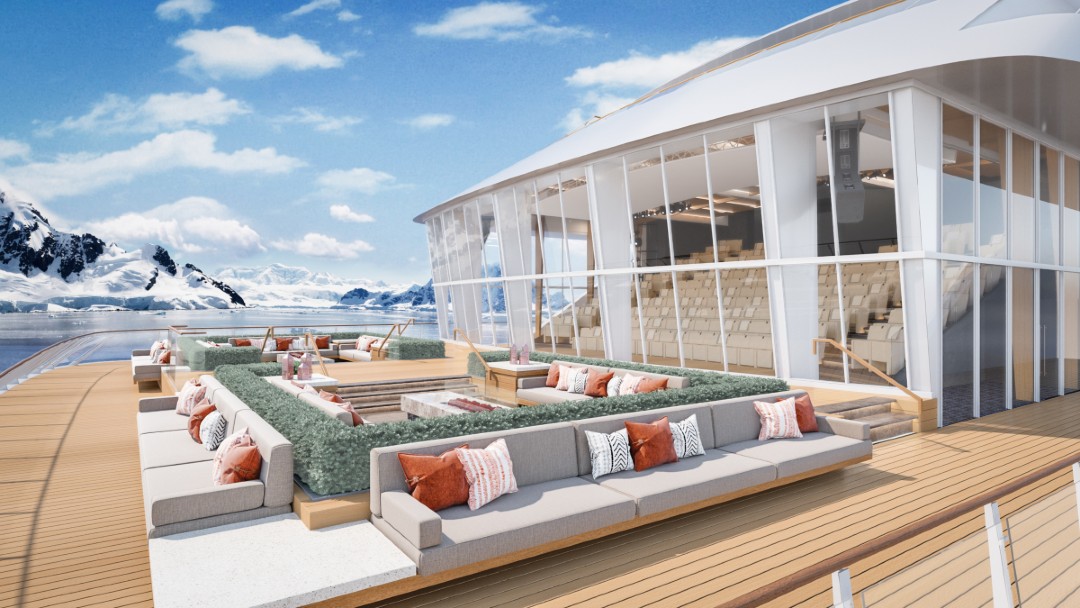 Drink in the views on the Finse Terrace…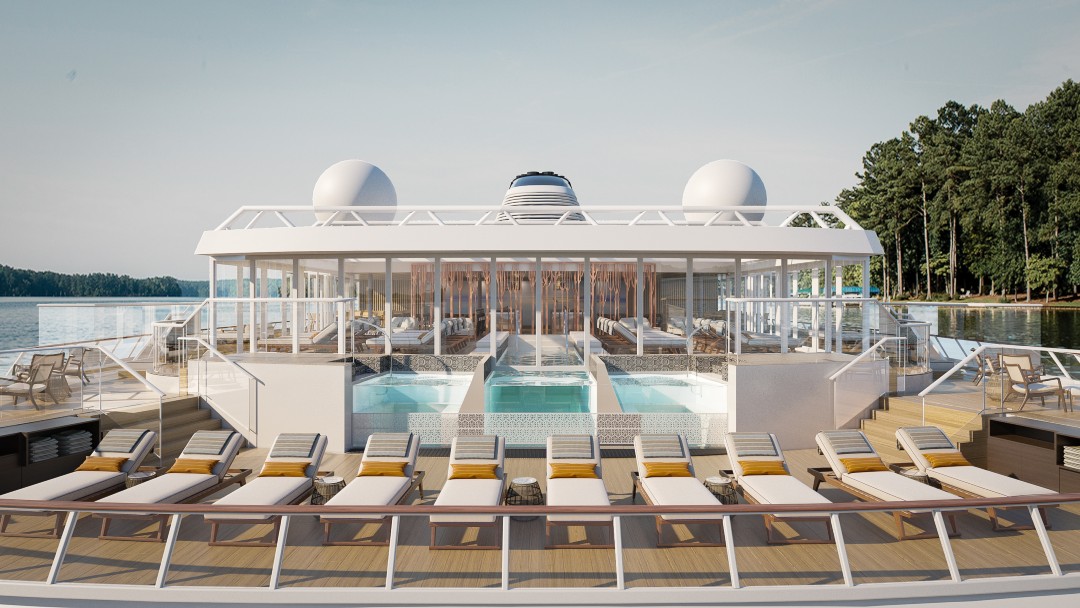 …and catch some Arctic rays on the Aquavit terrace
Expedition ships and cruises are known for their enrichment programmes, and Viking is all about preparing guests for their onshore experiences. Which is why The Aula is already being hailed as the world's most advanced venue for learning at sea.
Boasting floor-to-ceiling windows and 270-degree views, The Aula auditorium was inspired by the University of Oslo's ceremonial hall where the Nobel Peace Prize was historically awarded. It is the perfect space for destination-focused learning to further immerse yourself in the destinations you are visiting.
More than 25 experts will accompany each journey, including the Viking Expedition Team (expedition leader and staff, photographer and submarine pilots) and Viking Resident Scientists (biologists, botanists, geologists, glaciologists, oceanographers, ornithologists, polar experts and researchers).
The Viking Resident Scientists, also on board, are selected by the cruise line's partners at University of Cambridge's Scott Polar Research Institute or The Cornell Lab of Ornithology, and have significant academic backgrounds in their lecture fields.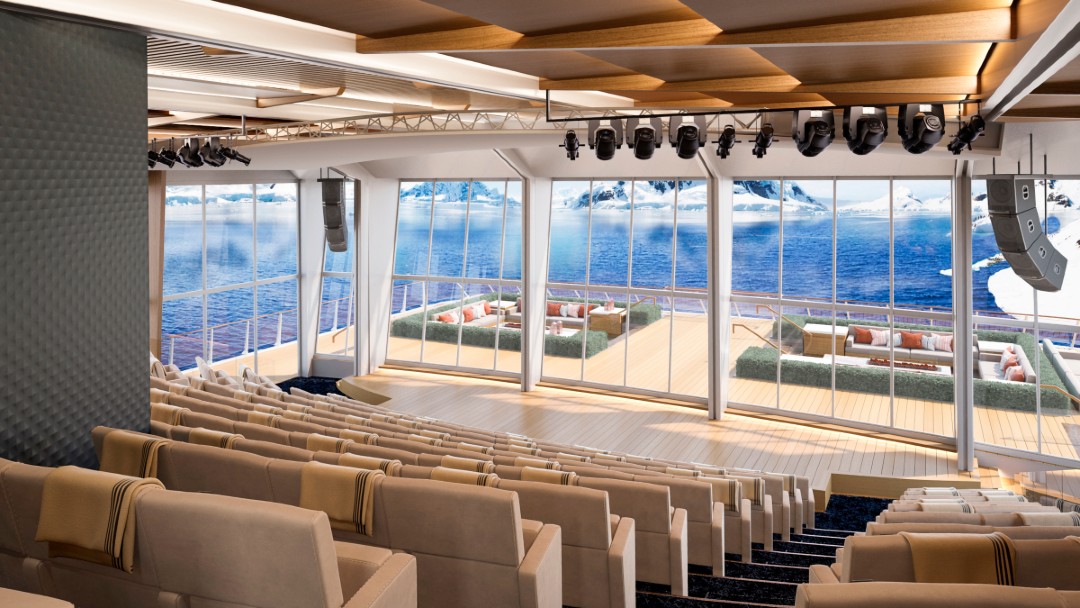 Catch a lecture or presentation in the Aula auditorium 
If James Bond was to film a segment on the ocean, he'd definitely choose a top-spec expedition ship. Expedition ships tend to be equipped with all the latest gadgetry and technology that's required for successful cruising in sometimes challenging conditions, and Octantis and Polaris are no exception.
Any new purpose-built ship must meet stringent environmental standards. The ice-strengthened Polar Class 6 expedition ships will be designed to have minimal environmental impact, as well as meet biosecurity standards and stringent emission norms.
Straight bows, ice strengthened hulls and state-of-the-art fin stabilisers will enable the ships to sail efficiently. The bow design will reduce fuel consumption, while the dynamic positioning system will enable the ships to hover over the seabed without anchoring.
In addition, U-tank stabilisers will decrease rolling by up to 50 per cent when the ship is stationary.
Other cool features include:
Submarines: Two 6-seater submarines will be custom-designed to explore underwater in various regions. Trips are approximately 1 hour in total length (30 minutes underwater, plus time to embark and disembark).
Kayaks and Zodiacs: A fleet of custom designed, easy to operate 2-seater kayaks will feature a pedal system that lets you glide through the water hands-free, maximising photo opportunities (optional paddles are available, and the seat can be removed and reconfigured for a single guest if requested). There's also a fleet of military Pro Zodiacs.
RIBs: Two 12-seater oceangoing RIBs (Rigid Inflatable Boats) have a dual water jet system, individually suspended seats and, when converted to a covered RIB, provide the option to sit in an enclosed cabin—all industry-leading features. 
The Hangar: An industry first, this enclosed in-ship marina permits the launch of small excursion craft through the ship's slipway. Guests can embark on RIBs from a flat, stable surface inside the ship and glide into the water to depart on their excursion. They re-enter The Hangar after excursions via the slipway to the protected marina before disembarking their RIBs.
Sounds fantastic, right? But if 2022 seems like a long time to wait, head to the British Museum (one of Viking's cultural partners) for the Citi exhibition Arctic: Culture and Climate. Set to run till 21 February 2021, it will be the first major exhibition of the Arctic and its Indigenous Peoples covering the whole circumpolar region.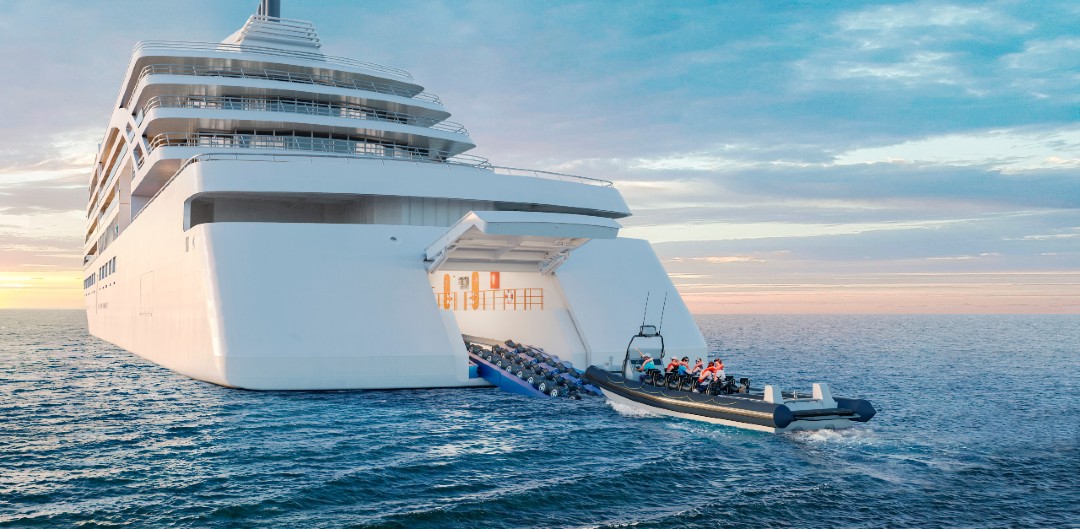 The Hangar allows you to board RIBs from inside the ship (that looks like so much fun)
The 13-day Antarctic Explorer cruise on Viking Octantis departing Buenos Aires on 12 January 2022 starts from £12,995 per person, calling at Ushuaia, cruising the Drake Passage, Antarctica and cruising Cape Horn. 
Visit www.vikingcruises.co.uk/expeditions or call 020 8780 6516.