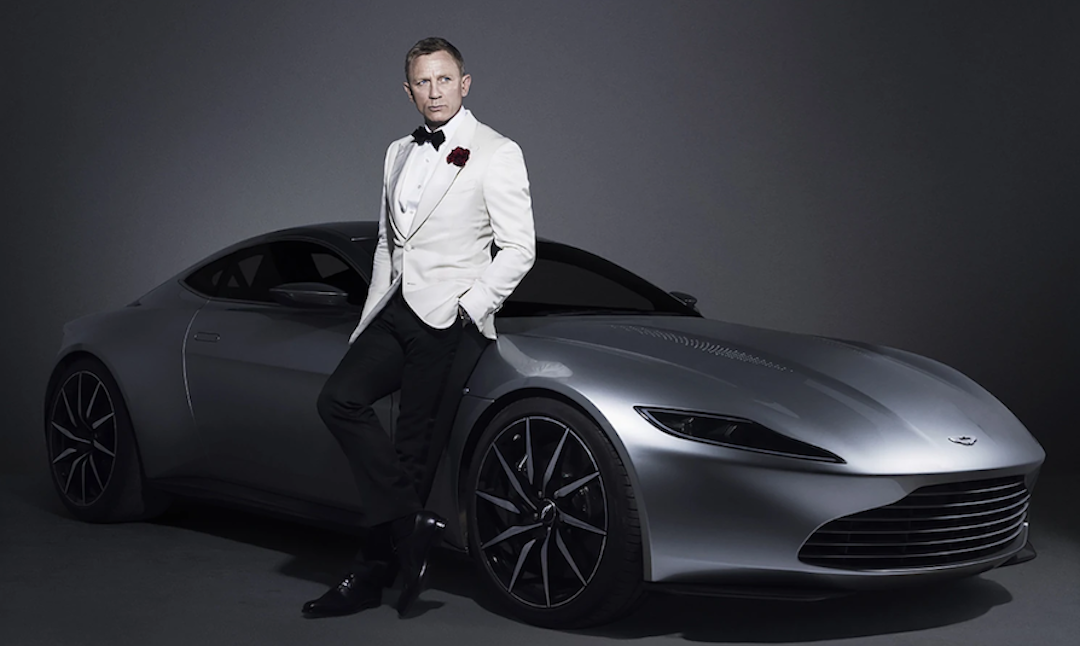 007 James Bond-inspired cruises that will leave you shaken not stirred
The name's Blondes. Cruise Blondes. We know you've been expecting us so here, for your eyes only, are the best luxury cruises to the spectacular locations we've spied in the latest Bond movie
Our favourite British spy is back and while this may be Daniel Craig's last outing in that tux (sob!), there are more reasons than it being his spectacular swansong as James Bond to watch No Time To Die. Sure, there's plenty of explosive action, fast cars and gadgets galore, a plot that twists and turns more than an Aston Martin up a snow-covered mountain and a surprising new take on Ian Fleming's secret agent that definitely shakes and stirs things up.
But it's the spectacular film locations that are arguably the real stars of the 163-minutes-long blockbuster that hits our screens today.
The latest instalment of the popular franchise sees James Bond globetrotting around the world, shooting (in both senses of the world) in Italy, England, Scotland, Norway, The Faroe Islands and Jamaica.
So if watching No Time To Die has you dusting off your passports or hankering to follow in the footsteps of the world's top secret agent, then here's your ultimate Cruise Blondes guide to cruising the movie.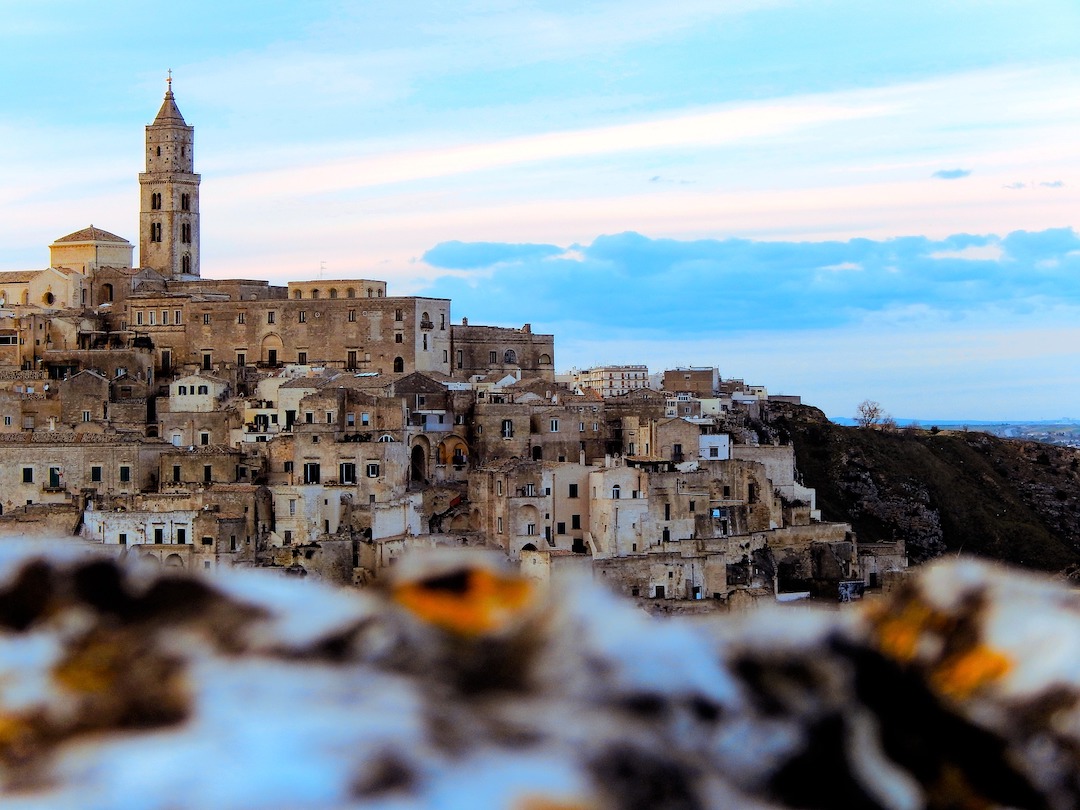 James Bond showcases the medieval town of Matera with its sassi carved into the hillside in No Time To Die
Stealing the scene in the movie trailer's opening shot, is a car chase set in medieval Matera, Europe's Capital of Culture 2019 on the border of Basilicata and Puglia, which showcases the town's ancient sassi – white houses carved into the hillside.  
The UNESCO World Heritage Site is no stranger to films – it doubled as the Themyscira Island in Wonder Woman, and The Godfather director Francis Ford Coppola owns the Hotel Palazzo Margherita just 45 minutes' away. It's also down the road from the Gravina aqueduct James Bond hurls himself from in the film.
The No Time To Die crew also shot in the southwest of Italy, in Sapri, near Salerno, on a beach that leads to a secret cove – just perfect for hiding from villain Rami Malek.
This is the fourth time 007 has visited Italy since Daniel Craig slipped into a £4,800 Giorgio Armani leather jacket in Casino Royale and while it's off-the-beaten track it's the perfect place to visit after exploring Rome and Venice.
GETTING THERE
Discover Puglia, the land of orchards and forests of olive trees, in luxury on Azamara's Brindisi (Lecce/Alberobello) Italy Voyage, which also takes in Sorrento and Amalfi. Explore Lecce, the Florence of the south, taking in the beautiful sandstone Baroque buildings. 
Enjoy an olive tasting in the White City of Ostuni, and visit the world-famous trulli limestone dwellings in Alberobello before dining on Apulian focaccia and sipping local vino at a restored Puglian farmhouse. 
A 10-night Italy Intensive cruise on Azamara Quest on 9 October, 2021 sailing from Civitavecchia, (Rome) and calling at Sorrento, Amalfi, Sicily, Brindisi,Dubrovnik, Croatia, Ancona, Trieste, Pula and disembarking Triesta starts at £1,587 per person for an interior cabin. Azamara.co.uk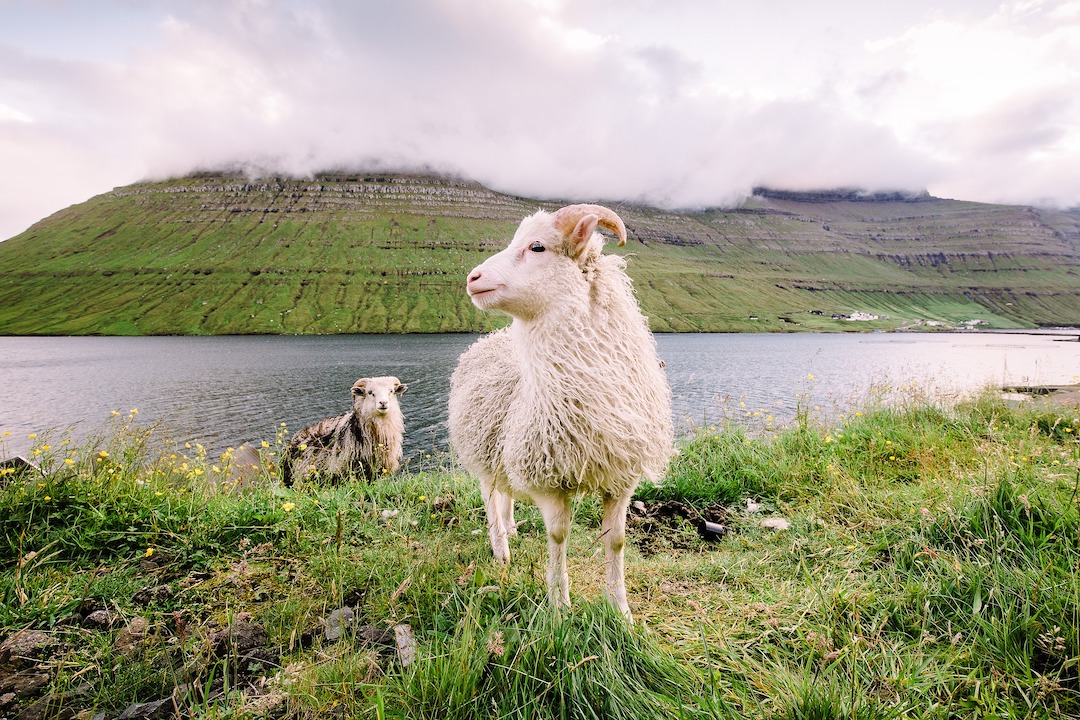 The Faroe Islands are the perfect place for Bond to hide out from a baaaa-ddie
Populated by just 150 inhabitants, the rugged cliffs and wild scenery of Kalsoy is the most dramatic backdrop for the latest James Bond film.
Home to stunning waterfalls, deep valleys and twisting roads, as well as the Kallur Lighthouse, perched on a steep cliff at the top of the remote island where sheep outnumber people two to one, Kalsoy can only be reached by ferry or – of course in true Bond-style – by helicopter.
But it's worth visiting the stunning archipelago – halfway between Iceland and Norway, north of Scotland – with its grass-roofed houses, where you can now visit the most remote Bond movie location yet. Take the James Bond Sightseeing Tour where, for £315 per person, you will be given a specialist tour of the film locations with a guide, and hike around the island. The fee includes a ferry crossing and boat trip.
GETTING THERE
Go island hopping in and around the Artic in style with Hurtigruten on a trip that chases the Northern Lights. Stopping off in Torshavn, a craggy fishing island of fjords, farms and fabulous waterfalls, you can take in the panoramic views of the neighbouring Faroe Islands, the sea stacks or visit an ancient Viking settlement in a valley of lakes.
A 13-night voyage on board MS Spitsbergen on 25 May, 2022 from Bergen and calling at the Shetland Islands, Torshavn, Elduvík, Bakkagerði, Husavik, Akureyri, Jan Mayen Island, Gnålodden, Hornsund, Pyramiden, Skansbukta Bay and Longyearbye starts at £5,783 per person. Panachecruises.com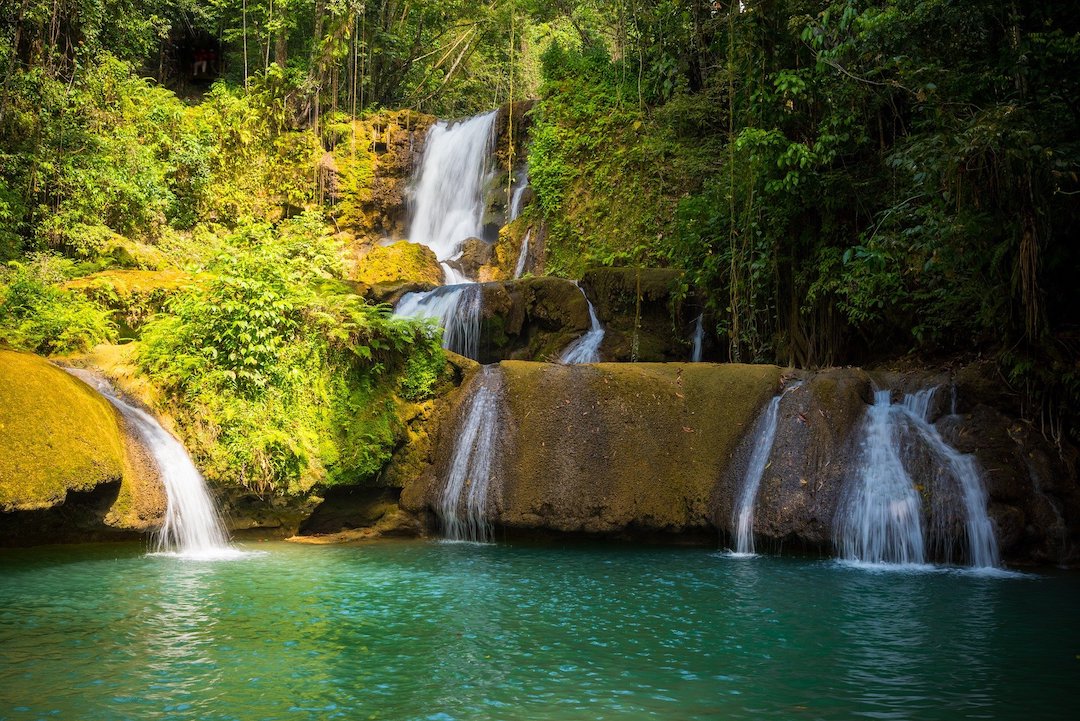 Jamaica – with its stunning beaches and waterfalls – was the home of Bond creator Ian Fleming
Bond's creator Ian Fleming had a 15-acre estate, Goldeneye, on Oracabessa Bay, on the northern coastline of Jamaica, and built his home on the edge of a cliff overlooking a white sandy, private beach. It was here he penned all of his Bond novels so it's no surprise that the Caribbean island stars in the latest movie.
Filming took place in Port Antonia, on the north coast, where, in opening scenes of the movie, the (not for long) retired spy is spotted relaxing in his very exotic hideaway. 
GETTING THERE
Ring in 2022 in total luxury while enjoying the best Jamaica and The Bahamas has to offer on a New Year's cruise with Crystal Cruises. Climb the legendary Ocho Rios waterfalls and visit Port Royal, the wickedest city on earth, where British pirates and buccaneers stopped off on trade routes to the New World. An earthquake in 1962 plunged most of the city into the sea. Now the surrounding waters are an archaeologist's dream destination and a UNESCO-designated treasure, too.
 

A 10 night cruise on 29 December, 2021, from Miami calling in on Bimini, and San Salvadore, Bhamas, Ocho Rios and Port Roya, Jamaica, Long Island, Bahamas, Great Exhuma, returning to Miami starts at $2, 499 per person, based on two sharing a cabin, excluding flights. Crystalcruises.com
Atlantic Ocean Road, Norway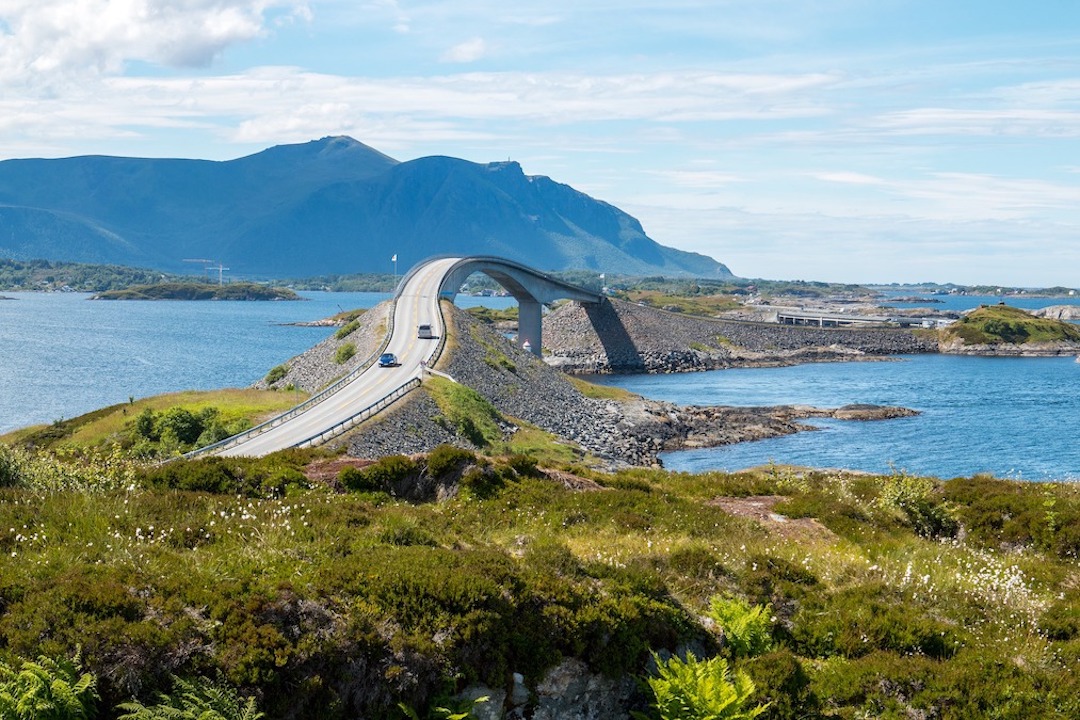 The Atlantic Ocean Road is a nerve-wracking eight-mile stretch of twisting tarmac on Norway's north coast 
If it's good enough for Ethan Hunt then there's no doubt Norway is more than good enough for James Bond. While Mission: Impossible star Tom Cruise dangled off a towering cliff face known as Preikestolen or Pulpit Rock, Daniel Craig's Bond is seen tearing up a nerve-wracking eight-kilometre stretch of tarmac on Norway's north coast called the Atlantic Ocean Road.
The Guardian claimed the Norwegian government offered around £4million in tax breaks for No Time To Die to film there – and it was worth every penny. As well as the edge-of-your-seat car stunts, stunning scenes of Remi Malik chasing a young woman across a frozen lake were shot at Langevann Lake, in Nittedal, not far from Oslo.
GETTING THERE
Drink a schnapps shaken, not stirred in Norway's capital city before getting up close to a wooden Viking ship, heading to the City Hall where the Nobel Peace prize is awarded every year, or to the fantastically named Slottsplassen square to admire the pristine Royal Palace.
A 12-day cruise with Silversea's Silver Moon on 9 June, 2022, takes in Flam, where you can ride the iconic railway, winding its way around massive mountains, and past gushing rivers and waterfalls. The Reykavik to Copehagen cruise, calling in at Runavik, Faroe Islands, Alesund, Olden, Bergen, Stavanger, Oslo, Norway, and Aalborg, in Denmark, starts at £7,200 per person. silversea.com
Cairngorms, The Highlands of Scotland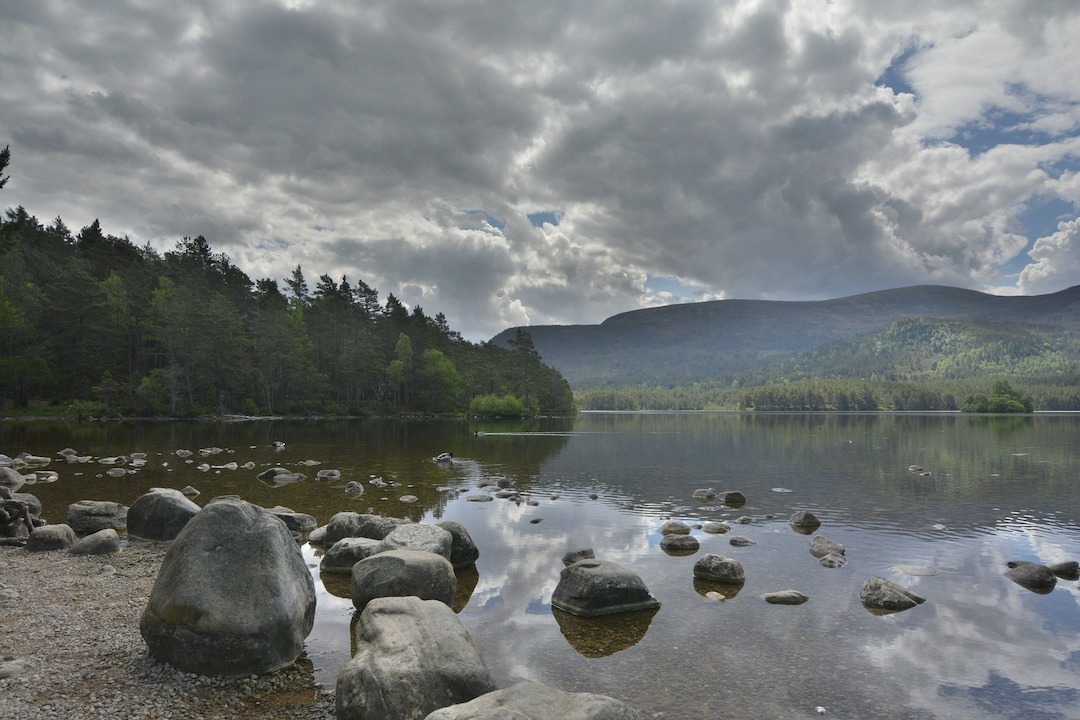 Bond is no stranger to Scotland – this time he's in the scenic Highlands, a cinematographer's dream  
The last time Bond was north of the border was a tear-jerker as he witnessed the death of Judi Dench's M in Skyfall. This time he's in the Cairngorms National Park trying to outrun a Land Rover speeding towards him by Loch Laggan.
This is the Scottish Highlands at its finest – all pine forests, roaming stags and even a mansion with turrets on the banks of the loch. The Adverikie House Estate is no stranger to the big screen – the 19th century Gothic manor has appeared in Outlander, Monarch of the Glen and The Crown.
Getting There
Discover Scotland in style on Seabourn Venture, one of the line's new purpose-built ultra-luxury ships. Equipped with snorkelling and scuba diving equipment along with kayaks and Zodiacs, the Scottish and Norse Legends Expedition sets sail to Fair Isle in the North Sea where just 70 inhabitants live in traditional crofts.
As the official cruise partner of UNESCO World Heritage, the line offers UNESCO partner tours that visit a number of World Heritage Sites. A 12-day Scottish and Norse Legends Expedition out of Leith (Edinburgh) on 22 April 2022 exploring the coastal beauty of Scotland and Norway en route to Tromso starts at £9,899 per person for a Veranda suite. Seabourn.com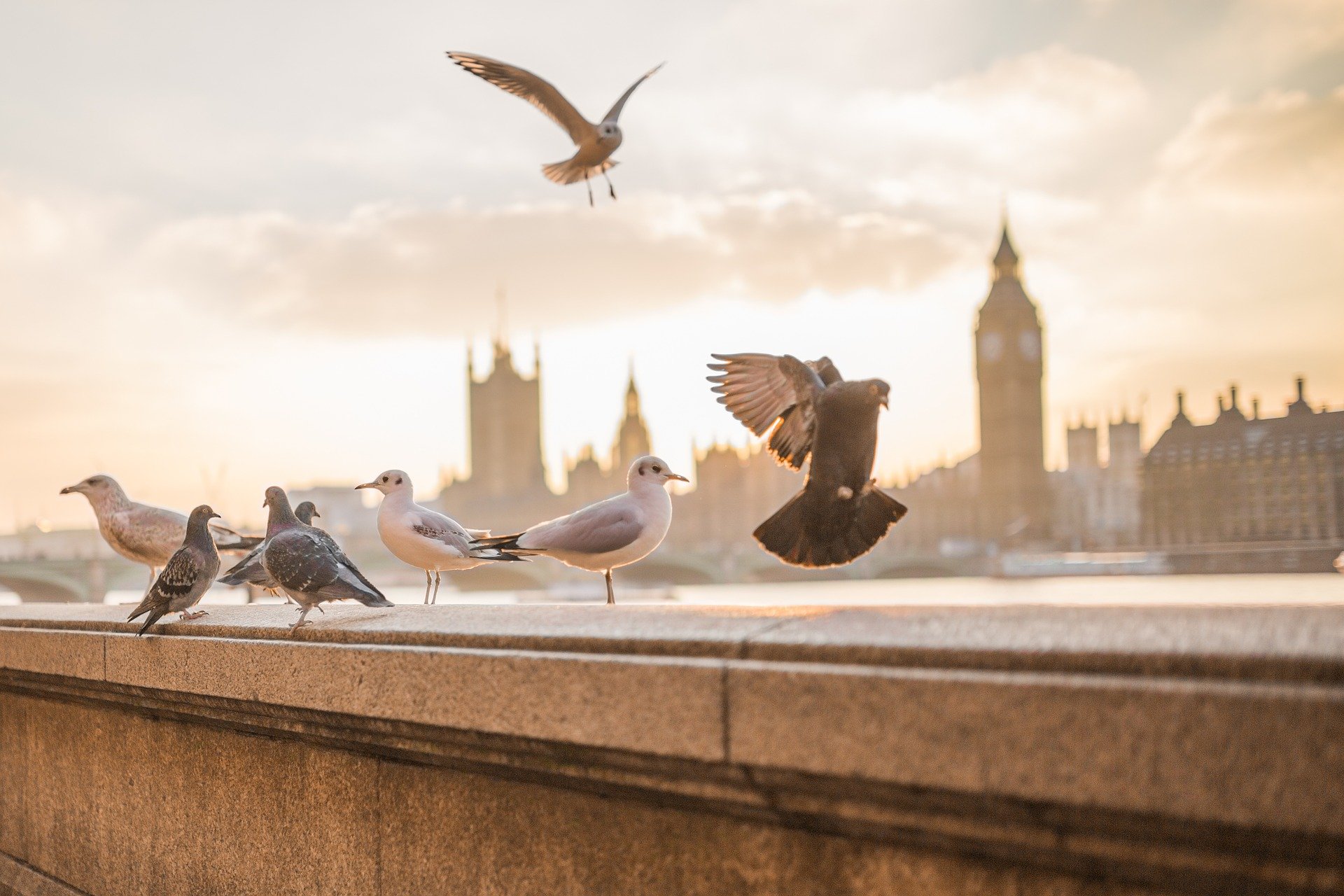 Get a bird's eye view of the Bond capital while on a luxury cruise 
If – as GQ magazine put it – James Bond is the 'ultimate ambassador for the UK – even skydiving into the Olympics stadium alongside the Queen' then London is his spiritual home. After all it's the British espionage epicentre and where MI6 HQ is located.
From Whitehall (near the real Ministry of Defence building) to the Thames, there isn't an inch of the capital the spy hasn't been filmed speeding along over the course of the Bond films and No Time To Die is no different. Production shot in Whitehall, Hammersmith as well as Pinewood Studios.
The Reform Club in Pall Mall, which doubles as a fencing club called Blades where Madonna makes a cameo appearance as fencing teacher Verity, is well worth a visit. Just down the road, in Mayfair, you can head to 22b Ebury Street, the birthplace of Bond creator Ian Fleming where he lived between 1934 and 1945. Pose for a Bond-style selfie next to the blue plague erected there.
GETTING THERE
Sample some distinctly British patriotism on board new cruise line Ambassador while marvelling at our capital's skyline with a Round Britain & Queen's Platinum Jubilee Celebration cruise.
The adults-only line sails out of London Tilbury before heading to Rosyth, Aberdeen, Kirkwall, Orkney Islands, Portree, Isle of Skye, Tobermory, Isle of Mull, Belfast, Holyhead, St Mary's Isles of Scilly, St Peter Port in Guernsey, Honfleur, France and back to London.
There's even a casino onboard as well as the royal theme – very Bond. A 12 night cruise on Ambience on 26 May, 2022, starts from £1,399 per person for an outside cabin. ambassadorcruiseline.com
It's Eclipse. Scenic Eclipse: the ultimate Bond way to cruise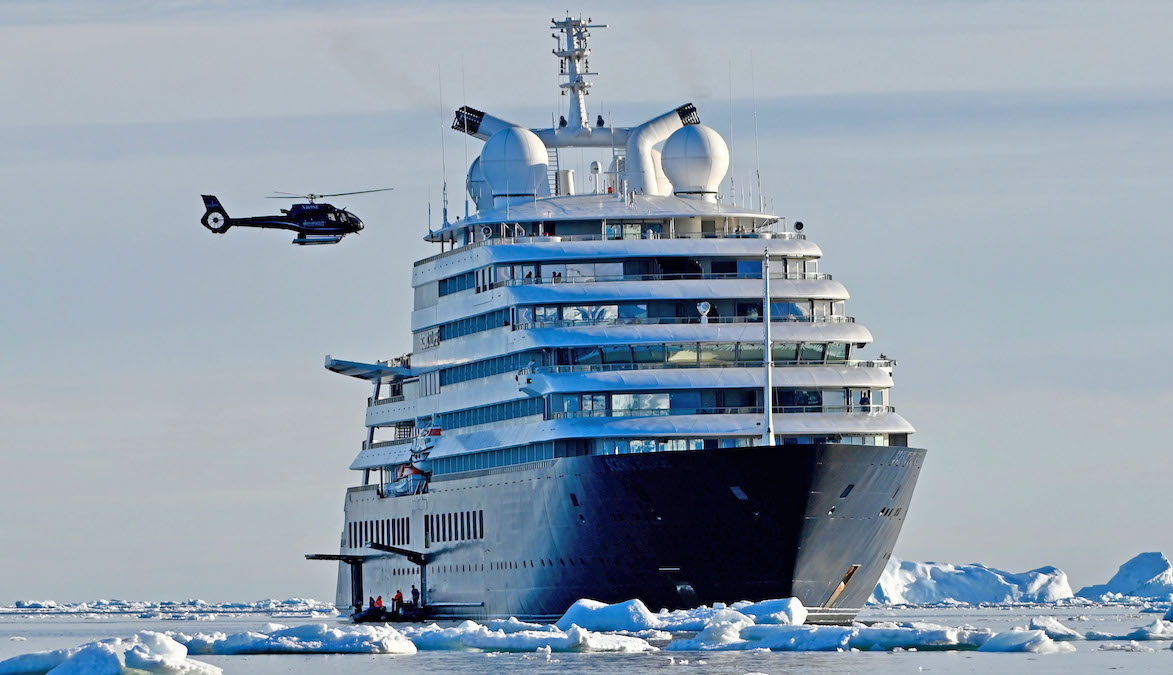 Only two helicopters? Still, Scenic Eclipse is the ultimate way to cruise Bond-style 
As sleek, sophisticated and damn sexy as the world's most famous secret agent himself, Scenic Eclipse is the world's first discovery yacht. With a six-seater submarine and two helicopters, this is the ultimate in six-star luxury. The 228 guests can indulge in off shore adventures before being pampered in the spa or dining on French cuisine to rival the finest Michelin star restaurant. So far, so Bond.
GETTING THERE
The destination's she's heading to come straight out of a Bond movie with cruises to Antarctica where, after flying to Ushuaia, the southernmost city in the world, you can go fishing, trekking, and horseback riding.
Explore the Antarctic Peninsula, climb to the rim of a volcanic crater, cross the Antarctic Circle and spot Chinstrap penguins, Gentoo, whales, orcas and seals basking on ice floes.  An 11 night Antartica in Depth cruise departing 4 January, 2023 starts at £11,907 per person. Panachecruises.com