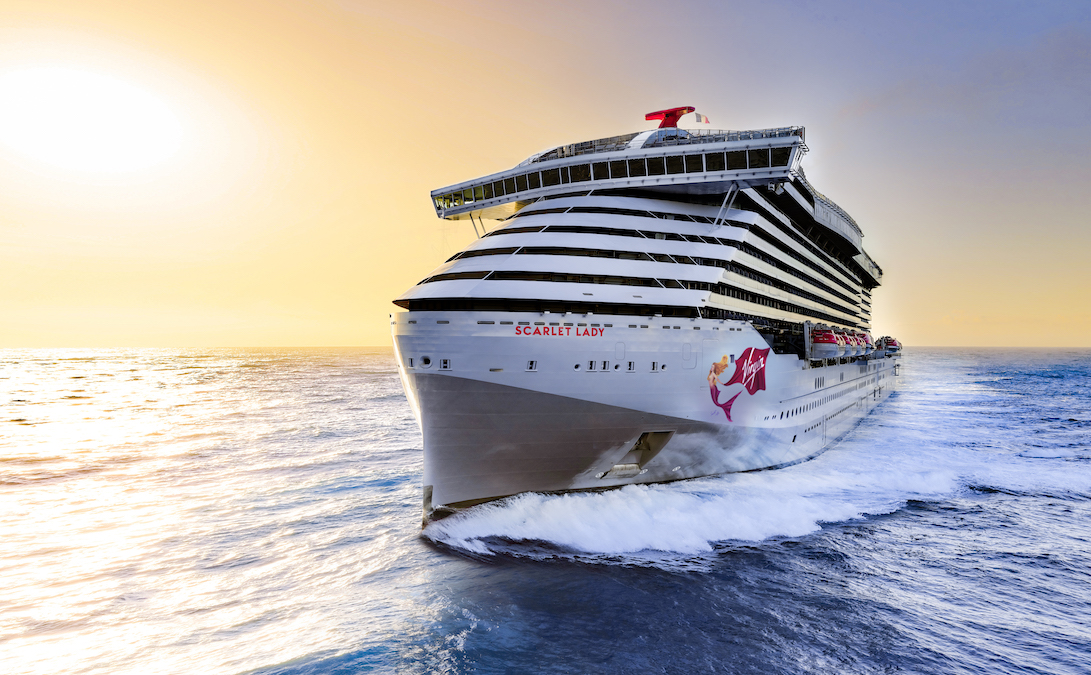 50 Shades of Scarlet – Why Richard Branson's First Ship Will Really Float Your Boat
With personal 'pleasure packs', RockStar Agents to cater to your every whim, and a dance until dawn itinerary, Virgin Voyages' Scarlet Lady is making a splash with her seacations
Inside our cabin on Virgin Voyages' Scarlet Lady, our steward, Banas, is showing us around. There's the crimson hammock for admiring the ocean view on the balcony, the tablet that's replaced the remote which will also open and close the curtains, and allow you to choose mood lighting as well as what to watch on TV.
There's a red, plastic Octopus by the bed that has absolutely no purpose other than to look good as it's the company's chosen 'spirit animal' because, I learn on the brand tour, it's so 'strong and flexible'.
Oh, and then there's the welcome and 'pleasure' packs. The first presumably contains a toothbrush, toothpaste and shaving kit. The second is for when – as it says on the box – 'you're ready to go below deck.' Inside is a condom, vibrator, and a ring which, let's just say, you definitely wouldn't use to propose.
'It's chargeable,' Banas explains matter-of-factly, 'so only open that box if you're happy to pay $30.'
By now my husband's eyes are bulging and his cheeks are, well, scarlet. 'I'm off to check out the gym,' he said, scuttling away with Banas following in his wake.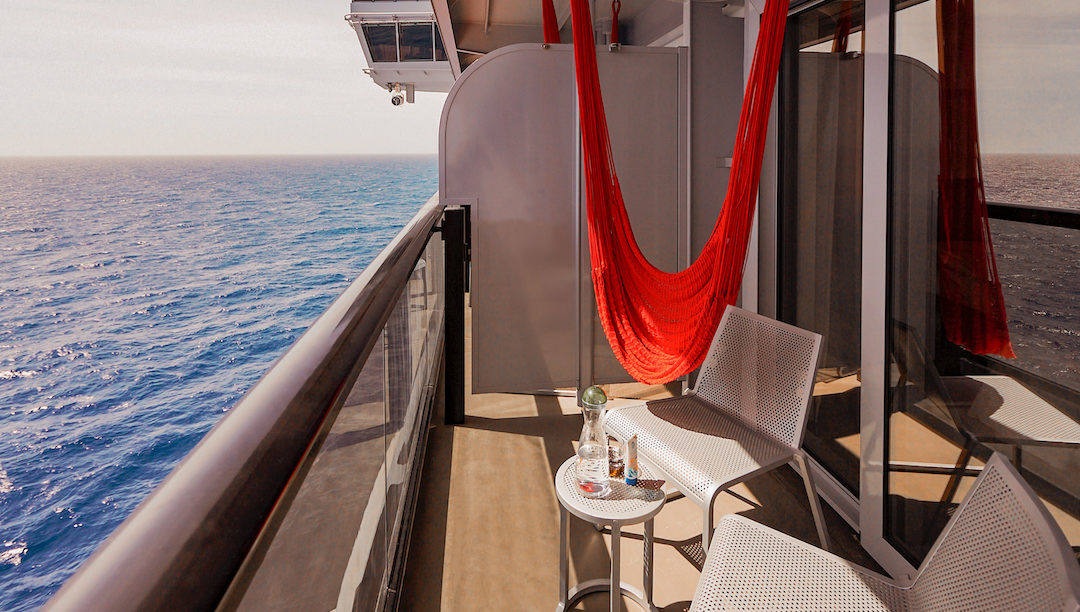 Get into the swing of a Virgin Voyages' cruise by relaxing in the hammock on your balcony
Welcome to cruising the Virgin Voyages way. Sir Richard Branson is certainly making waves in the cruise industry with his take on sailing. His first £500million ship is ultra-modern, sexy, with touches of luxury, humour and a giant dollop of sass.
'We wanted to take all the best parts of a cruise and enhance it,' admits Nirmal Saverimuttu, Chief Commercial Officer. 'Virgin cruises are for people who hate cruises. We think cruising is great and so we've added our Virgin touches and given it a twist to make it even better.'
That means Scarlet Lady, their adults-only behemoth, is not your average cruise ship. From the battleship grey exterior – 'We wanted it to stand out from the rest and for people to say I want to be on that ship,' says Frank Weber, Senior Vice President, Hotel Operations, – to the saucy talks on board from resident sexpert, Dr Alex Shiller, and their 'edgy' entertainment, it screams different.
Gone are Saturday Night TV-style cabaret acts and shows, cruise cliché buffets and stuffy guest lectures. Instead, sailors – as Virgin calls their passengers – are treated to street line-ups and performances, often sourced from places like Edinburgh Festival Fringe, global menus for the 20+ restaurants created by Michelin-starred chefs, but belonging to the Virgin brand, and R-rated group classes, with names such as 50 Shades of Play, designed to 'put the fun back into your sex life.'
'Don't sit near the front,' warns a curious 79-year-old grandfather who went along to the 'clothes on, phones off' workshop as well as the relationship therapist's participatory show, Never Sleep Alone. 'Otherwise you could be volunteered to take part.' His verdict? 'My wife liked it.'
I later spot them, silver haired and shuffling along, checking out the Squid Ink Tattoo parlour on board and getting a 'trendy' haircut at the barber's next door. 'You've got to treat yourself on holiday, don't you?' he grins.
We're on board Scarlet Lady, the first of Virgin's four liners, for a four-night 'WeekDaze' cruise to nowhere out of Portsmouth. It's her first week of cruising around the Channel and Nirmal and Frank want to show her off.  
'We used designers who'd never designed a ship before,' smiles Nirmal, taking us on a whistle-stop tour of her 17 decks, including backstage at The Red Room and to The Bridge. 'She's been designed to feel like a yacht, sophisticated but relaxed. There are nautical touches everywhere – we want to bring the outside in.'
The décor is achingly hip yet gorgeous with a W Miami or Four Seasons Hotels vibe. There is plenty of bleached wooden decking, day beds, and cool ocean-inspired wall hangings by the giant wood-lined portholes 'so you can sit in them and drink in that view,' explains Nirmal.
Art on the walls is replaced by giant video screens showing films of dancers dressed as flappers high-kicking in water and holding neon signs saying: 'Save Water. Drink Champagne'
Wall art is replaced by giant video screens on Deck 5 which play hypnotic films of giant pink fish swimming, and dancers in gold flapper costumes and heels high-kicking in water and holding signs that say: 'Save Water. Drink Champagne.'
It's at this point that Frank pulls out his iPhone to demonstrate a fun part of the Virgin Voyages' App. It's the digital cruise planner sailors need to install before embarking so they can book what they want to do on board. Restaurant reservations, shows, talks, classes and room service are all available at the touch of a button, but if you shake it on board, a bottle of Moët & Chandon Champagne magically appears wherever you are on Scarlet Lady.
Like the rest of the app, it can go wrong though. One woman on our cruise was surprised to find excited crew members knocking on her cabin door while she was in the bath because she'd accidentally shaken the app while undressing. 'At $95 a bottle, that could have been one expensive mistake,' she laughs.
She might not have ordered hers, but there are bubbles everywhere on Scarlet Lady. From the glamorous Sip Champagne bar, where sailors gather for pre and post-dinner drinks as well as afternoon High Tea, there are also moving bubbles from underwater scenes in the lifts.
'We want everything to be a 'moment' on board,' says Nirmal. 'You're on vacation. We want you to feel like you've arrived, even while in the elevator.'
There's music everywhere too. 'That's deliberate,' admits Frank. 'It's part of the Virgin DNA.' That's why there's a Voyage Vinyl record shop on board, and pop-up bands and singers who spontaneously perform on deck during the Sail Away and in the bars and lounges during the day and evenings.
How much did Sir Richard Branson have to do with the design? 'Not too much,' says Frank. 'He's a very busy man but our chief designer (Dee Cooper, Senior VP of Design) knows him very well and understands what he likes. The giant Jacuzzi outside was Richard's idea though and that's proving very popular.'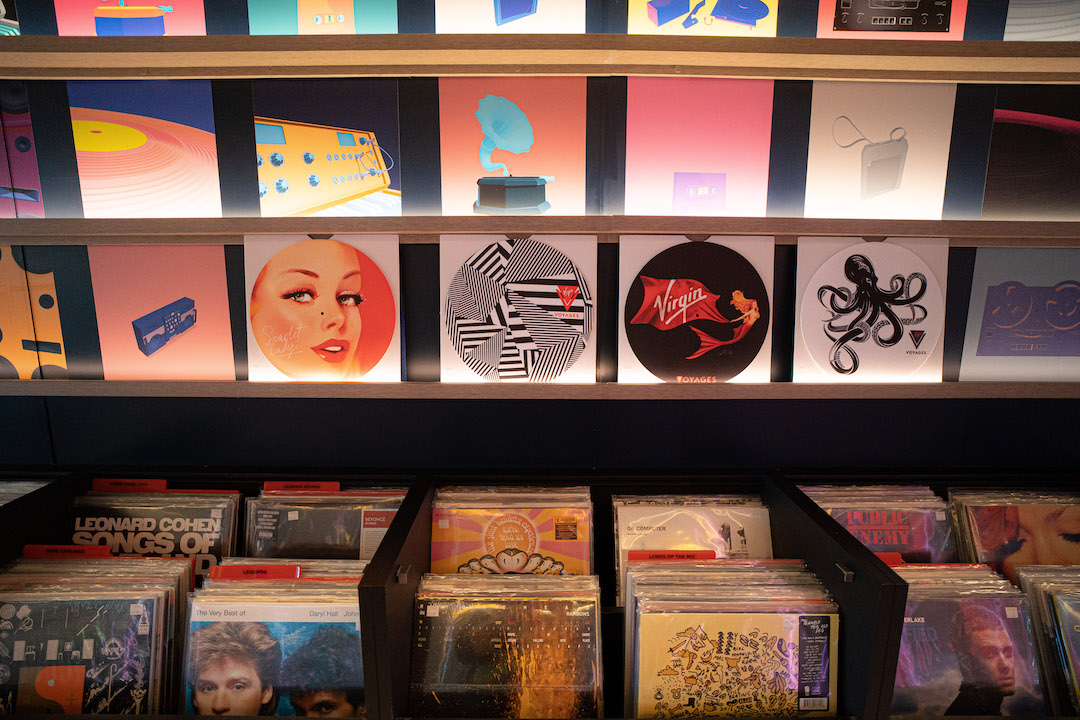 Upgrade your vinyl collection or listen to your favourites in the record shop on board Scarlet Lady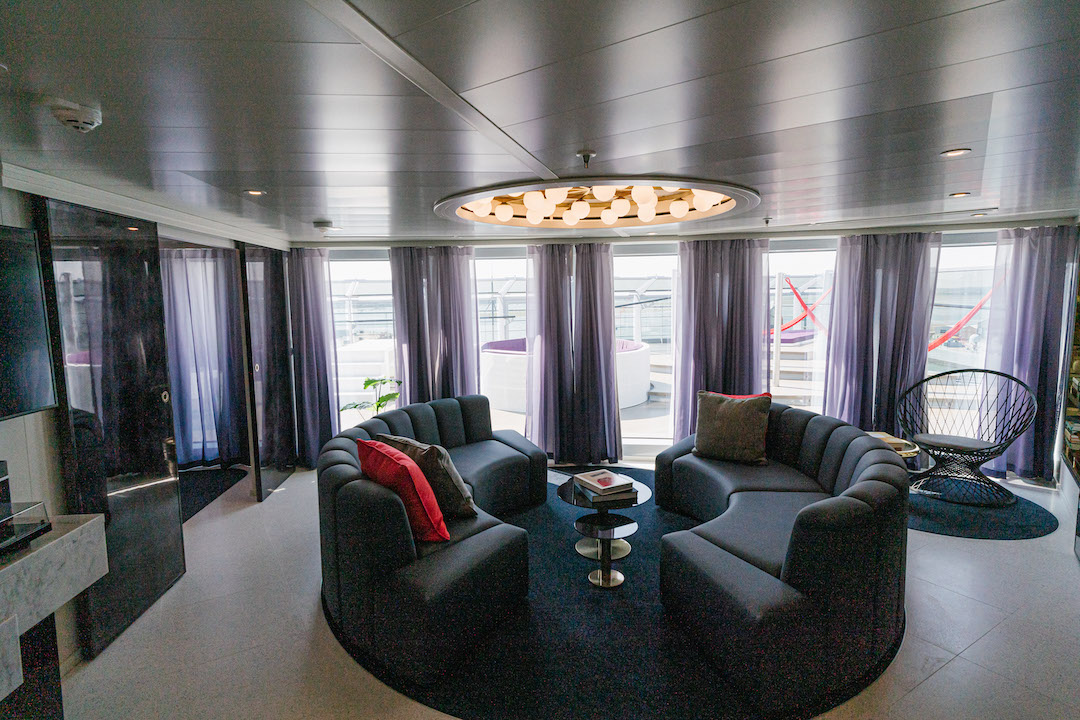 The Massive Suite on Scarlet Lady Rocks!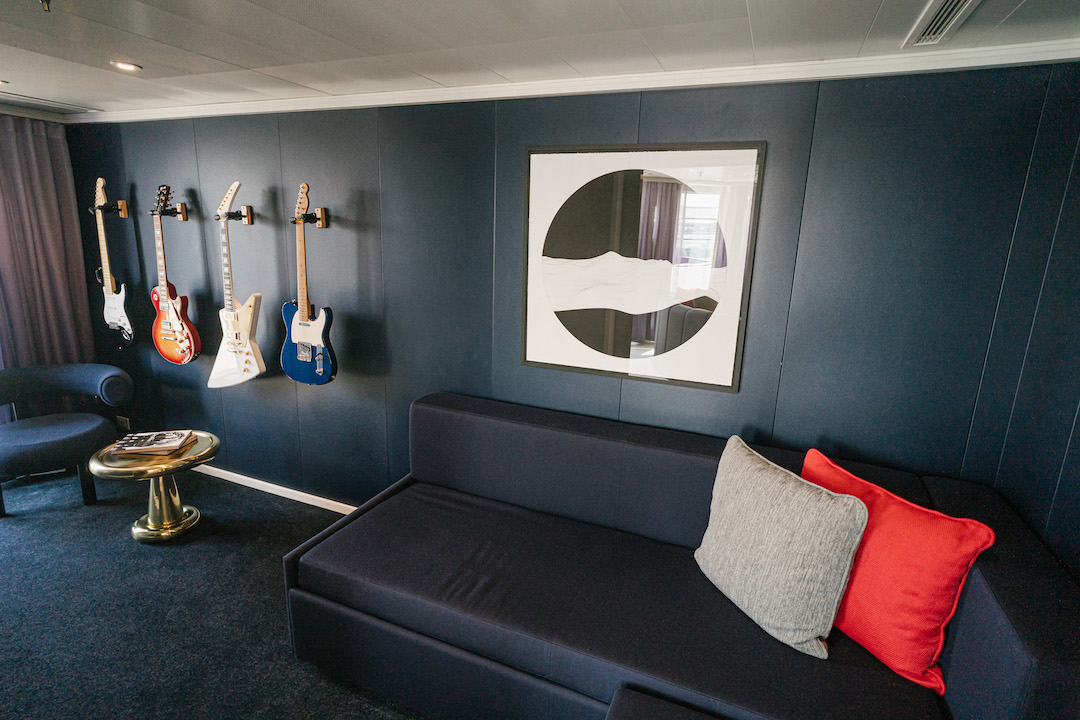 We're Jammin' – the personal Music Room in the Massive Suite 
Sir Richard has been on board and when he's not presumably lounging in that jacuzzi, he stays in one of the two Mega RockStar Massive Suites at the front of Scarlet Lady.
Designed by British 'quintessential modern eccentric' Tom Dixon, of Shoreditch House fame, these 2147 sq ft 'retro-futuristic' suites boast a music room, lined with guitars, and two 'RockStar Agents'  (Virgin speak for butlers) to cater to the occupants' every whim (you even have your own Rider List), along with a turn table, bar, living room and bedroom complete with 'Peek-A-View' window from the marble bathroom.
Outside, on the giant terrace, there's a rain shower, hot tub and yoga stage as well as two hammocks. So far, so rock 'n' roll.
But then most of the sailors look as if they've stepped off the stage at some festival or could have just come back down to earth from a sojourn into space with the Virgin boss. Heavy rock T-shirts and jeans are de rigeur for men while the women wear red lipstick, bed hair and biker jackets.
'We went for a certain psychographic not demographic when we thought about who would cruise with us,' admits Frank. 'It's about an attitude and lifestyle – age is just a number. Take me, I'm in my 50s and I like to travel and because I have a nice income I'm happy to pay for quality. I want to cruise but I don't want something stuffy. I want fun. I don't want a formal night or to dress up. I want more of a modern take, which is what we've achieved.'
The crew sport leopard print, red boiler suits or nautical-but-nice navy dresses with berets along with scarlet face masks and say 'Ahoy' constantly. They look like something Jean Paul Gaultier might have created for an ad to attract a new-to-cruise audience. But, it seems, Virgin has achieved that already. There's a happy mix of curious cruisers on board this Summer Soiree who've tried every line from Cunard to Disney before and those who've never stepped foot on a ship.
So there's a buzz about every inch of Scarlet Lady, even though we're in Britain instead of the Caribbean and the sun only comes out for a few hours during the voyage. We all make a mad dash out to The Dock to laze in the sun, and when it's grey outside (we're talking the sky, not just the ship's hull), we head to the Training Centre at Athletic Club, which has an outdoor boxing rink, or to the state-of-the-art gym.  
The Redemption Spa, which offers a steam as well as salt room, sauna, and indoor pool has the wow factor but treatments are five-star prices. There are plenty of free workouts elsewhere though, including Bungee and Barre classes as well as an 80s-style VHS aerobics session where neon headbands and leg warmers add to the sweaty fun.
Duel Reality, the acrobatic take on the classic Romeo and Juliet story, is jaw-droppingly good. Defying gravity is standard. Refusing to wobble while performing gasp-inducing stunts at sea, and waves are rocking the ship, is something else.
The dance floor in The Red Room seems to move for a different reason as we all don a splash of red for the Scarlet Party, mid-cruise. More like a school disco, I'll admit to dancing around my handbag to Beyonce and Shakira until almost dawn.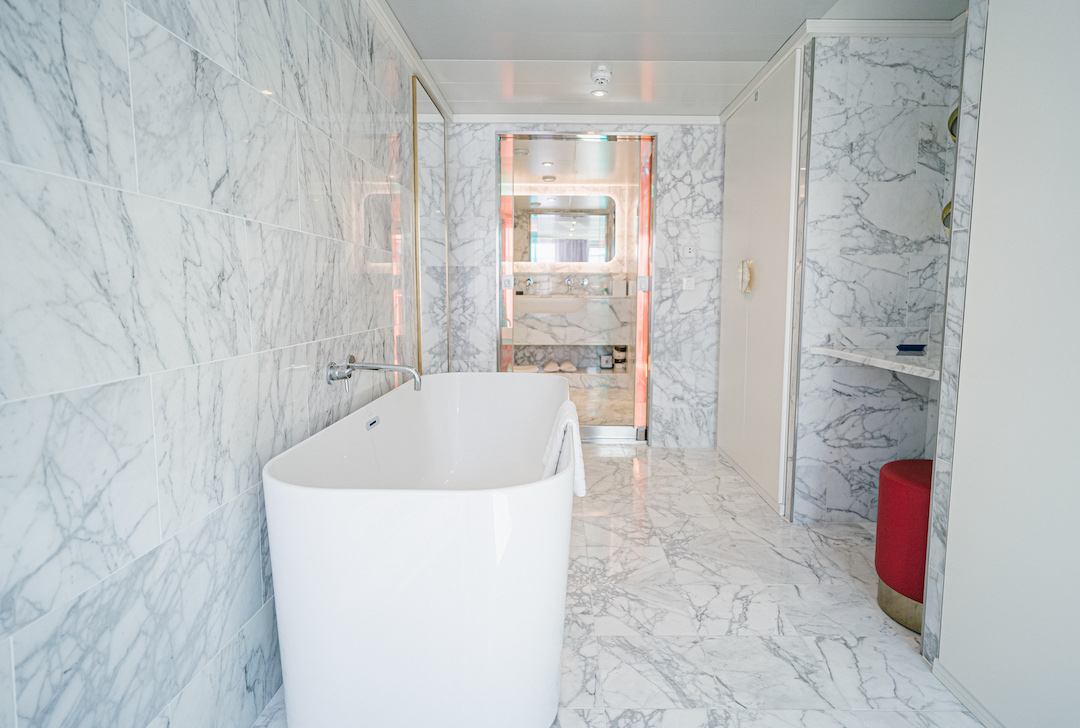 The floor-to-ceiling marble bathroom in the Massive Suite needs Bubbles and we don't mean ones we can soak in!
Sex, Drinks and Rock and Roll 
The only way to get over a hangover is to head to the Mixology class in Test Kitchen, one of the six speciality restaurants from the 20-plus on board.
As well as learning how to create a Negroni and other cocktails, we are taught how to make them Instagram-worthy by Joel who has the Google-esque job title The Hype. His photography tips include angles, lighting and filters on an iPhone that instantly transform my husband from the world's worst snapper into Steve McCurry.
Unlike other cruise lines, the speciality restaurants are all-included in the fare. There's The Wake with its chop-house atmosphere and spectacular décor and views, a vegetarian called Razzle Dazzle, which bizarrely has sides of chicken, The Test Kitchen, with a menu based around six ingredients, Pink Agave, the modern Mexican, a Korean barbecue called Gunbae – which translates as Cheers! And is a riotous night of fun and drinking games, and the Italian, Extra Virgin.
The food is exceptional but I like the variety in The Galley, Virgin's alternative to the buffet. Here, on Deck 15, there's a food hall designed to please everyone. I dine out on a cooked breakfast while my husband tucks into Bento boxes of tropical fruits along with healthy helpings of smashed avocado on toast and eggs with salmon. From a taco shack, to a sushi bar, salad stand and ice cream truck, there really is no limit to what you can eat – and it's all ordered via the app and brought fresh to your table.
Of course, not everything is perfect on board. The App keeps crashing, and my husband has to switch The Band, which is worn on your wrist and opens the cabin and pays for drinks, before it works properly. The Pool isn't the biggest I've ever seen, but I manage to party round it most nights and would happily swim it in if the weather was warmer.
And don't forget Scarlet Lady was designed to sail out of Miami not Portsmouth. Instead, because of the Covid pandemic, she's making a splash around Britain. I, for one, enjoyed every moment on board. Scarlet Lady is fun, innovative, glam and full of surprises. I leave exhausted but happy after painting the ship, if not a town, red. 
A three nights Long Weekender, sailing out of Portsmouth, starts at £499 and a four nights Summer WeekDaze starts at £599 per person per cabin. The price includes WiFi, basic drinks (no alcohol), food, group workouts and tips.
Visit virginvoyages.com
Scarlet Lady – At A Glance
Don't forget to pack Power Adaptors – cabins are equipped with US and EU outlets only
Take a Splash of Red for The (fantastic) Scarlet Party as everyone dresses up
Bring your trainers to work off the incredible food on board in the gym, scarlet outdoor running track or Athletic Club
You can take two bottles of wine or Champagne on board per cabin – perfect for pre-dinner drinks on your balcony
Room Service is delicious There's a $5 delivery charge per order.
Make friends with someone in a RockStar Quarters as they have access to Richard's Rooftop, a private sundeck.
Covid Restrictions – you will need to be double vaccinated, show your Covid NHS app certificate and have a test at the terminal before you board. The crew are all vaccinated and quarantined for two weeks prior to sailing.
Face Masks are worn by crew and Sailors around the ship but you can take them off to eat, drink and dance.
Gratuities, basic beverages and food is all included in the fare as are workouts.
The ship is adults-only.