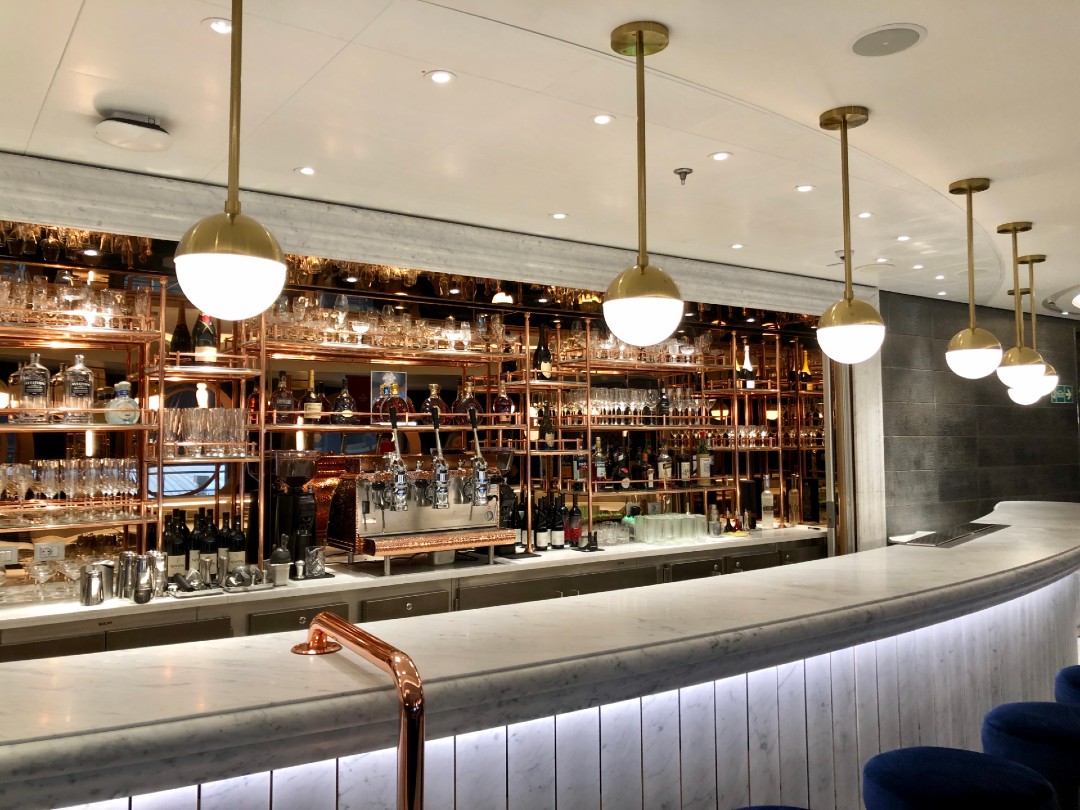 New cruise line Virgin Voyages shows off its lady in red
Rebecca had a sneak peek of new cruise line Virgin Voyages' new ship Scarlet Lady earlier this year. What was her verdict?
With a dramatically different blueprint to most cruise ships, it was bound to create shockwaves. Scarlet Lady, the first ship from new cruise line Virgin Voyages, got people talking when it docked in Dover last February. Some reviews have been complimentary while others have been rather critical.
I appreciate what Virgin have done in attempting to disrupt the industry and attract a younger 'sailor' (Virgin's customers) to cruising. That can't be a bad thing.
At the press conference on board, Richard Branson said that when planning Scarlet Lady, the design team had written down everything they didn't like about other cruise ships. They then decided to add a different spin. 
This has resulted in a bold, boutique and sexy ship that has definite millennial appeal. Not wishing to alienate anyone, Branson insists the 2,700 passenger ship is also perfectly suited to the 'young at heart.'
But there's a reason why some features are universal on the majority of cruise ships. That's because they work and are popular with guests. The ship itself has been designed by non cruisers, which some feel is a mistake.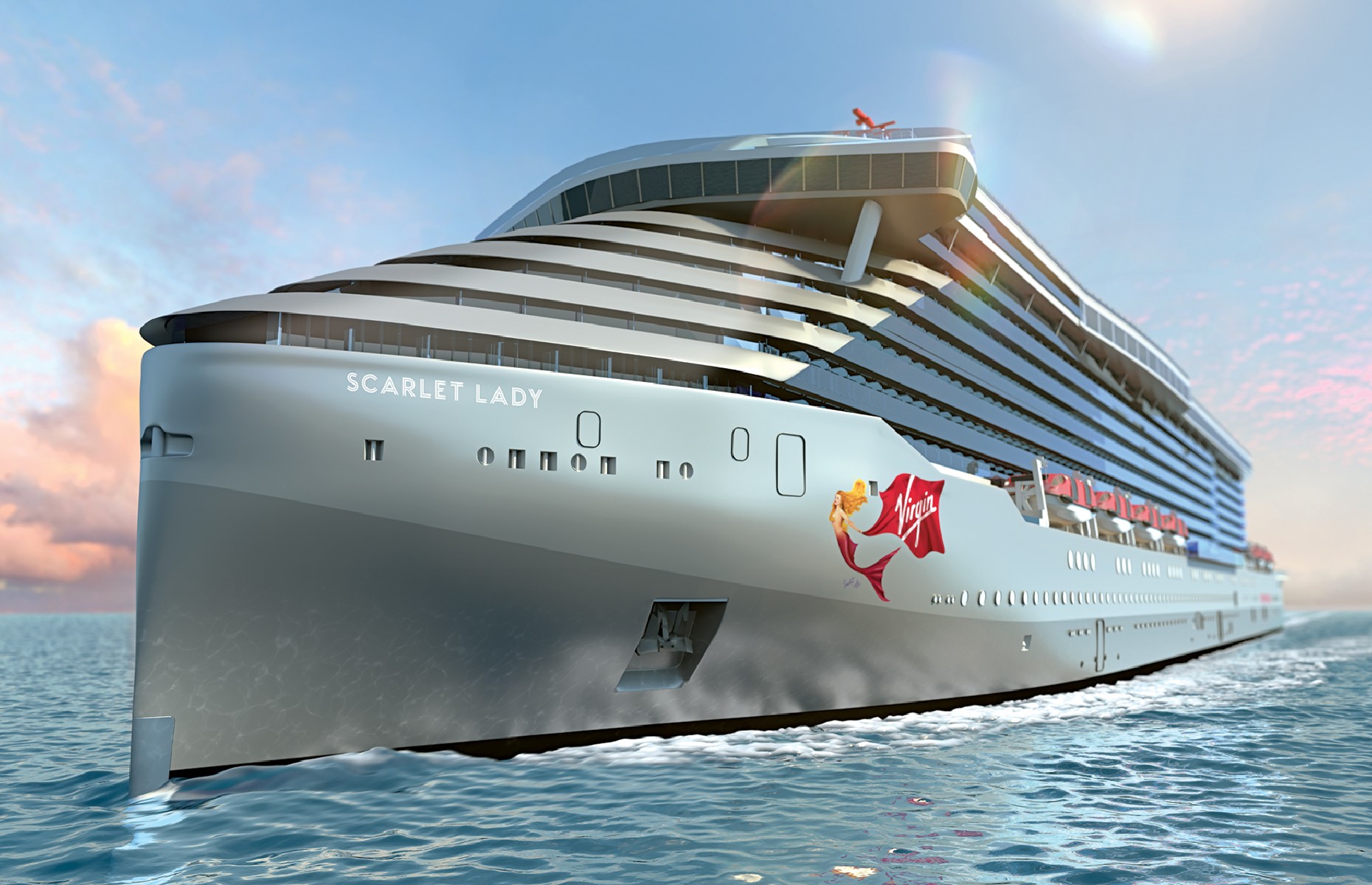 Scarlet Lady, from new cruise line Virgin Voyages
This has been controversial to say the least! The biggest change in the Sea Terrace cabins is that Virgin have done away with traditional beds. The 'Seabeds' – sofa beds which are left as L-shaped sofas during the day – are changed into beds at night. This is to give the room versatility and provide more space during the day.
The Seabed can be configured in numerous ways, depending on how many people are sharing the cabin. We personally found it too firm, like sleeping on a futon. My partner who is 6ft 1ins commented that it wasn't as long as a traditional bed. There are no bedside tables, which I'm sure will annoy people, and the USB sockets are on only one side of the bed.
Design-wise, it's super modern and rather minimal. Some have likened it to an IKEA showroom. Wardrobes have been replaced with curtains – you'll probably have to put your case here as its unlikely to fit under the bed. I liked the hammock on the balcony, which I didn't get to test as it was blowing a gale outside. I didn't want to end up on the concourse at Southampton train station. Apparently 89 per cent of cabins have a balcony.
The bathrooms are well designed but small and the shower cubicle is pretty snug. There's a lovely rain shower head, although this is not ideal if you don't want to get your hair wet, as there's only a hand held alternative. I did like the eco friendly toiletries which are on wall dispensers and are a definite upgrade to the dispensers on other ships. You'll also find a makeup remover towel in there – yes, a towel exclusively for your boat race! 
Other accommodation options range from solo and inside cabins to suites, including the Rockstar suite and the Massive suite. This has a huge terrace with an outdoor shower, hot tub and a table that you literally can dance on – inbuilt steps encourage such behaviour. This new cruise line has gone to town on its premium accommodation. In fact, all of the suites we viewed were pretty amazing with features including marble bathrooms with bath tubs, vinyl turntables (records included) and music rooms with guitars.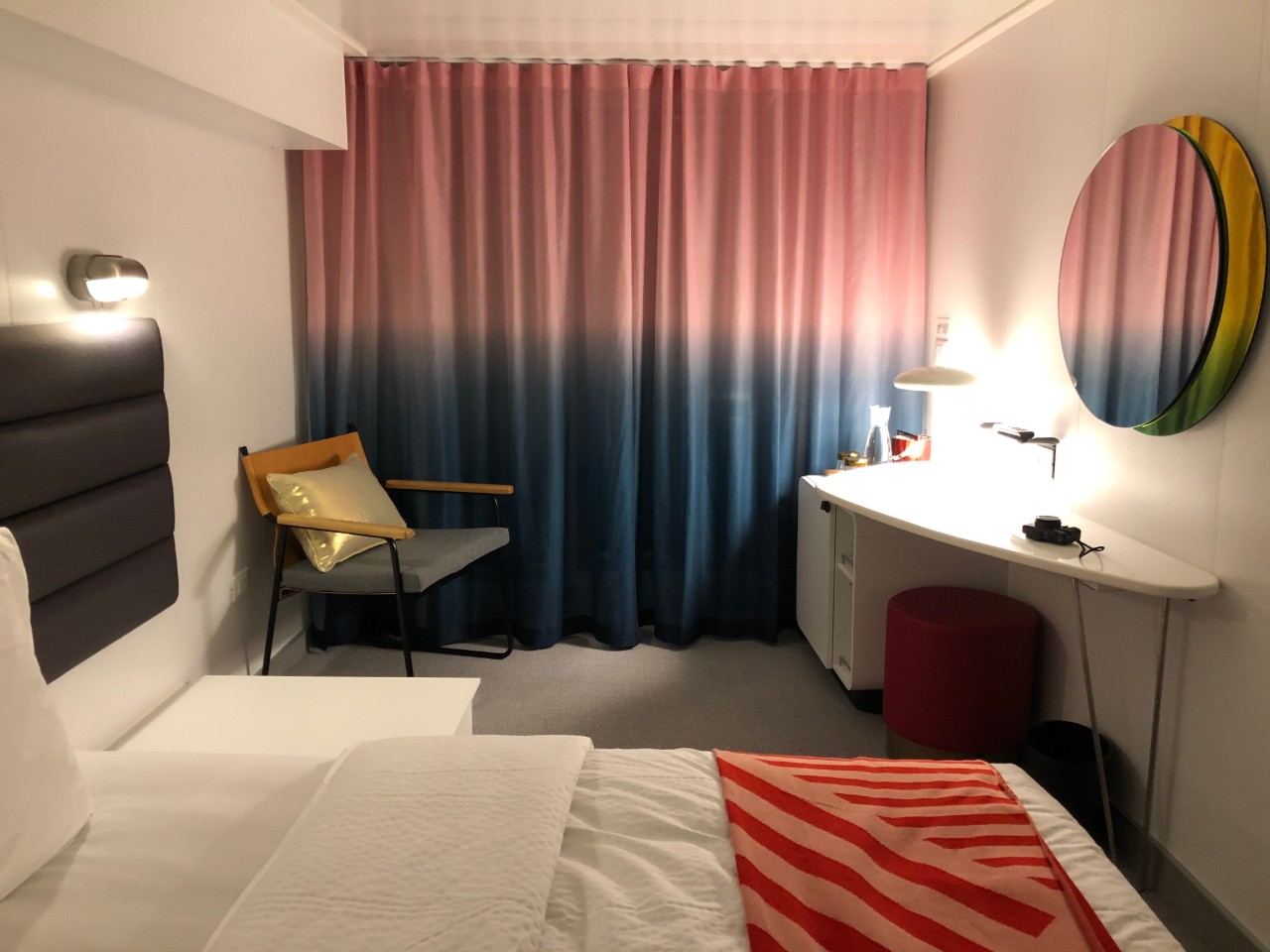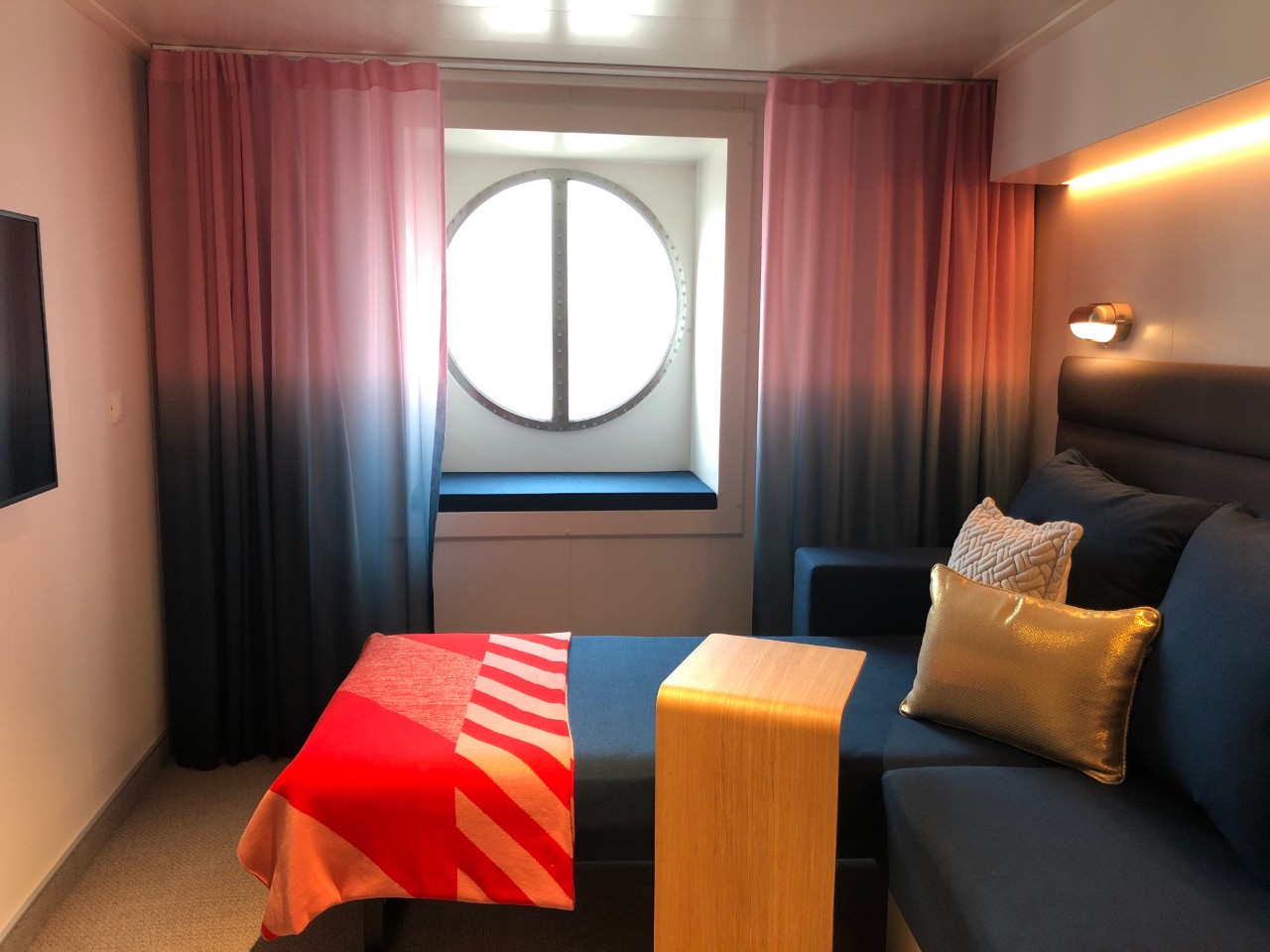 The design of the ship is contemporary and aesthetically pleasing. There are some very photogenic spaces for those essential social media snaps. Some people have complained about the lack of functionality – uncomfortable chairs, things like that.
I personally didn't experience that but I agree that some of the spaces felt more like corridors. The stunning lights outside the Pink Agave restaurant were designed by Tom Dixon, who also designed the Rockstar Suites.
As the weather was horrendous we did not spend any time outside. I feel this is where I would spend most of my time if I was sailing in Caribbean climes. 
From the renderings I've seen, The Dock on deck 7 aft looks lovely. It is inspired by the lounges of Ibiza and the Hamptons, and will feature wooden chairs and loungers. The Athletic Club is set to feature the largest daybed at sea.
Another thing that irked me was the illusiveness of the toilets – I found them hard to locate and I had to ask for help finding them.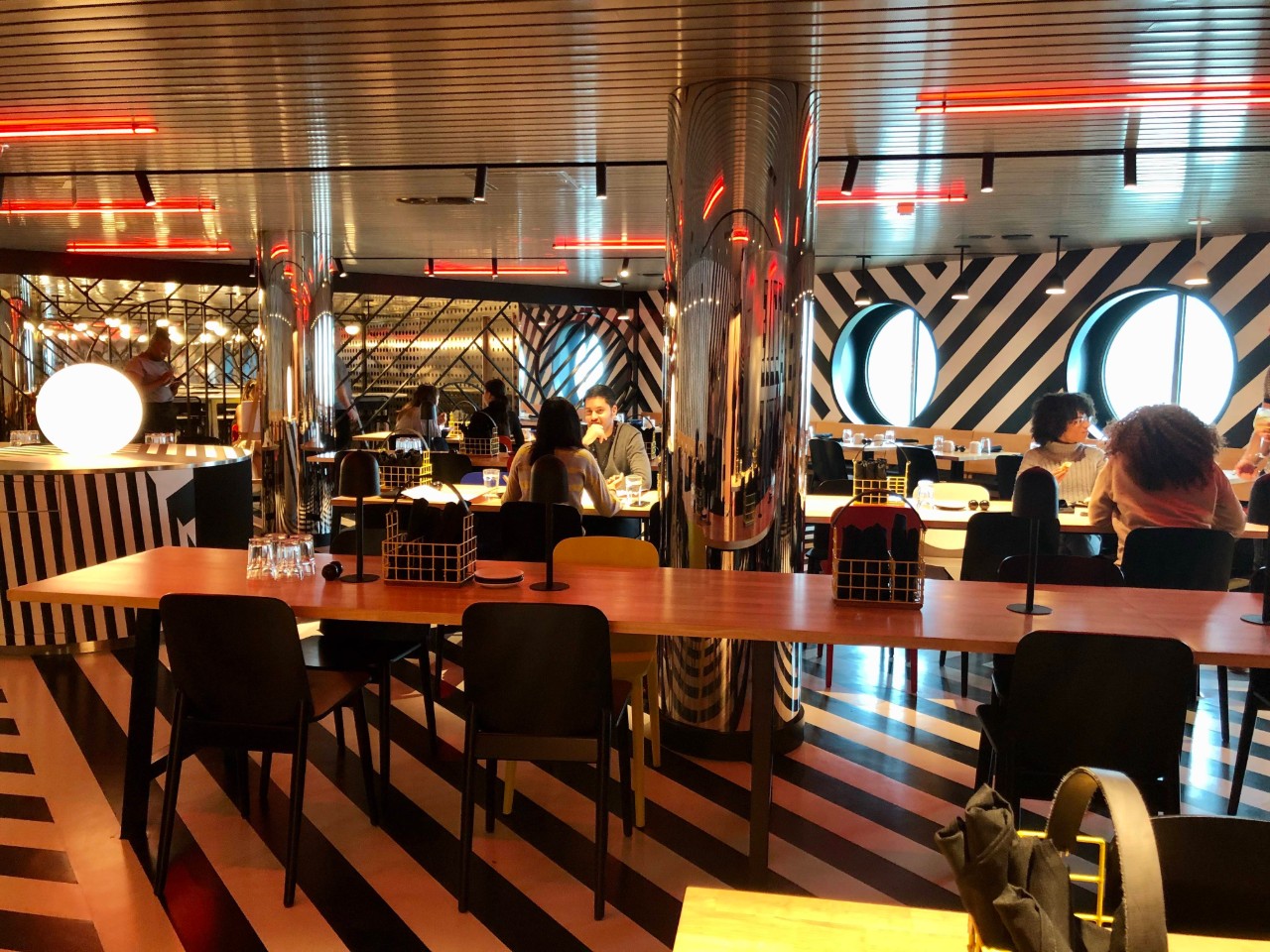 All dining is included in the basic fare and this new cruise line has given sailors 20 beautifully designed dining experiences to choose from. These include vegetarian/vegan, drag queen brunch and experimental, so not having to pay extra for speciality dining is a massive bonus.
Michelin chefs have been involved so they are taking this element seriously. But there's no buffet – there is an area that looks like a buffet, however, it's not self service.
Having said that, buffets are highly likely to be reimagined in the new post Covid-19 cruising sphere. The Sip Champagne bar is a great place to spend time with friends, or to enjoy bubbles before dinner.
There's also a coffee shop, maritime-inspired pub and draught beer bar. We dined in Italian restaurant, Extra Virgin, and really enjoyed it; the Aperol Spritz's were delicious as was the starter plate of Italian hams, cheeses and breads.
Unfortunately, my partner had to send his steak back as it was brought to the table cold.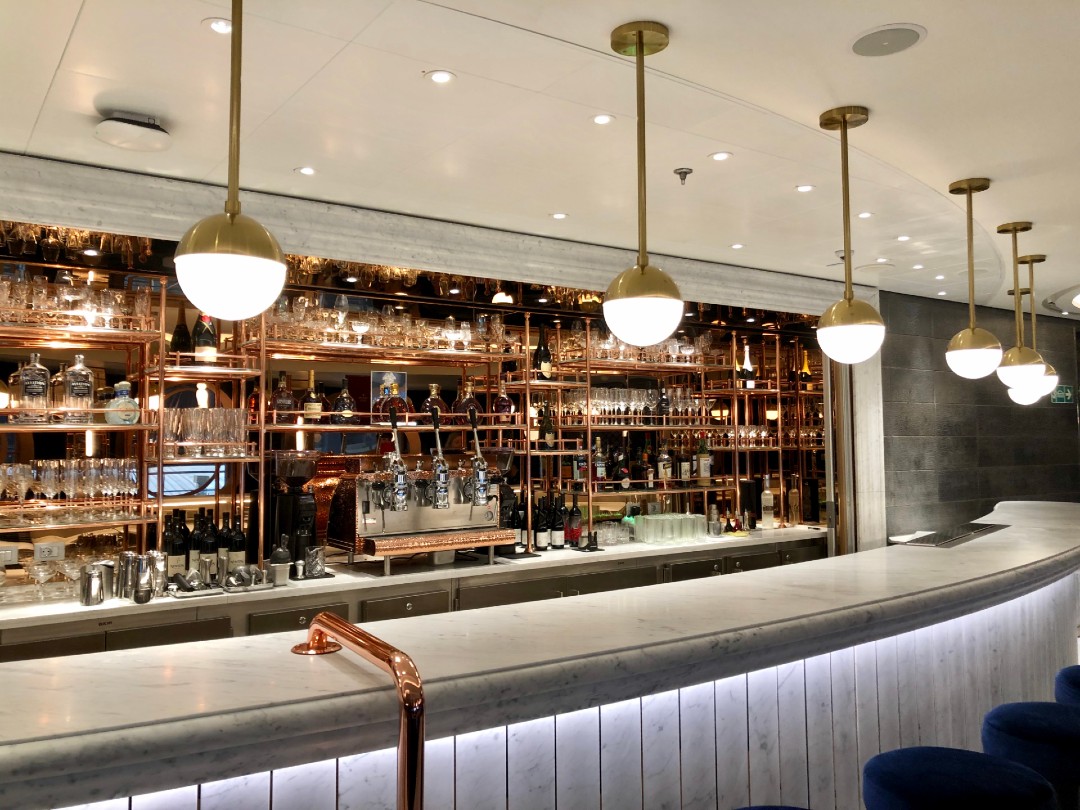 Another feature that has received a raft of negative comments is the pool. It is pretty small for a ship of this size, and more like a plunge pool. There's a shallow tiled area that takes up half of the pool which would only be suitable for paddling in.
I believe this is one of the big errors on this ship, seeing as it's going to be sailing in the Caribbean and Mediterranean. Although maybe the thinking behind it is that the majority of guests will be ashore during the day.
I LOVED the Redemption Spa, a stunning space featuring a hydrotherapy pool, salt room, cold plunge pools, quartz beds and mudroom. Apparently it will also turn into party venue on some sailings. I would be in there a lot, should I ever sail on Scarlet Lady.
There's also an athletics club, an impressive gym, some interesting outdoor exercise spaces, a tattoo parlour and record shop.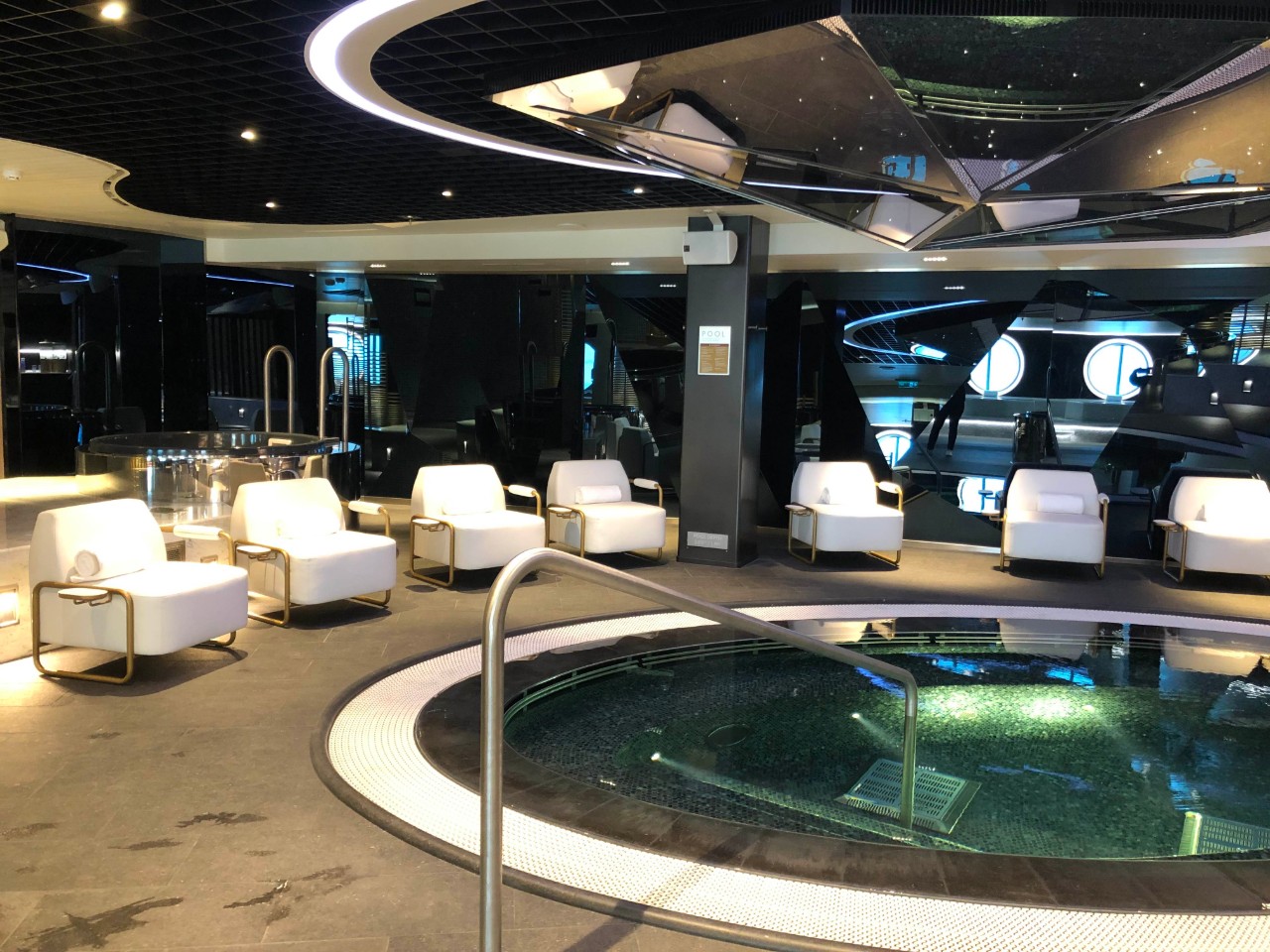 We only had a taster of the entertainment curated by this new cruise line and my opinion is mixed – it's certainly different! The Manor nightclub is impressive and they have obviously blown the budget on the sound system and lighting.
While the artists are obviously talented, the interactive street performance show we watched in the Red Room entertainment space was pretty bonkers. I'm not sure it would appeal to anyone older than 25.
There was also an acrobat show that we didn't see that got more positive reviews.
While there are some obvious teething problems, I do think the ship will come into its own when sailing its sand, sea and UV itineraries. Passengers will then be able to make the most of the outside spaces and facilities.
I am just not sure that, unless I was living it up in a suite, my back would thank me for having to sleep on a sea bed. Or maybe I wouldn't do that much sleeping?! 
The ship is yet to announce its inaugural Caribbean sailing – for more information visit virginvoyages.com