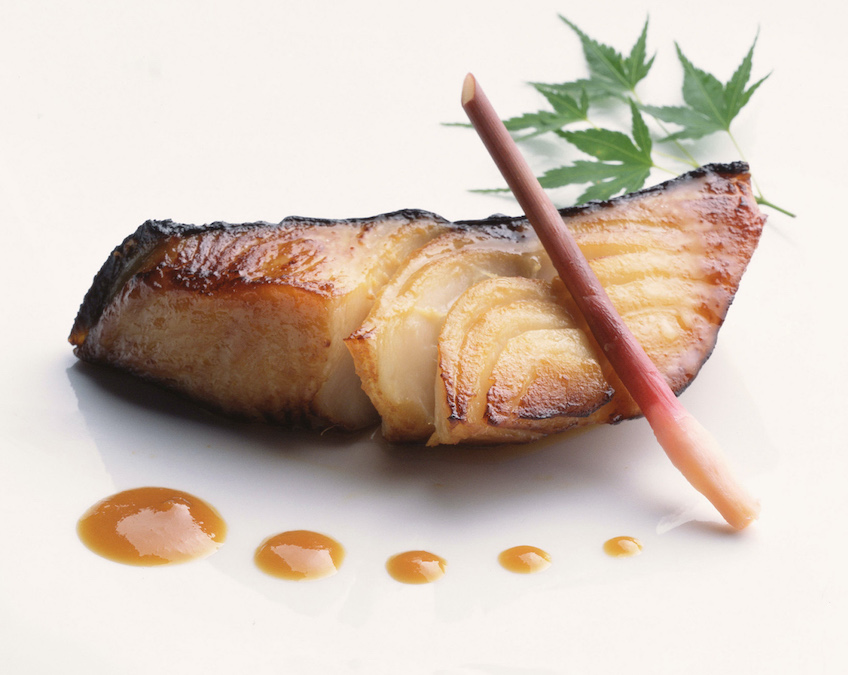 Nobu's world-famous Black Cod with Miso to make at home
Jump the long queues at the master chef's restaurants and impress your family and friends by creating his signature dish with this simple recipe
His name is synonymous with the finest food in the world. In fact, he's so famous as a culinary master that – like the mononymous icons Madonna, Elvis and Prince along with his world-famous restaurants Nobu – just the first moniker will suffice. 
Master chef Nobuyuki Matsuhisa now has 47 restaurants across five continents (Dubai is our current favourite) after opening his first Nobu with Hollywood superstar Robert De Niro and film producer Meir Teper in 1994.
Popular with celebrities and foodies, the Japanese-Peruvian fusion dishes are inventive as well as delicious but that's led to long waiting lists for a reservation – and we're talking months.
Now there's a way to beat the queues to try the classically-trained sushi chef's signature dish at home.
'The black cod is special as it's something I began with,' Nobu says.

'It's one of Robert De Niro's favourites.'
Nobu has decided to share the recipe for one of his best dishes, miso-marinated Black cod, thanks to his collaboration with Crystal Cruises.
The celebrity chef's only sea-going restaurants have been featured on board Crystal ships since 2003 and are part of the all-inclusive Crystal Experience in Umi Uma & Sushi Bar aboard Crystal Symphony and Crystal Serenity. It will debut aboard Crystal Endeavor when the German-built expedition yacht launches this year.
All Umi Uma & Sushi Bar chefs are personally trained by Nobu himself in his restaurants around the world, and he frequently sails on Crystal voyages for special events and to refine cooking techniques.
An assortment of Nobu's signature sushi and sashimi, including Tiradito Nobu-style, and Yellowtail Sashimi with Jalapeño, are on offer along with entrée selections including the Black Cod with Miso,  Lobster with Truffle-Yuzu Sauce and Grilled Wagyu Beef Rib-Eye. The signature dessert is a Bento Box filled with Chocolate Soufflé Cake with Shiso Syrup and Sesame Ice Cream.
Once a year, the Japanese chef joins a Crystal sailing which featuring exclusive Omakase – chef's choice – dinners showcasing his specialties, book signing sessions, cooking demonstrations and sake tastings.
But until then here's the recipe to try at home. Meshiagare!
Black cod with Miso
Serves: 4  Prep time: 5 minutes plus marinating overnight. Cooking Time: 20 minutes
Marinate this dish overnight. The sauce also works well with beef, sea bream and salmon.
For the saikyo-miso sauce
½ cup or 3 tbsp sake
¾ cup or 4 tbsp mirin
2 cups white miso paste
1 ¼ cups granulated sugar
4 Black cod fillets, about 8oz each
Bring the sake and mirin to the boil in a medium saucepan over a high heat. Boil for 20 seconds to evaporate the alcohol.
Reduce to a low heat and add the miso paste, mixing with a wooden spoon. Once dissolved, increase to a high heat and add the sugar, stirring continuously to make sure the bottom of the pan doesn't burn.
Once its dissolved remove from the pan and leave to cool. Set aside ½ cup of the sauce for serving the next day, and use the rest as a marinade.
Pat the fish dry with paper towels. Place in a glass bowl and cover with the marinade. Wrap bowl in clingfilm and refrigerate overnight.
When ready to cook, preheat a broiler pan to high. Alternatively, you can use a roasting tray with a wire rack covered in foil placed in the oven on a high setting.
Wipe excess sauce off the fillets but don't rinse. Place the fish in a broiler pan and broil until the surface turns brown – for about five minutes. Reduce the heat.
Move the fish to the centre of the oven and bake for 10-15 minutes.
If you're not using a broiler, sear in a pan, turning the fish over so both sides are brown, then place in the oven as above.  
Plate up the fillets and drizzle with reserved sauce. Enjoy!