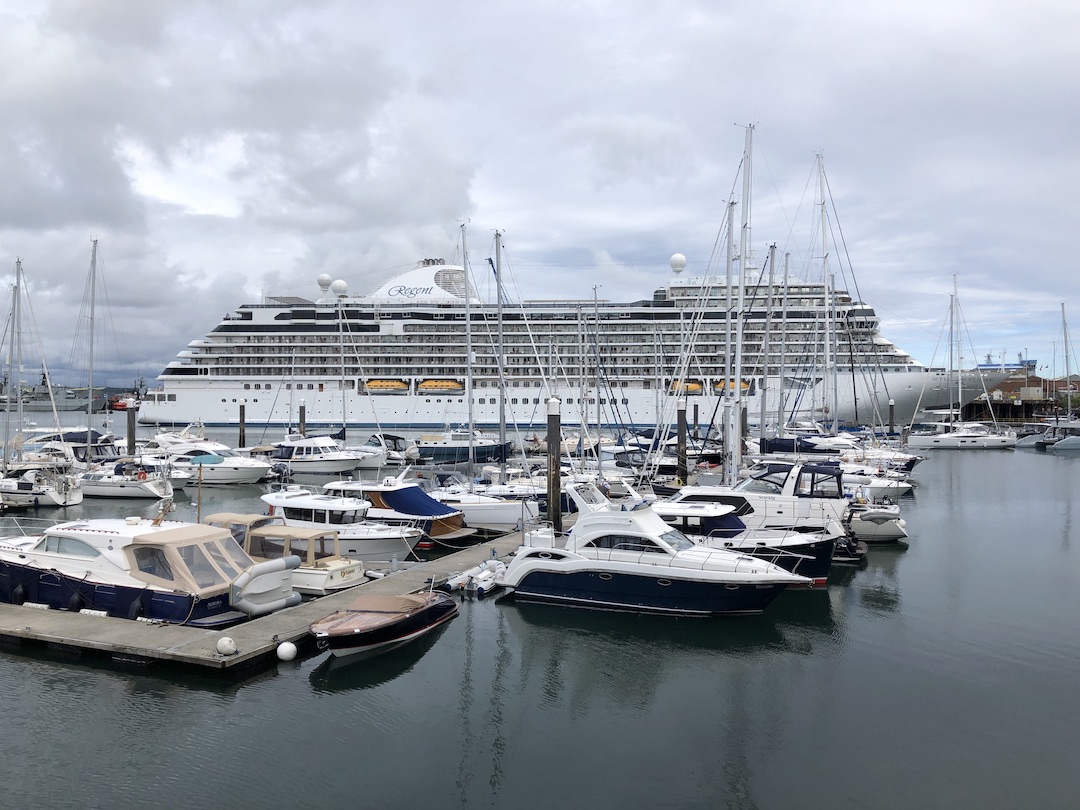 Seven Seas Splendor: the classiest little number on the high seas
Get a taste of the high life on board Regent Seven Seas Cruises' new vessel, one of the world's most luxurious ships
I'm standing in my swish Penthouse Suite with my butler who, despite the face mask, is wearing an expression of sheer indignance on his face as we discuss my mini bar requirements and more specifically, champagne.
'Why only half a bottle? I'll be bringing you a full bottle!' declares Amay. He's not taking no for an answer, and who am I to argue?
This is a test cruise for Regent Seven Seas fifth ship Splendor, and we're sailing in the British Isles. The ship, which boasts one the swankiest suites on the high seas, $500 million worth of precious artworks, 500 chandeliers and 46,000 sq ft – over an acre – of Italian marble, is what's described as #luxuryperfected and it's certainly lavish in more ways than one.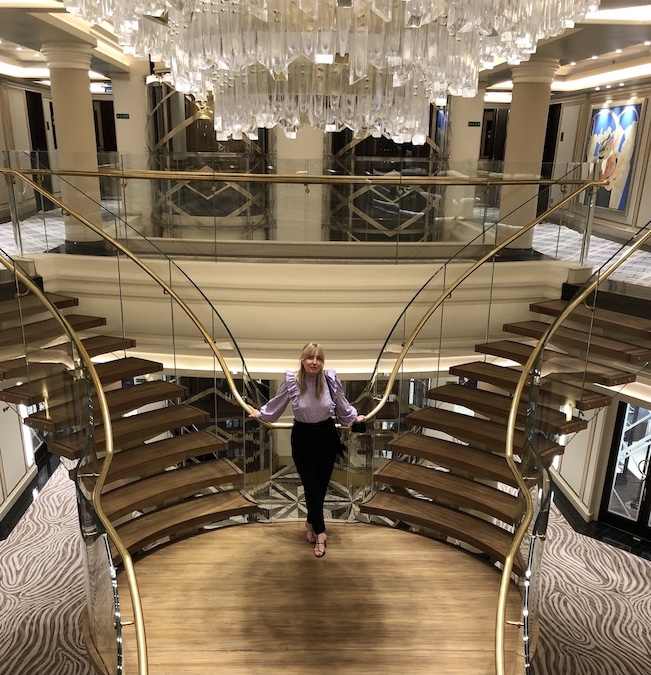 Making an entrance on Regent Seven Seas Splendor 
Incredible craftsmanship and attention to detail assaults you at every turn on Seven Seas Splendor, with countless no-expense-spared features. The public spaces are light, airy and spacious with surprisingly high ceilings more in keeping with a five-star hotel than a cruise ship.
In the Covid age, space is what the luxury cruise passenger is looking for and according to Graham Sadler, senior vice president and managing director, this affluent sector is booming.
'Our customers have the cash reserves to prioritise travel and won't let anything [not even Covid] get in their way,' Graham Sadler, Senior Vice president and MD Regent Seven Seas
'Our customers have the cash reserves to prioritise travel and won't let anything get in their way,' he assures me.
The ship's Covid protocols are very strict – I even have to wear a mask while having a massage, as well as in all public spaces except for the pool or when drinking and dining.
Despite this, the vibe is laid-back and leisurely, with breakfast taken in La Veranda (now a served buffet), lunch at the Pool Grill (when the weather plays ball), and dinner in the main dining room Compass Rose, La Veranda or the Italian Sette Mari.
This being Regent, all dining is included but the three on board 'specialty' dining venues spanning Asian, French, and New York steakhouse must be pre-booked.
And, as seems to be the trend on new cruise ships, each one has its own unique ambience, sometimes with their own bars, and the pan-Asian restaurant Pacific Rim blows me away from start to finish.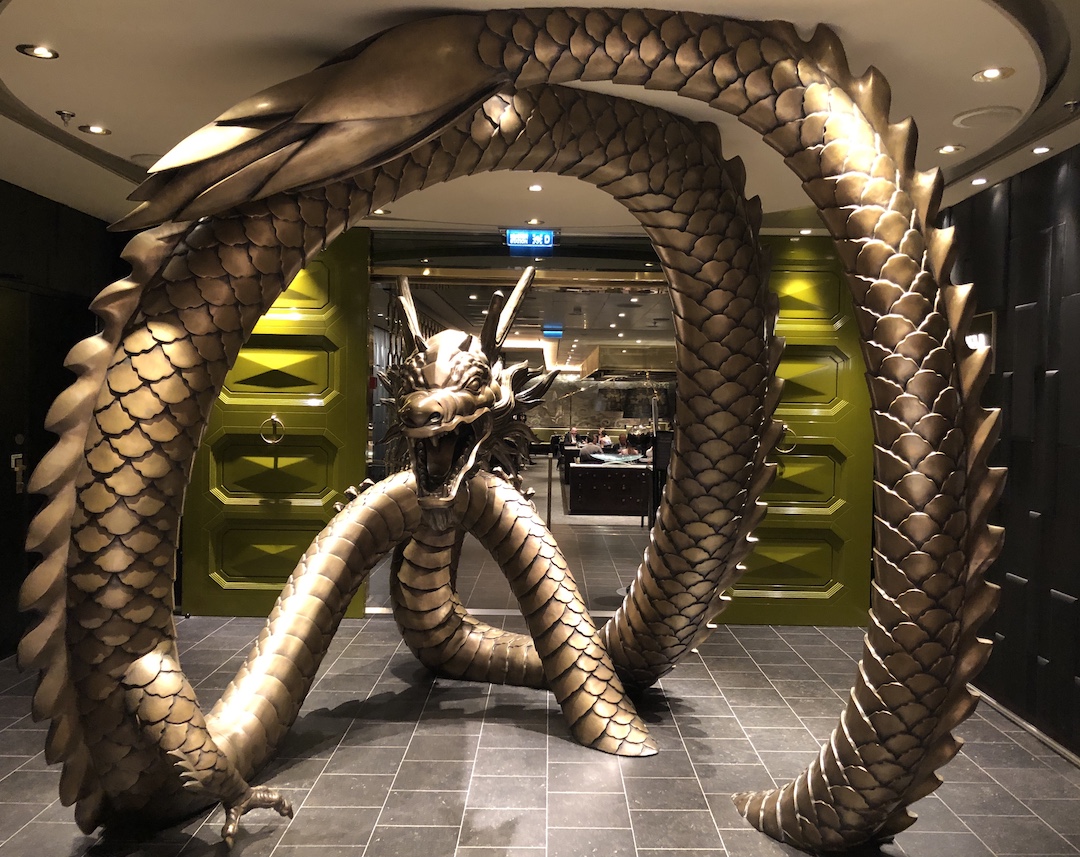 The dragon at the entrance to Pacific Rim entrance is rumoured to have cost $500,000
From the oversized dragon sculpture at the entrance to the efficient but discreet service, and, of course, the food, I'm wowed by the delectable miso black cod and Korean barbecue lamb chops, definitely two highlights not to be missed.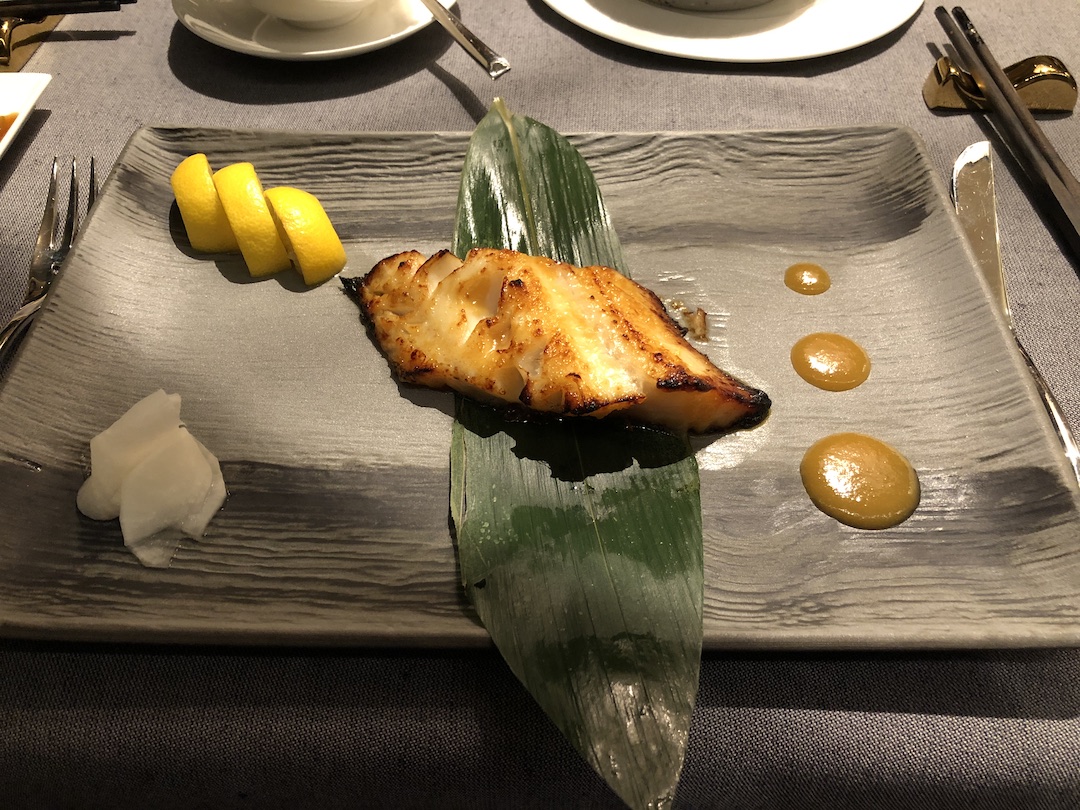 The Miso black cod onboard Regent Seven Seas Splendor was a highlight of the cruise
Our cruise stops at Portland and Falmouth, and, excitingly, we are allowed ashore to explore independently – Regent is possibly one of the first cruise lines sailing in UK shores to offer this since the start of the Covid pandemic in 2020.
Being a spa lover, I am hugely appreciative of the wellness facilities in the glamorous Serene Spa, which are top notch; there are two gyms at the aft with ocean views, plus a comprehensive (but rather pricey) treatment menu with services, treatments and techniques inspired by many of the destinations the ship visits. Naturally, the sauna, cold room and steam room are free for guests to use.
But luxury cruising is all about the yin and yang, and after a stunning dinner, you'll naturally gravitate to one of the stylish bars: the Observation Lounge is as chilled after dark as it is in the day, with a pianist softly tinkling the ivories.
If you're in the mood to sample the nightlife, you won't find champagne sprays and pumping beats all night long, just live music, low key shimmying and killer cocktails – I highly recommend the Cosmopolitans in the Observation Lounge and just about any cocktail in the Splendor Lounge – until it's time to clamber into what are possibly the best beds at sea.
Talking of accommodation, my Penthouse Suite (which is almost the same size as my London flat), has a dressing room, Nespresso coffee maker, two TVs, and lined drawers for jewellery and other trinkets (oh, the attention to detail).
There's also a huge balcony featuring sun loungers, and a table and chairs, and a jaw-droppingly luxurious double-sinked bathroom with Guerlain and L'Occitane toiletries, and one of the best showers I've ever had the pleasure to stand in – not only with a rainshower head but side jets which are like having a stand up massage (if you know, you know).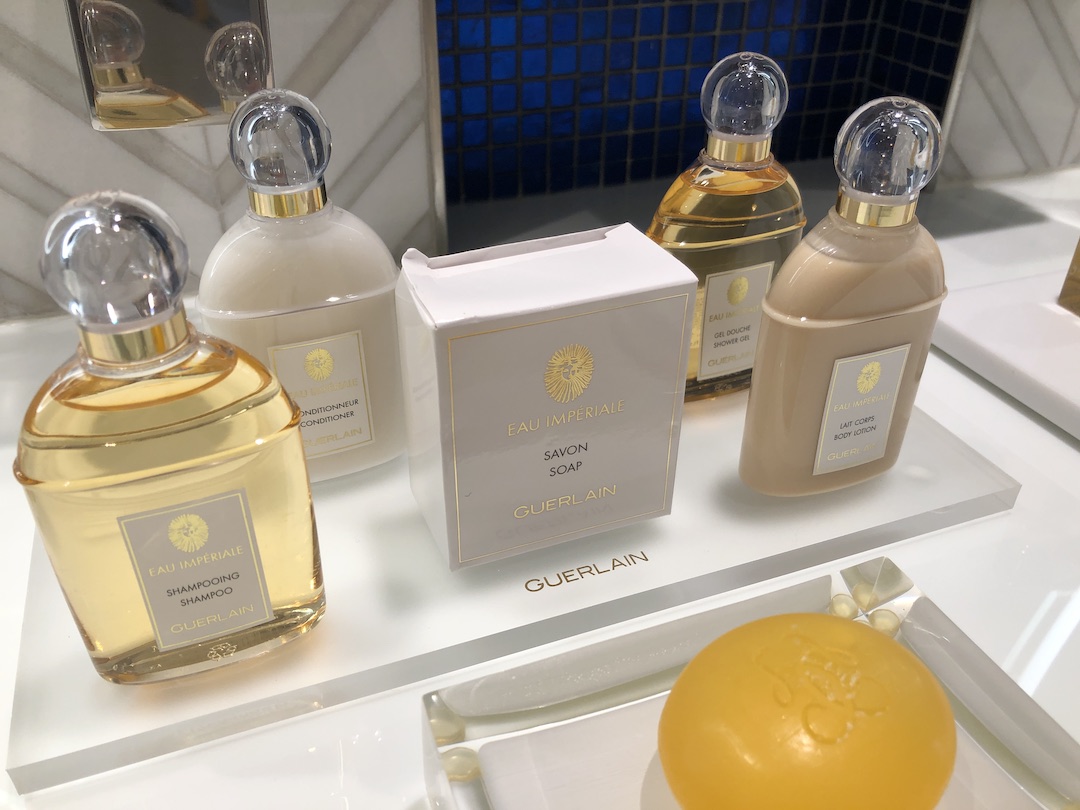 The toiletries on board Seven Seas Splendor are first class
So is Regent Seven Seas Splendor the ship for you? If you like a bit of bling and have the cash to splash, maybe. The food had its moments, and the suite was just divine.
Here are some of the public spaces I really rated:
Regent Suite
Hailed the most exclusive address at sea, this 4,443 sq ft apartment rents out at $11,000 a night, and has one of the largest private balconies on the ocean. Featuring a Steinway piano, an original Picasso, a $200,000 Hastens Vividus bed and its every own spa (which is 30 per cent larger than other Regent ships) with sauna, heated relaxation beds and a floor-to-ceiling ocean view shower, there's even a team of therapists waiting to massage you into submission and a private chauffeur waiting for your arrival in every port.

Pacific Rim
A specially commissioned, gilded dragon sculpture reported to have cost half a million dollars, guards the entrance to the specialty restaurant Pacific Rim. Once ensconced inside, you'll take in ocean views through windows designed in an abstract lotus shape – a universal Asian motif. Diffused lighting and a Zen-like ambience complement the authentic dishes.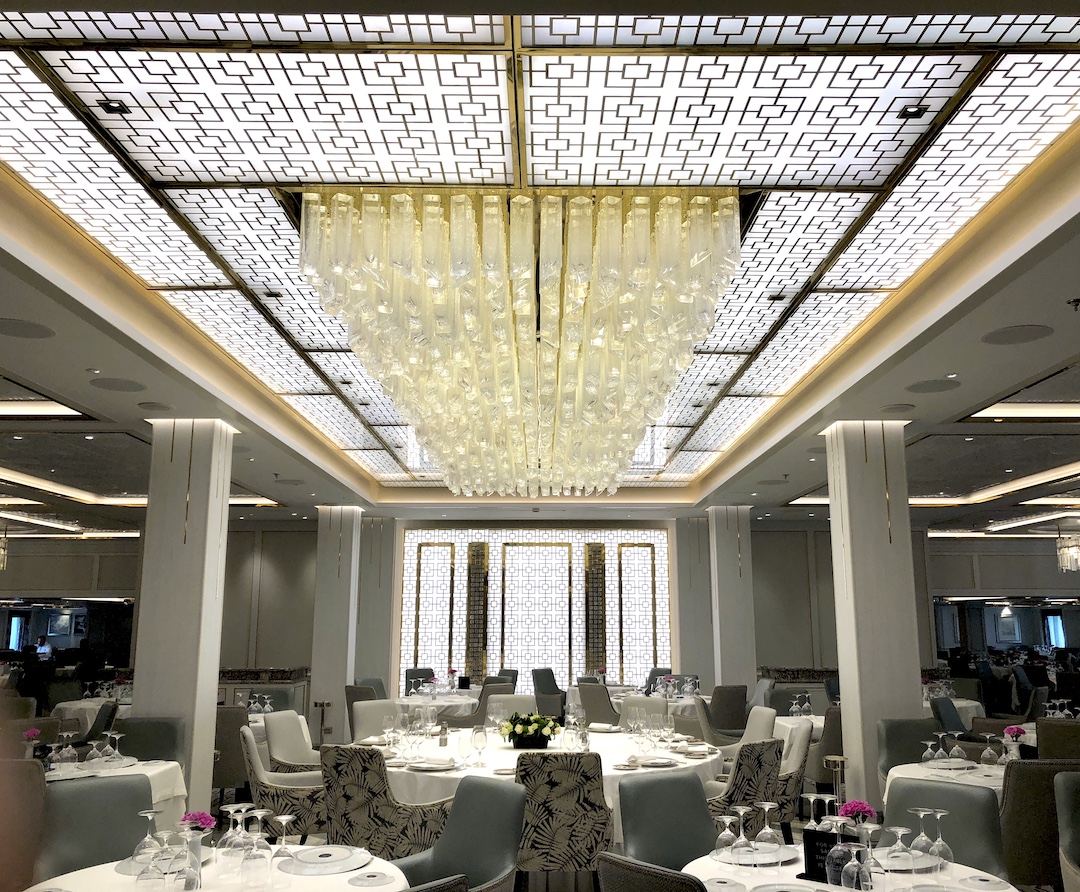 Compass Rose restaurant is a feast for the the eyes
Compass Rose
Featuring Versace dinnerware and a tranquil colour palette of soft greens and greys, the elegant Compass Rose is the largest specialty restaurant across the fleet. On arrival at the restaurant, which is located at the end of the marble-floored promenade leading from the atrium staircase, you'll notice the chandelier made of 870 handblown glass panels – this apparently took three craftsmen 10 days to install!
Observation Lounge
Positioned over the top of the Bridge for panoramic views while sailing, the Observation Lounge was inspired by a whimsical English garden, with furniture and soft furnishings said to emulate the flower petal. The room is elegant and contemporary, with features including a chandelier adorned with hand-painted porcelain peonies and roses, and specially commissioned art featuring hand-painted flowers on glass screens.