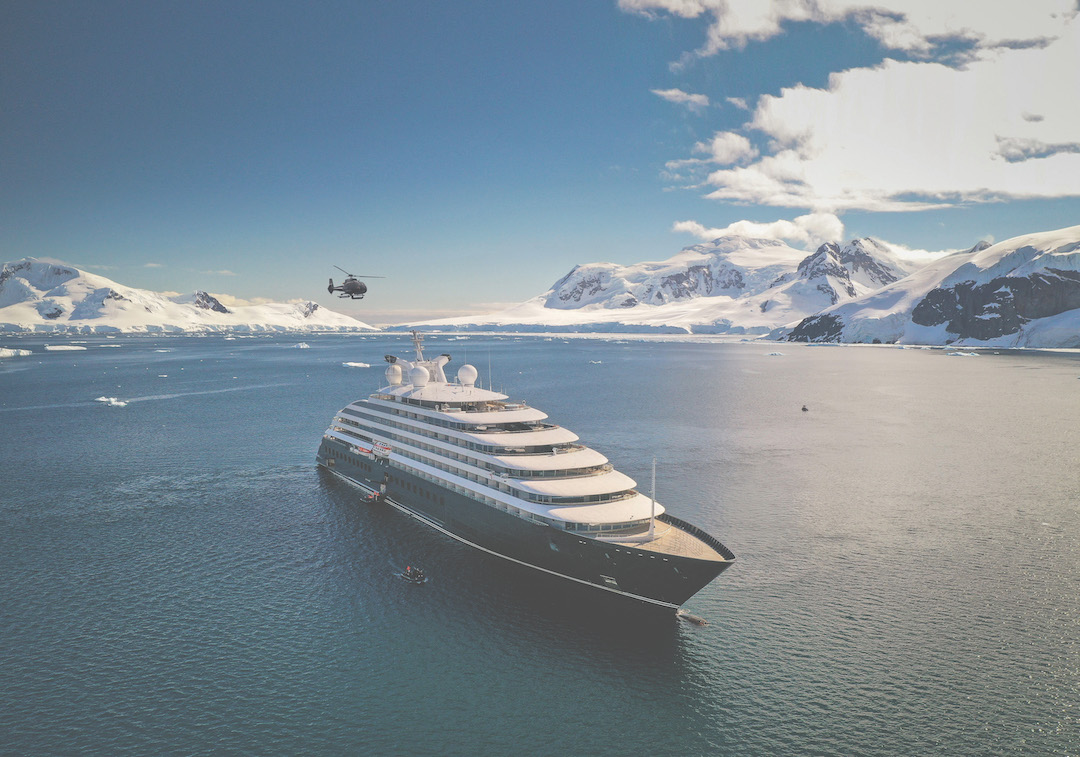 Scenic Eclipse – where six-star expedition cruising is child's play
Toys on board the world's first luxurious discovery yacht include two helicopters, and a six-seater submarine, but Panache Cruises' founder James Cole discovers nothing's off limits when it comes to keeping his toddler happy
As the waiter hovered beside me, pen poised, I scanned the menu for the umpteenth time. But no matter how delicious the Michelin-star-inspired dishes sounded – including sea-line-caught sea bass with truffled cauliflower and caviar served with smoked candy floss or crab and yuzo Tobiko Uramaki sushi, – I knew what she wanted for lunch wasn't on there.
'Erm, can I have a plate of olives, please?' I finally asked and the waiter nodded. Within minutes he was back with a smile and the only dish my 23-month-old toddler Lilli would eat. It was a relief – especially as she wanted 'a cake with apple in it' for desert and her favourite brand of oat milk to pour on her breakfast cereal the next day.
I shouldn't have been surprised. After all, I was on Scenic Eclipse – the world's first discovery yacht, and the ultimate playground at sea for adults as well as fussy eaters under the age of two.
With two H130 helicopters, Zodiacs and a six-seater Scenic Neptune submarine that can dive 300 metres below sea level, Eclipse looks more like a James Bond villain's lair or billionaire's weekend retreat than our home away from home for the next five days.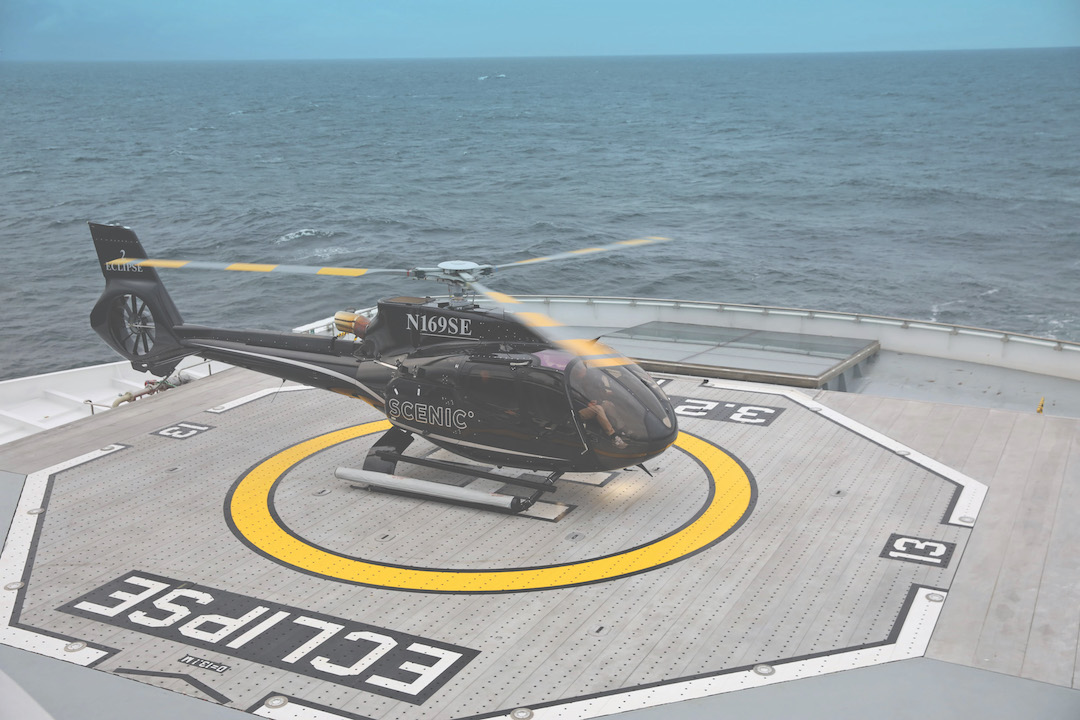 Boys' toys – Scenic Eclipse has two helicopters and a submarine on board 
But – quick pinch myself! – we (my wife Heather, Lilli and I) were being escorted to our 400sq ft Grande Deluxe Veranda Suite where our butler pointed out the hypo-allergenic air con, King-size fully-adjustable slumber bed with pillow menu, and the fully personalised mini-bar which are all part of the all-inclusive voyage.
So far, so six-star luxury. But then what else would you expect from a ship – arguably the finest looking at sea – that was created by Scenic Group's chairman and founder Glen Moroney after he saw Microsoft co-founder Paul Allen glide into Sydney Harbour on his own personal mega yacht, Octopus.
Fast forward to now, and his vision is a gleaming, sleek reality. Not only does Eclipse boast a gym, ESPA spa with plunge pool, yoga and Pilates studio, 2,500 sq ft Penthouse Owners' Suite with hot tub and a whisky bar home to more than 100 of the finest bottles, where even a dram from a $435 Japanese Whisky is included, but she's small enough to explore some of the world's most remote destinations in ultra-luxury.
Scenic Eclipse has been built specifically for the expedition cruise market which is set to grow exponentially over the next decade as travel-starved would-be explorers clamour to make up for time lost during the pandemic.
Like us, the other guests – it can take 228 – on board this special cruise to nowhere revelled in the bijou Eclipse, trying out the Seabob, Zodiacs, stand-up paddle boards and kayaks.
Sadly, the submarine isn't licenced to carry curious toddlers, and the helicopters were grounded during our cruise but at $500 per person for an hour's ride, (they, spa treatments and the small boutique shop are the only things not included) it meant my credit card stayed firmly in the safe in my room, forgotten about since before I came aboard.
When we weren't mucking around on the water, – we relaxed on the top deck, soaking up the sun, chilling in one of the two hot tubs or double cabanas.
Even though the restaurants were fine dining the service was anything but stuffy – waiters created origami roses and animals with napkins for Lilli while we indulged in dishes that made our taste buds explode
Once the sun had slid over the horizon, and Lilli had woken from her nap, we'd savour dishes from the 10 all-inclusive dining venues on board. Particular favourites included Lumiere, an intimate French eatery that would rival any Michelin star restaurant on land, Koko's which offered sushi, Asian fusion and a private Teppanyaki grill, the Chef's Table, which is an invitation only 11-course experience for just 10 guests.
Even though they're fine dining, the service in every restaurant was anything but stuffy – nothing was ever too much trouble and Lilli could order off-menu, while waiters created their own origami roses and animals with the napkins for her, and we indulged in dishes that made our taste buds explode. Fine wines, whisky and even champagne is available free of charge but I stuck to water and Lilli to her oat milk.
There are more casual places to eat too – the re-imagined Yacht Club on Deck Seven (there was once a swimming pool there which has since been removed) serves breakfast and lunch both inside and alfresco, there's a fantastic choice of dishes for in-room dining that can be arranged by your butler, and you can even take a culinary masterclass focusing on local cuisine in Scenic Epicure, the cookery club.
Scenic Eclipse is bursting with things to do – or not, according to your own desires, and extra level service where everybody seems to know your name from the moment you embark to a cruise director who lets my baby put on her own show.
There's even an open bridge policy where, if the door is open, you're welcome to step inside. You can chat to the officers and crew on watch, and they'll even make you a cup of tea to sip while the ship cuts through the waves.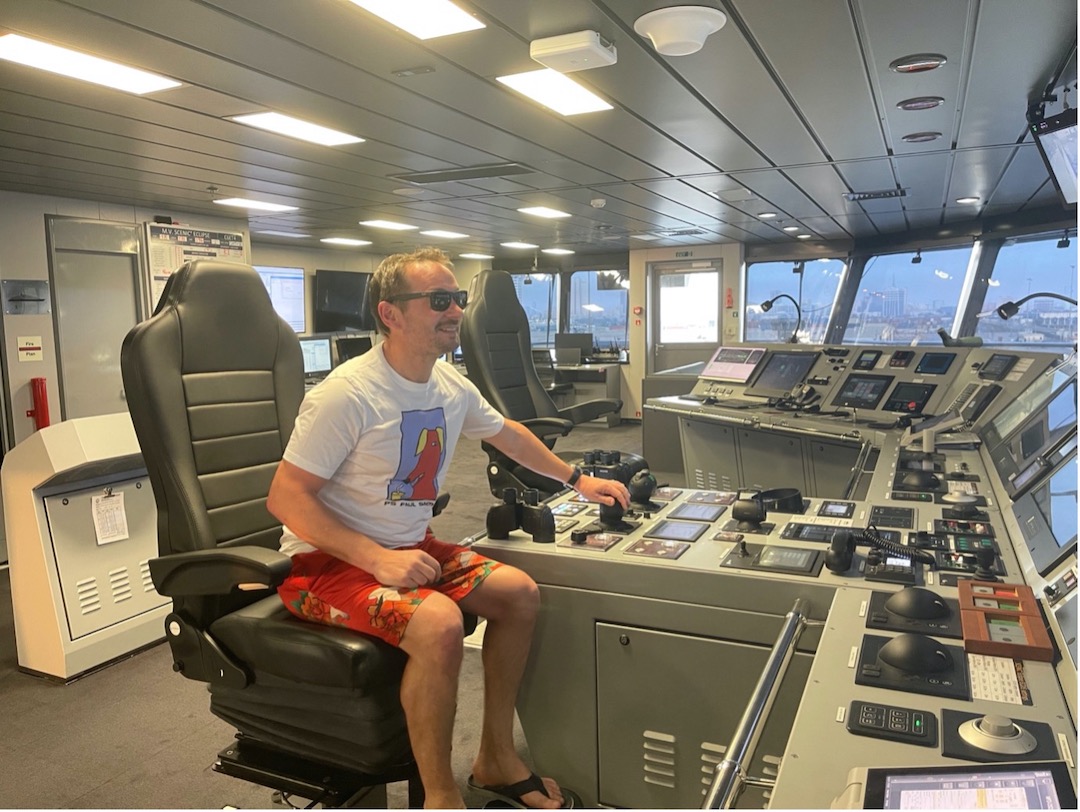 'The name's Cole. James Cole.' Scenic Eclipse looks like something out of a Bond movie 
This where Scenic Eclipse really comes into her own. Any cruise to the Antartic is preceded by a usually traitorous crossing of the Drakes Passage – a literal wall of water separating the calm of Puerto Del Fuego in Argentina from the visual delights of the Antarctic, which includes the sightings of King penguins, minke, sea lions, and humpback and killer whales.  
Thanks to Eclipse's technical prowess she glides through the high seas. Her stabilisers are 50% larger than her contemporaries', she has a Polar Class 6 rating hull and her power is immense due to an electronic Azipod propulsion system, enabling her to arrive at her first Antarctica sight several hours ahead of other's schedules.
Another smart piece of kit is her GPS dynamic positioning system which says goodbye to the 'old fashioned' anchor and hello to 21st century technology. The Captain just has to press a button to hold the ship in the same position indefinitely, meaning he can shelter from rough seas or high winds, and passengers can get off quickly during inclement sea conditions, which is important in the Artic and Antarctic where cruise ships are only able to stay in the same place for five hours.
In the UK summer Scenic Eclipse heads north to sail the Arctic where Polar bears, reindeer, whales and remote Inuit communities and paleo-Eskimo camps can be found
Scenic Eclipse's exceptional power also sees her travelling further south than other ships, regularly cruising into the Antarctic circle on a 14 night voyage. It means wannabe explorers can venture further in a state-of-the-art vessel that has quality, finesse and luxury running through her from bow to stern.
Her itineraries are as exciting as the ship. In the Winter, Scenic Eclipse heads for Antarctic to explore the Southern polar region, while in the UK summer she heads north to sail the Arctic where Polar bears, reindeer, whales and remote Inuit communities and paleo-Eskimo camps can be found. Filling the transitions between the poles are some delightful 'warmer weather' itineraries covering South America, the US West Coast and Alaska, Japan, Mediterranean, Baltic countries and Norwegian Fjords.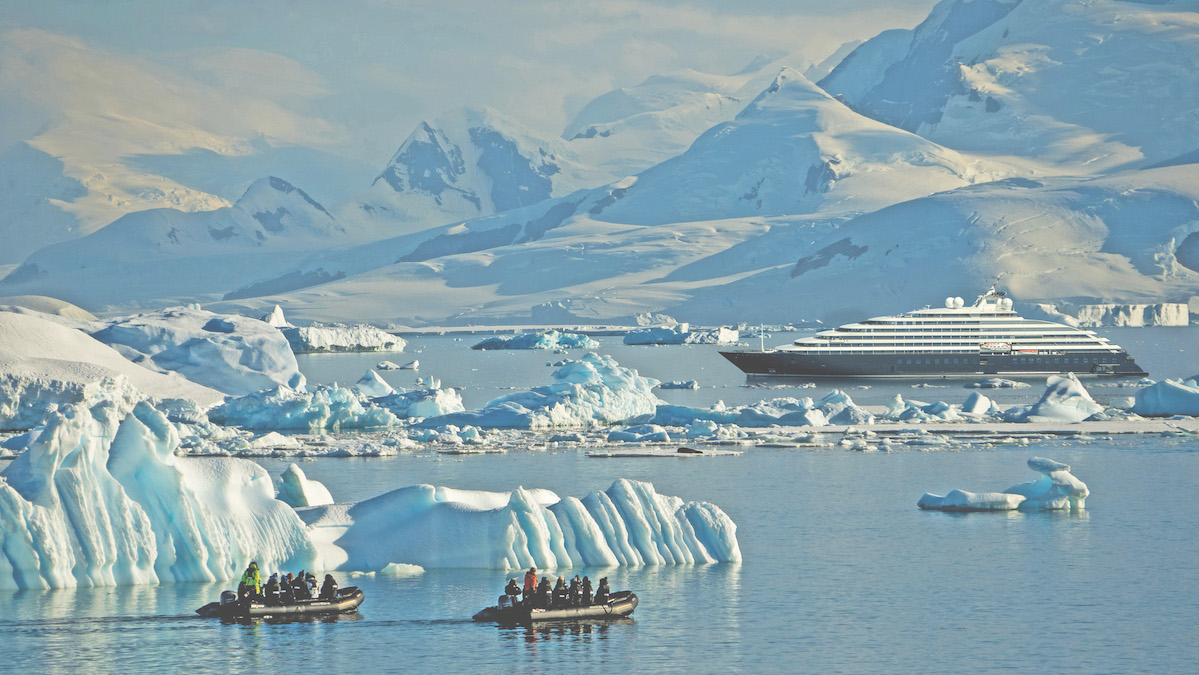 Scenic Eclipse is small enough to reach the remotest of islands – in this case the Zodiac Islands in Antartica 
It's no wonder that Scenic Eclipse II, which is under construction in Croatia, is slated for 2023, with undoubtedly more to follow. Who wouldn't want to explore the frozen planet in all-inclusive luxury on a ship that looks like it belongs in a movie or at the beck and call of an oligarch. 
At the end of our short cruise, we were sad to disembark. With outstanding service, unparalleled luxury and exciting itineraries we can't wait to step back onboard this bar-raising ship. It was Lilli's first ever cruise, but it definitely won't be her last. A trip to the frozen planet on Scenic Eclipse? Well, it's child play.
Would-be explorers can join Scenic Eclipse on a cruises to Antarctica where, after flying to Ushuaia, the southernmost city in the world, you can go fishing, trekking, and horseback riding. Explore the Antarctic Peninsula, where you can climb to the rim of a volcanic crater, cross the Antarctic Circle and spot Chinstrap penguins, Gentoo, whales, orcas and seals basking on ice floes. 
All Scenic Eclipse voyages are truly all-inclusive, meaning everything is included in the upfront cost including return UK fights, all meals across a choice of on board venues, premium branded beverages, a personal on board butler and all shore excursions.
An 11 night Antartica in Depth cruise departing 4 January, 2023 starts at £11,907 per person. Visit Panachecruises.com