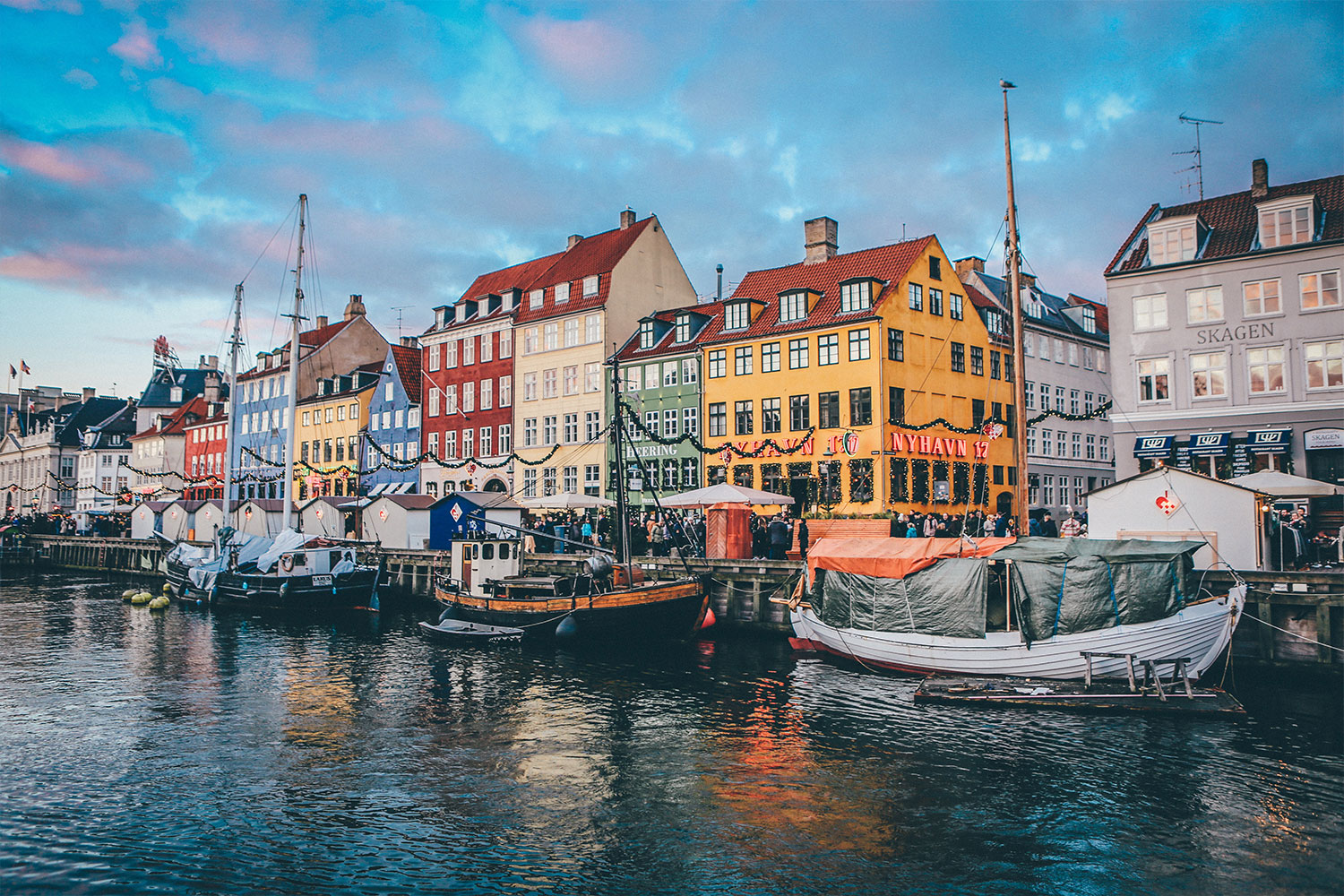 Copenhagen: the laidback city blessed with culture and colour
Denmark's capital for 600 years and one of the happiest places in the world, Copenhagen is a Baltic jewel that sits on the country's east coast and welcomes more than 900,000 cruise passengers every year
The largest city in Scandinavia, cosmopolitan Copenhagen is steeped in Viking history that can be traced back to the 10th century.
It's a laidback destination filled with ancient streets, lush green gardens, historical monuments and the world's oldest monarchy.
Ships dock at the Port of Copenhagen at one of four terminals: Nordre Toldbod, Langelinie, Oceankaj (Ocean Quay) and Ydre Nordhaven.
Oceankaj accommodates larger cruise ships and is further away from the city. A bus or taxi can be used to get into the city; sometimes a shuttle bus is provided by cruise lines.
Langelinie is within walking distance of the city and has berths for up to four ships, depending on size. There's a variety of shops and other facilities here.
Nordre Toldbob is the smallest of the terminals and essentially, isn't a terminal at all. There are no facilities aside from one restaurant, but the benefit of docking here is that passengers are right next to the Kastellet. This star fortress is worth walking around before returning to the ship.
The newest terminal, Ydre Nordhaven, is capable of handling more than 5,000 cruise passengers in one call.
Tivoli Gardens
'Hygge', pronounced 'hooga' is all about creating a feeling of wellness and contentment. It's a way of life in Denmark and can be found during a visit to Tivoli Gardens. Tivoli is the second oldest operating amusement park in the world. It's a fantastical land for young and old and is worth visiting, even with limited time. There are live shows throughout the grounds during the summer and numerous rides and games to enjoy year-round. Check out the Rutschebanen, one of the world's oldest operating wooden rollercoasters. Around Christmas, Tivoli becomes a magical land that you probably never knew existed.
The Little Mermaid
Passengers docking at Langelinie Pier will be welcomed into Copenhagen by the Little Mermaid. This bronze and granite statue was gifted to the city in 1913 by Carl Jacobsen. Inspired by the fairytale from Hans Christian Anderson, she's one of Denmark's most popular attractions. Andersen's childhood home has been a museum since 1930 and can be reached by train from Copenhagen.
Amalienborg Palace
Home to the Danish royal family, Amalienborg Palace offers visitors the chance to learn about Danish royal history at the onsite museum. There are four buildings – Christian IX's Palace, Christian VII's Palace, Frederik VIII's Palace and Christian VIII's Palace, which is where you'll find the museum. The museum's history stretches back 150 years to Christian IX and Queen Louise, known as 'the in-laws of Europe'. The rooms of both, and their descendants, stand intact. The Garden Room offers an insight into the monarchy in the 21st century. Amalienborg is probably most famous for its Royal Guard, called Den Kongelige Livgarde. Each day at 12 noon the guards march from their barracks through the streets to Amalienborg, for the changing of the guard.
Nyhavn
Nyhavn, or 'New Harbour', is a 17th century waterfront and canal that is always a good place to visit. It comes alive during the summer months and turns into a Christmas wonderland in the winter. After a day sightseeing, it's the ideal place to enjoy a drink while admiring the brightly-coloured wooden houses. Hans Christian Andersen used to live at several properties on this street, including No. 20 where he wrote 'The Princess and the Pea'.
Getting Around
The best way to explore Copenhagen is on foot, but if time or fitness don't allow, there are other ways to get around. The metro networks, S-Tog and bus are great options, but it really comes down to where your ship is docked. You should also consider where you want to go and how much time you have. Bus routes 25 and 27 serve the Oceankaj cruise terminal area but these standard city buses do not have luggage racks. One-way tickets are available to the city but must be purchased before boarding the bus. Bus route 27 also travels from Osterport station to Oceankaj. Other options include the City Sightseeing hop on, hop off buses; Copenhagen's bike share system (free between April and September), and taxis.
Shopping
One of Europe's largest pedestrian retail streets, Strøget runs from City Hall Square to Kongens Nytorv. It offers a wealth of shopping experiences, from budget to high-end designer. Take note, on Sundays almost everywhere is closed. For antiques, Ravnsborggade is the place to go. The offering spans the last three centuries and includes Royal Copenhagen porcelain, 18th century glassware and more.
Food & Drink
There are more than 1,800 restaurants, bars and cafes in Copenhagen, so finding something to eat should be a cinch. Denmark's national dish, the Smørrebrød, is an open-faced sandwich. This usually consists of buttered rye bread, topped with cold cuts, meat or fish, vegetables and garnish. Copenhagen is also home to a variety of Michelin-starred restaurants, including Noma, voted the 10th best in the world.  Copenhagen Street Food Market is the place for fun dining – this former docking area is lined with food trucks. It's a great way to sample quick and varied bites.
Copenhagen is a varied and interesting destination with many first-class attractions.
For cruise passengers docking at Nordre Toldbob, Kastellet is certainly worth exploring. One of the best-preserved fortresses in Northern Europe, today it serves as a public park.
It's a great option if you only have a few hours in port.