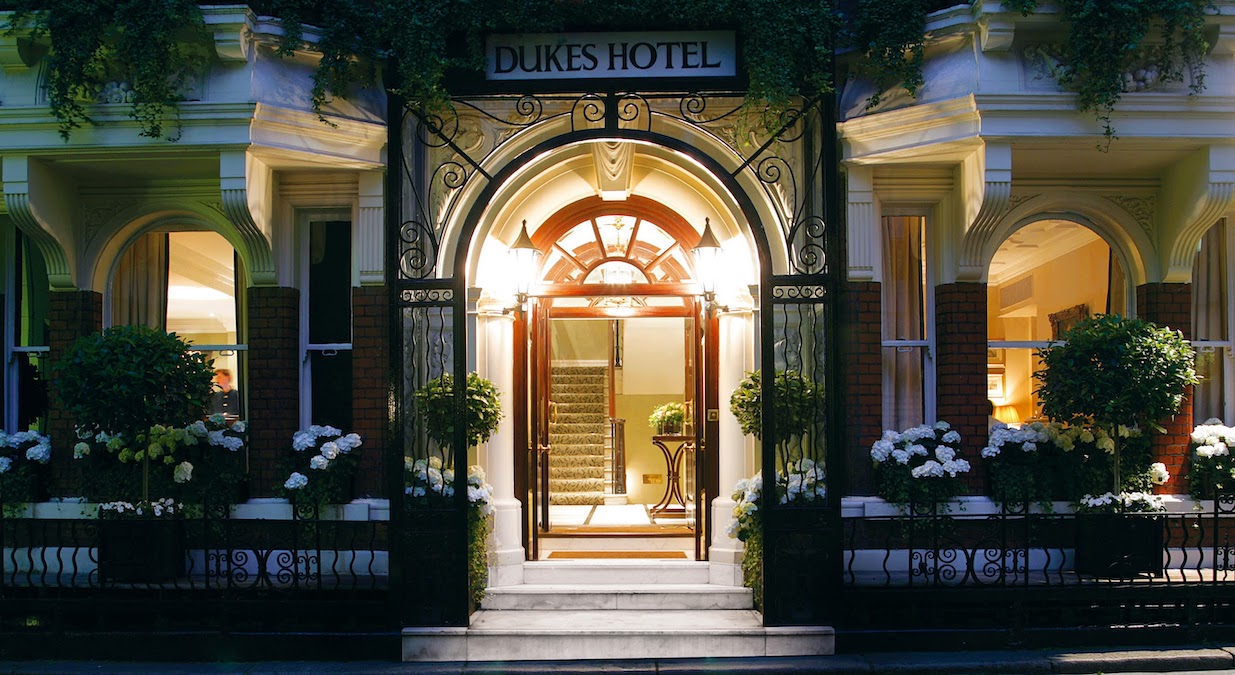 No Time To Diet! Why James Bond creator Ian Fleming's favourite hotel is an epicurean delight
The recipe for the ultimate pre or post-cruise break in London? A quintessentially British hotel with lashings of literary history, afternoon tea, and plenty of 007 martinis
Tucking into dainty sandwiches with the crusts cut off, my husband kept glancing around the very elegant drawing room in Dukes Hotel, a five-star hotel in London's swanky Mayfair.
 A tea pot with lashings of Earl Grey sat in the middle of the table next to a stand piled high with all manner of dainty finger sandwiches, scones with clotted cream and jam, and pastries galore.
There was even a glass of champagne, but Alexio couldn't sit still. 'What is the matter?' I eventually asked, and he put down his third Danish pastry.
'Where is he?' he asked and I frowned. Tucked down a tiny alley off St James' and just a five-minute walk from Buckingham Palace, Dukes Hotel is the epitome of quintessential British luxury with fine china plates, cake stands and oil paintings everywhere you looked. 
Alexio, however, was clearly agitated. 'Will he be here soon?' he asked and I struggled to understand. 'Daniel Craig,' he said. 'You know, the guy who plays James Bond.'
I would have laughed if I hadn't just taken another bite of my cucumber sandwich. Alexio had misunderstood. Dukes is the hotel where Sir Ian Fleming, the creator of James Bond, frequented while writing the spy books in the 1950s, not the star of the blockbuster movies. 'I don't know if Daniel Craig comes here,' I giggled.
If he doesn't, he should. Ever since King Henry 8th  built  a palace in St James in the 16th century, this area has attracted writers, royalty and politicians.
The hotel dates back to 1908 but it was the booming '50s that saw Dukes as the place to be. Bond fans now flock to the Dukes bar here where Fleming is supposed to have coined the catchphrase 'shaken not stirred' for his lady killer British spy.
'I'm afraid 007 won't be here today,' I told my confused husband, 'but we can head downstairs to the bar later if you want.' After all, you can't stay here and not try Bond's favourite tipple.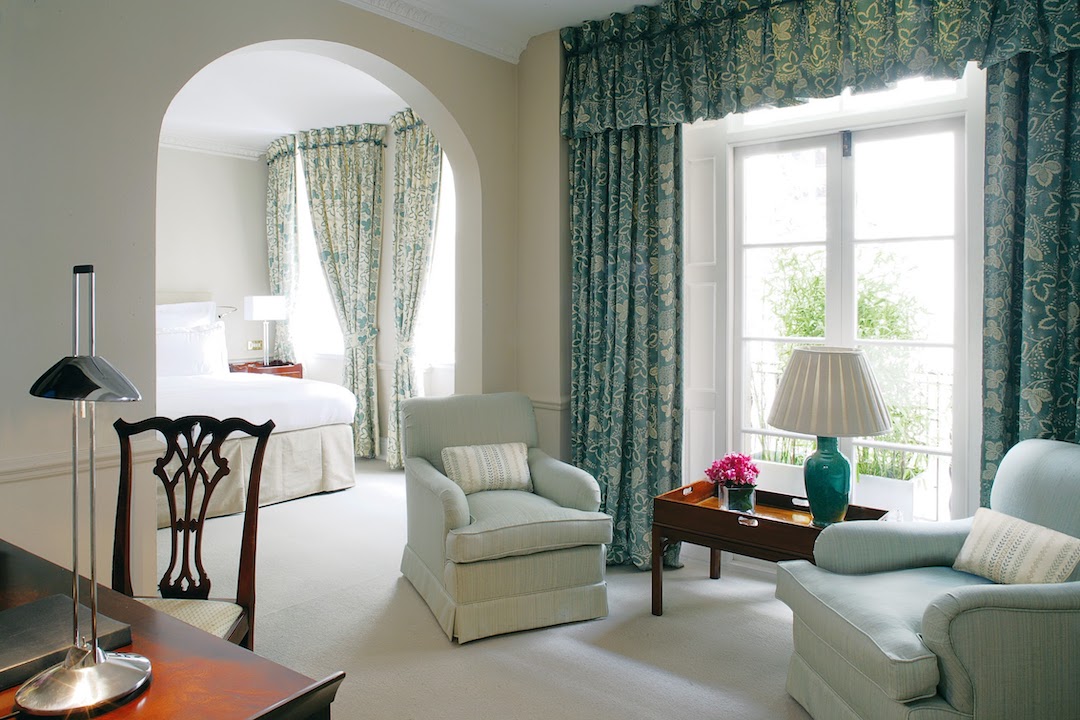 From DUKES with Love – the hotel's sumptious Junior Suite 
First, it was time for some sight-seeing and after dumping our bags in our room – the kind that the world's favourite secret agent sneaks into and which boasts Liberty prints, Floris products in the bathroom (their 89 Eau De Cologne is Bond's signature scent), and an air of luxury – we grabbed our two children from the adjoining room and headed out.
Buckingham Palace, Trafalgar Square and Piccadilly Circus are all just a stroll away so it's a chance to explore Bond's London, and is the perfect place for a luxurious pre-cruise stay 
Buckingham Palace, Trafalgar Square and Piccadilly Circus are all just a stroll away so it's a chance to explore Bond's London, and is the perfect place for a luxxurious pre-cruise stay before embarking in Tilbury, Portsmouth or Southampton.
Then it was back under the Union Jack flag flying over the entrance into the 90-room Dukes to get ready for our most romantic evening for the last two years – a night without the children. The Family Escapes in Mayfair stay at the hotel includes five hours complimentary childcare as well as in-room amnesties for very little ones such as a colouring book, milk and cookies and a toy.
While our kids eschewed the amenities, they jumped at the chance to ate room-service in front of the TV in their room, while we dined in The Great British Restaurant, the all-day Roaring Twenties style  brasserie which had vegan and vegetarian options. My cauliflower 'steak' with crumbled Stichelton (an English blue cheese), sage, and organic oats was melt-in-the-mouth delicious and my husband even went veggie choosing the red onion tart with creamed spinach.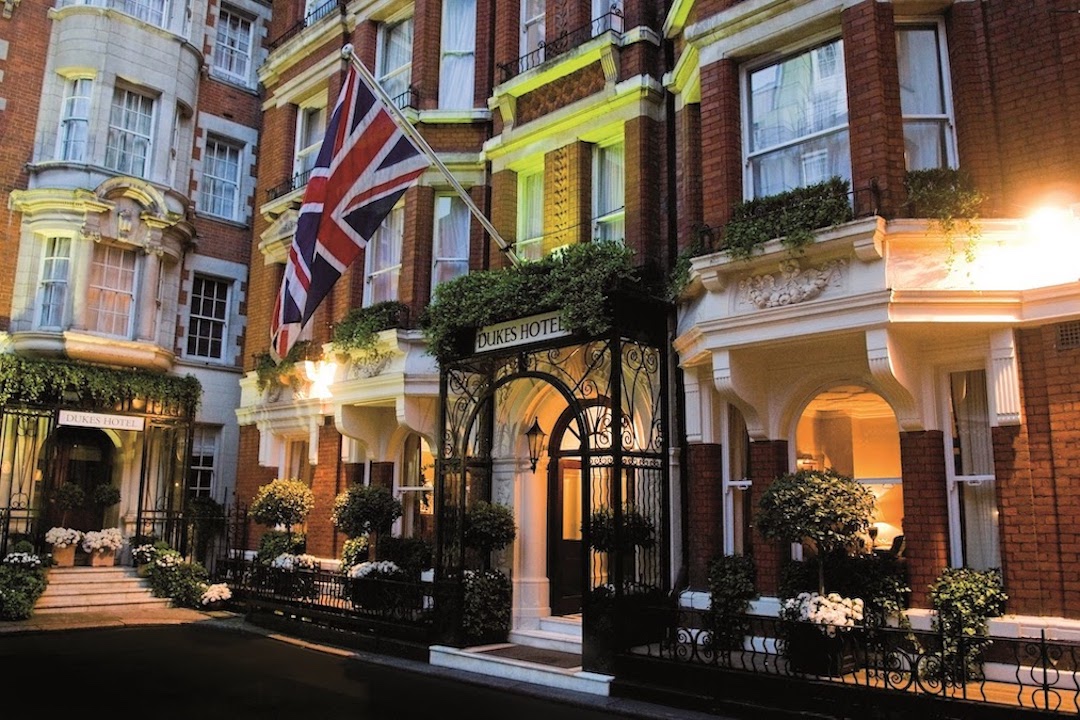 Bond creator Ian Fleming's favourite watering hotel serves perfect martinis: shaken, not stirred
Then it was off to Fleming's famous watering-hole where martinis are served up Bond-style, of course, shaken, not stirred.
The tiny bar was packed and the atmosphere was buzzing. By the end of the evening we'd sampled way too many 007 beverages and were full to bursting with delicious food. This hotel, the martinis and modern menu are too good to pass up. And as Bond would say: 'You only live twice'.
Nightly rates in a DUKES room at DUKES LONDON starts from £209. Visit dukeshotel.com