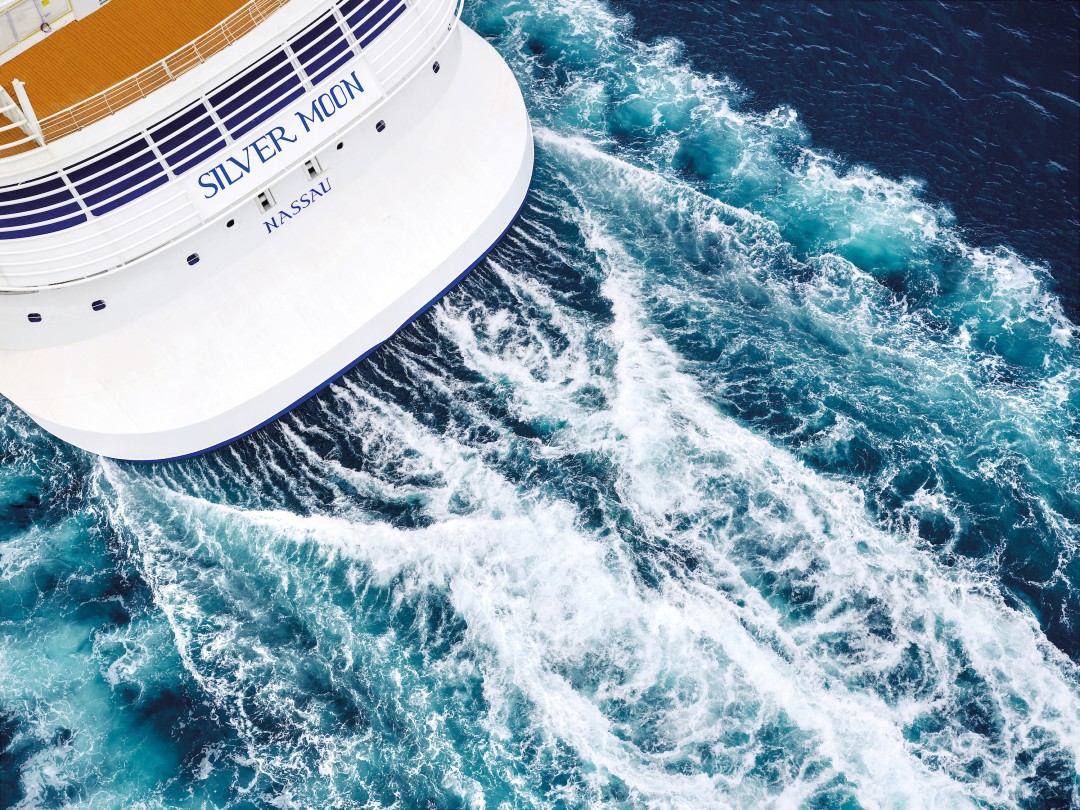 By the light of the Silver Moon: Silversea's innovative new ship is set to shine
We size up Silver Moon, ultra luxury cruise line Silversea's new ship, which is set to be a real dazzler
The ninth ship in Silversea's ultra luxury fleet, Silver Moon, was delivered at the end of October and the first glimpses of its interior have just been released. If you're a fan of Silversea like yours truly, you'll be itching to get on board!
Building on the success of Silver Muse, Silver Moon will take inspiration from the design of her sister ship to push boundaries in ultra-luxury travel.
Silver Moon will maintain the small-ship intimacy and spacious all-suite accommodation that defines the Silversea experience, while bringing elements of innovation and an array of enhancements.
So, it's time to size her up… Are you sitting comfortably?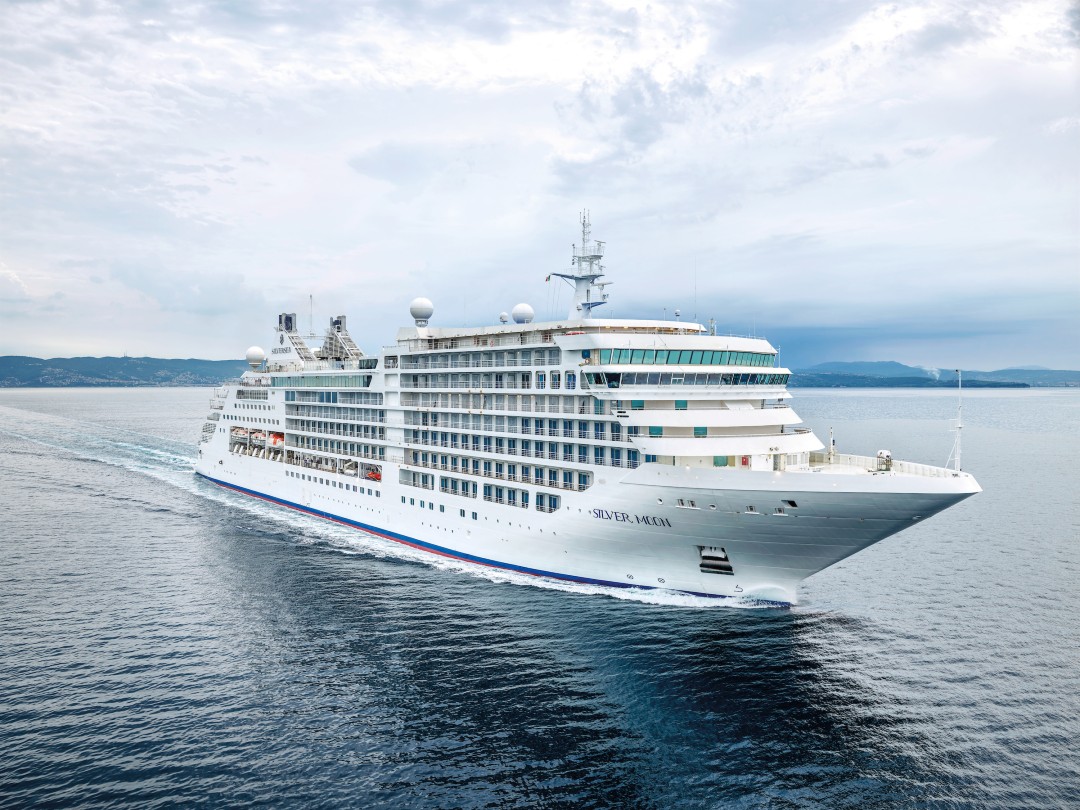 Silver Moon, from ultra luxury cruise line Silversea
Sleek, spacious and eco friendly, too
Silver Moon will push the boundaries of ultra-luxury, immersive travel as the best ship in her class. Built by Fincantieri in Ancona, Italy, the innovative shipyard will remember Silver Moon as its first ship delivered after the Coronavirus lockdown – a symbol of Italian resilience and capacity to overcome difficulties.
The optimal capacity is a combination of 596 guests and 414 crew for a crew-to-guest ratio: 1:1.44.
All Silver Moon suites feature ocean views and 97 per cent have a private veranda. In all suites, guests will benefit from a personal butler with one of the highest space-to-guest ratios at sea.
There's also an in-suite bar stocked with preferred beverages, in-suite dining that's available 24 hours per day and is a real treat when you just want to chill in your room, and various other luxurious amenities (we love the Bulgari toiletries). 
Bespoke, handcrafted luxury beds by Savoir can be found in the ship's four Owner's Suites, four Grand Suites, and two Royal Suites: guests in these suites will experience a distinctive level of comfort even as they sleep.
Externally, the ships' design has been enhanced, with the stern and funnel revised and harmonised – Silversea and Fincantieri both focus on climate and environment issues that are affecting our world and, following a solid sustainability agenda, improved Silver Moon with this in mind.
In this vein, the ship will incorporate the Green Star 3 Design: a goal-based additional class notation carefully assigned to ships that are designed, built and equipped with the environment in mind.
In order to reduce air pollution as much as possible, Silver Moon will be equipped with Open Loop Exhaust Gas Cleaning System; the aim is to meet the latest environmental requirements to allow the best sustainable travel experiences all over the world.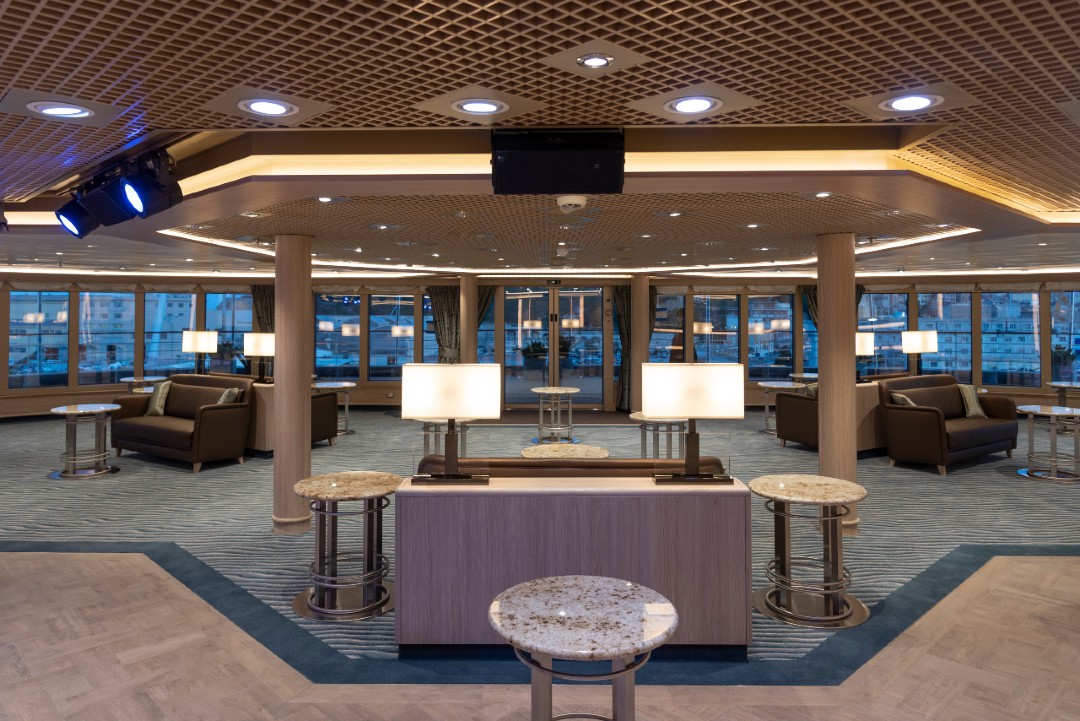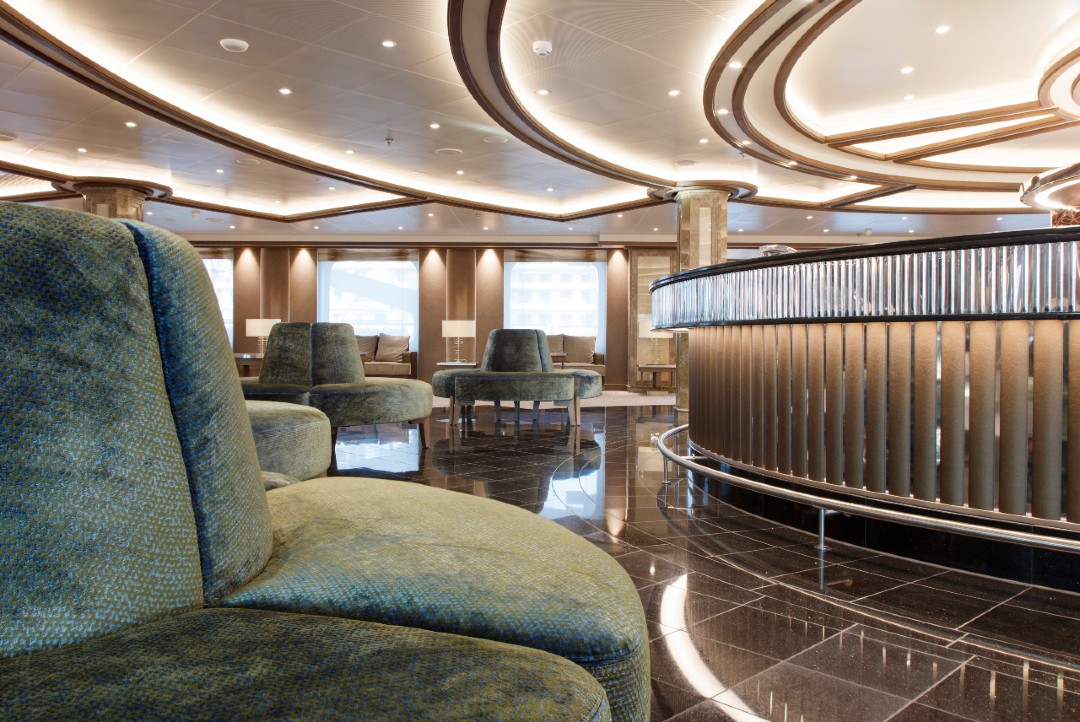 The redesigned Dolce Vita on deck 5
Silver Moon will introduce a pioneering new culinary programme, S.A.L.T. (Sea and Land Taste), which will unlock immersive culinary experiences for guests, adapting with the sailed region. 
The concept will enable travellers to use food to dive deep into the world's richest cultures, to truly understand the soul of a destination.
Silver Moon will be the first of Silversea's ships to incorporate an entire ecosystem for culinary discovery, designed around the S.A.L.T. programme:
S.A.L.T. Kitchen will be the 3rd

largest restaurant on board, with a capacity for almost 160 guests. As S.A.L.T. Kitchen's offering will be inspired by regional cuisine, the menu will change to take guests deeper into the culinary cultures of the visited destinations

S.A.L.T. Bar will be situated on Deck 4, next to S.A.L.T. Kitchen. It will offer guests the best selection of local cocktails, wines and spirits, served by specially trained bartenders who will explain the context of each drink
S.A.L.T. Lab, designed specifically for culinary exploration, will host workshops, demonstrations and lectures. Guests will learn from local chefs and food experts and discover regional ingredients, before experiencing food cultures on immersive, unique land-based experiences.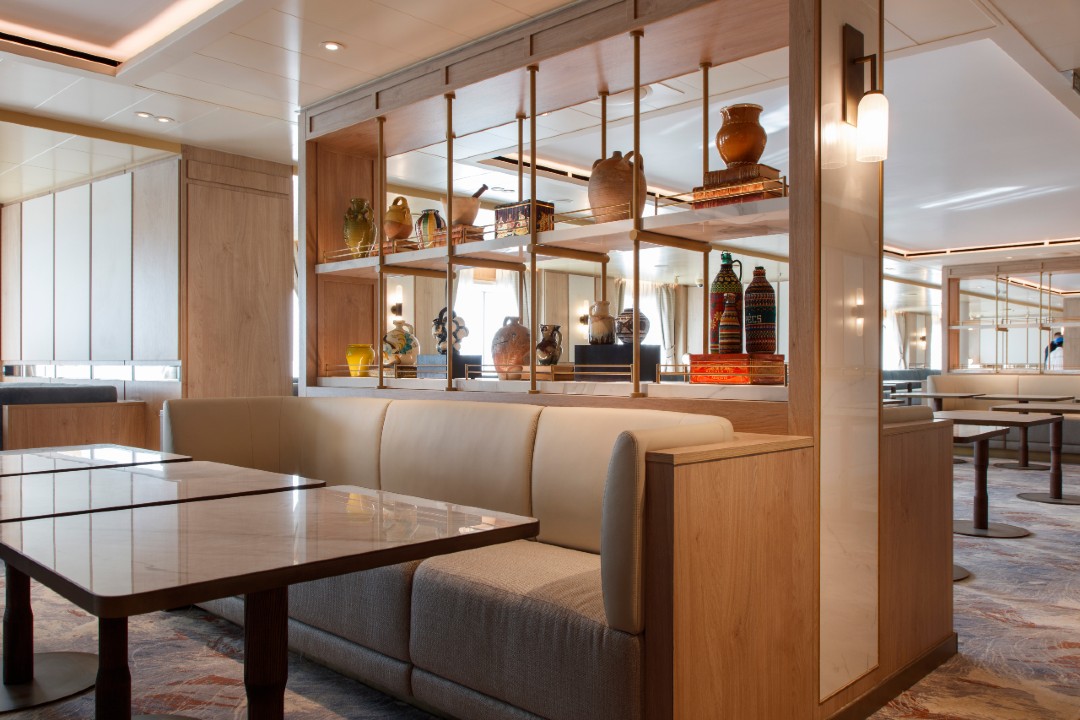 Dining Silversea style is one of the total pleasures of sailing with the line. Along with the S.A.L.T concept, here's what's on offer:
La Dame (180m2): Silversea's signature French restaurant will embrace a completely different look and feel on Silver Moon. The restaurant will be relocated from Deck 4 to Deck 8, which will allow for a beautiful outdoor view and seating, as well as an increased capacity – from 30 to 56 seats, almost doubled the size compared to La Dame on Silver Muse. The restaurant will be decorated with bespoke, handmade 11 Lalique crystal panels in the theme of Masque de Femme and Coutard.

Atlantide (505m2) – will have the same position as on Silver Muse, yet the surface will be increased on Silver Moon, bringing the capacity from 176 to 220. As per the rest of the fleet, Atlantide will have an open seating policy for guests' enjoyment.
Kaiseki (69m2) – Minimalist yet sophisticated, the enhanced design of Kaiseki Japanese restaurant is an expression of seasonality. Silver Moon's concept of this venue is in fact based on harmony with the feeling, the atmosphere and the seasons.
Silver Note (156m2) – the music-inspired venue will be enhanced aboard Silver Moon with a repositioned performing area for optimised visibility.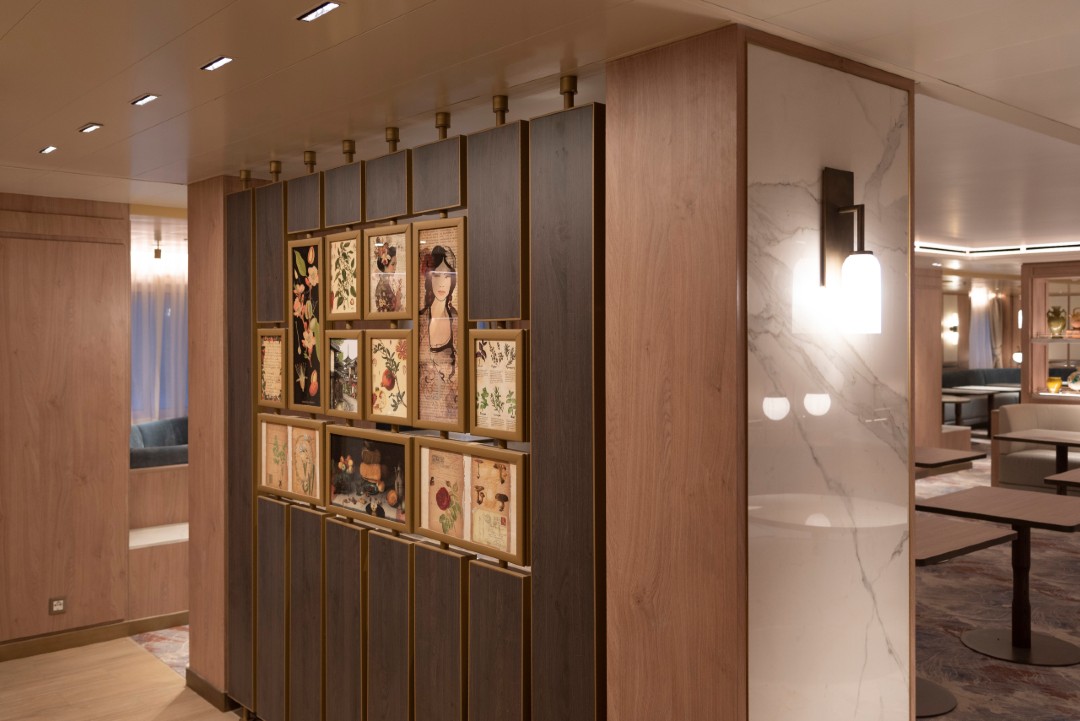 The S.A.L.T Kitchen is the ship's third largest restaurant
There's plenty of places to lounge, enjoy a chilled glass of champagne or indulge in some well-deserved 'me time' onboard Silver Moon:
Arts Café (270m2) will embrace the same concept, look and feel as on the Silver Muse. Only the position will change from the port side of Deck 8 to the ship's starboard side.
Dolce Vita (773m2), located at the heart of the ship, will be reimagined aboard Silver Moon. The bar will be relocated to the centre of the area, dividing the space into two sub-areas: an evening bar, with more formal setting; and a bar/café in which guests can relax during the daytime.
Connoisseur's Corner (38m2) will be repositioned to Deck 9 and expanded.

In addition to benefitting from a new design, this enticing space will incorporate a new Wintergarden area, which will create a sheltered and inviting area outdoors.

The Pool Deck bar will be increased in size, as well as altered in shape to accommodate more guests. Steps into the pool basin will be incorporated, allowing for easy access into the water.
The Zagara Beauty Spa will be larger, with enhanced spaces indoors and outdoors.

The facility will comprise a large thermal area, relaxation area, and gym.

The Panorama lounge (332m2), the Venetian Show Lounge (530m2), the Boutique, the Zagara Beauty Salon; and the Casino (73m2) will stay similar in concept and design to those spaces aboard Silver Muse.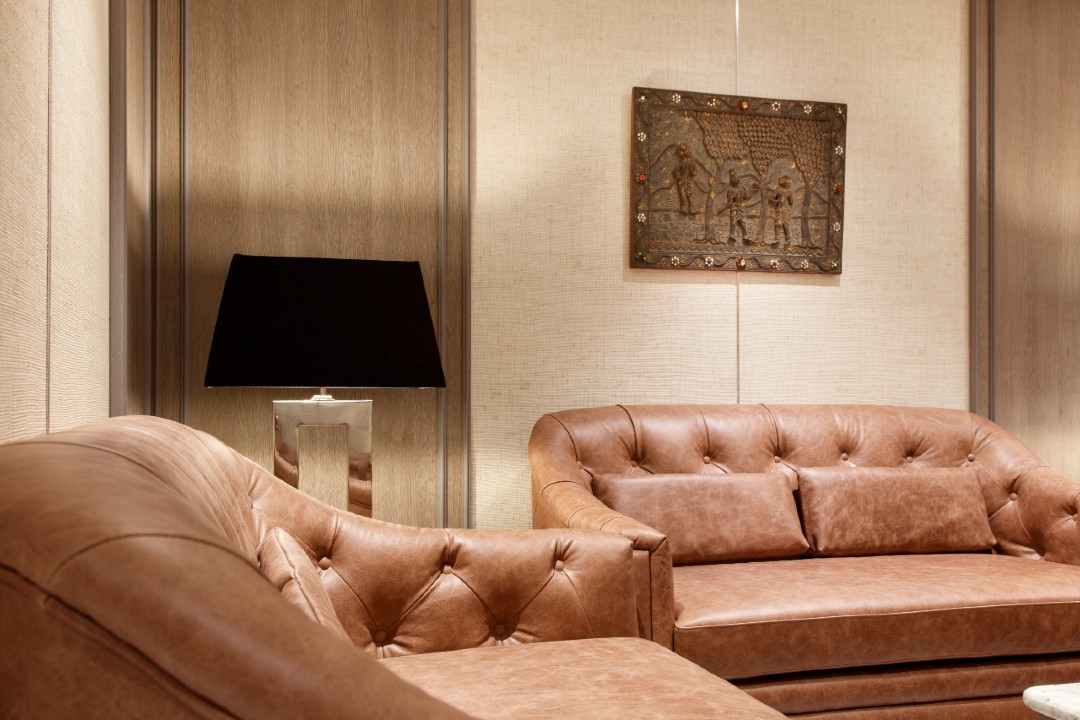 Public spaces on Silver Moon will make you want to linger a little longer
A nine-day cruise on Silver Moon from Dubai to Mumbai, departing on 17 November 2021 costs from £3,420pp including economy class flights. Visit www.silversea.com or contact your travel agent.