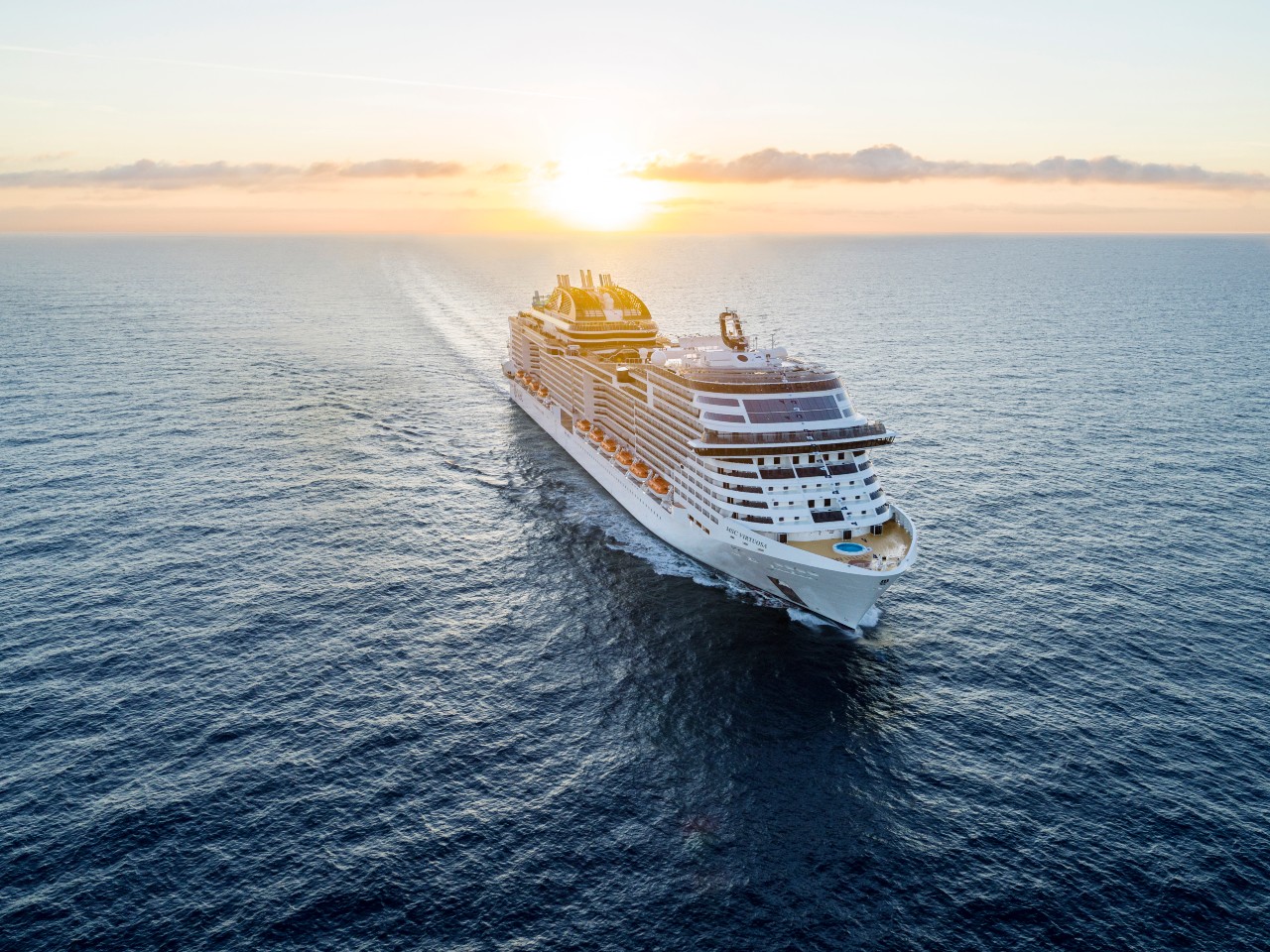 MSC Cruises ticks the environmental box with its new next-generation ships
Bellissima! Cutting edge new ships MSC Virtuosa and MSC Seashore not only look beautiful, they also promote low carbon cruising
We love MSC as they always seem to sprinkle a touch of cruise happiness just when we need it most! And the news of their two incoming ships MSC Virtuosa and MSC Seashore couldn't have come at a better time, in our opinion.
In true MSC style, the ships will offer a host of state-of-the-art features and public spaces, including the world's first humanoid robotic bartender at sea, Rob, who speaks eight languages and can be found in the immersive MSC Starship Club on Virtuosa.
As with every ship that joins the MSC Cruises fleet, both will feature a wide range of latest-generation technologies and equipment that will minimise their impact on the environment.
MSC Virtuosa and MSC Seashore will also be equipped with shore-to-ship power connectivity. This will allow them to connect to local power grids while at berth at ports.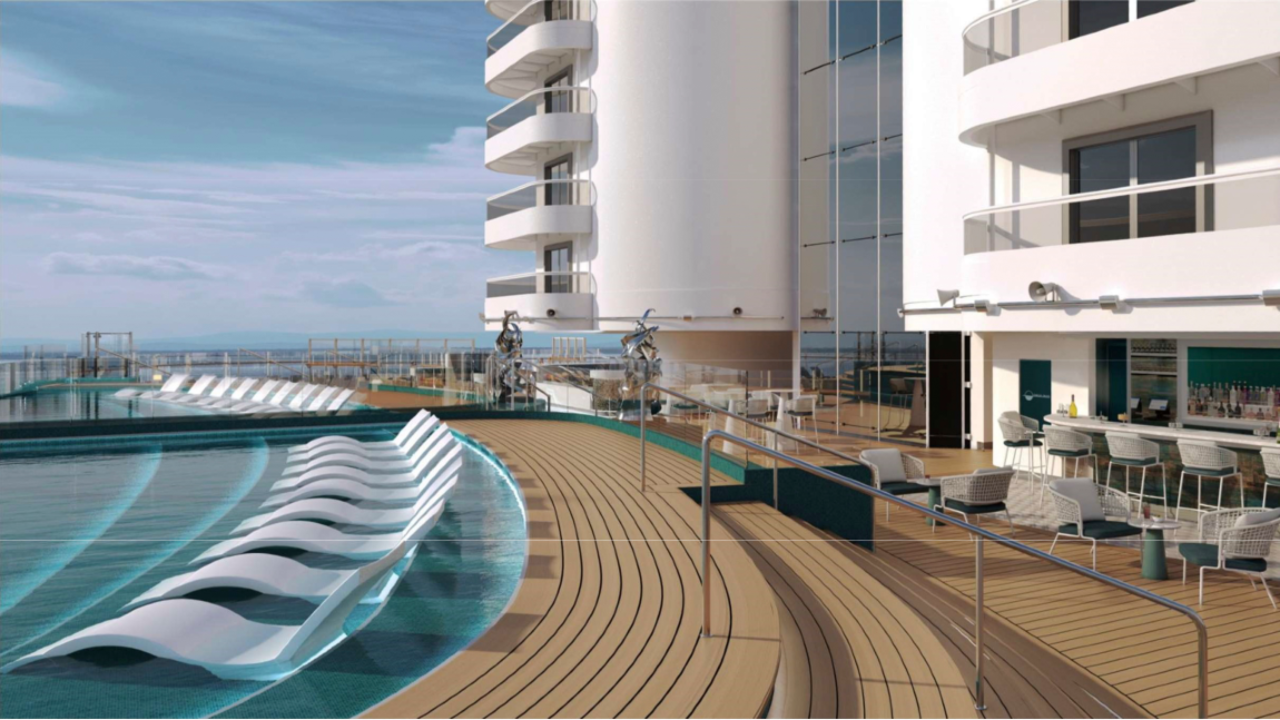 Anyone fancy a dip? We definitely do…
Protecting marine life, optimising energy 
Air emissions: MSC Virtuosa and MSC Seashore will feature hybrid exhaust gas cleaning systems on all their engines. This technology achieves a 98% reduction of sulphur oxide (SOx) emissions. As with MSC Grandiosa, the ships will also be equipped with cutting-edge selective catalytic reduction (SCR) systems that reduce nitrogen oxide (NOx) emissions by 90%.
Both ships will be equipped with shore-to-ship power connectivity, allowing them to connect to local power grids while at ports where the infrastructure is available. This allows them to minimise engine use at berth, leading to a substantial emissions reduction when close to urban areas.
Wastewater: The ships will feature advanced wastewater treatment systems designed in line with the International Maritime Organization's MEPC 227(64) Resolution, with purification standards that are higher than most wastewater treatment facilities ashore. Ballast water treatment systems will prevent the introduction of invasive species in the marine environment through ballast water discharges.
Protecting marine life: Both ships will be equipped with an underwater radiated noise management system. Hull and engine room designs will minimise acoustic sound impact, reducing the potential effects on marine fauna, most particularly on marine mammals in the surrounding waters.
Energy efficiency: All MSC Cruises' new builds incorporate a range of energy efficient equipment that help reduce and optimise engine use. These include smart ventilation and advanced air conditioning systems with automated energy recovery loops that redistribute heat and cold to reduce demand. The ships use LED lighting controlled by smart management systems to enhance further the energy-saving profile. In partnership with the shipyards, all new builds are fitted with remote energy monitoring and analysis systems, allowing real-time shoreside support to optimise operational efficiency onboard.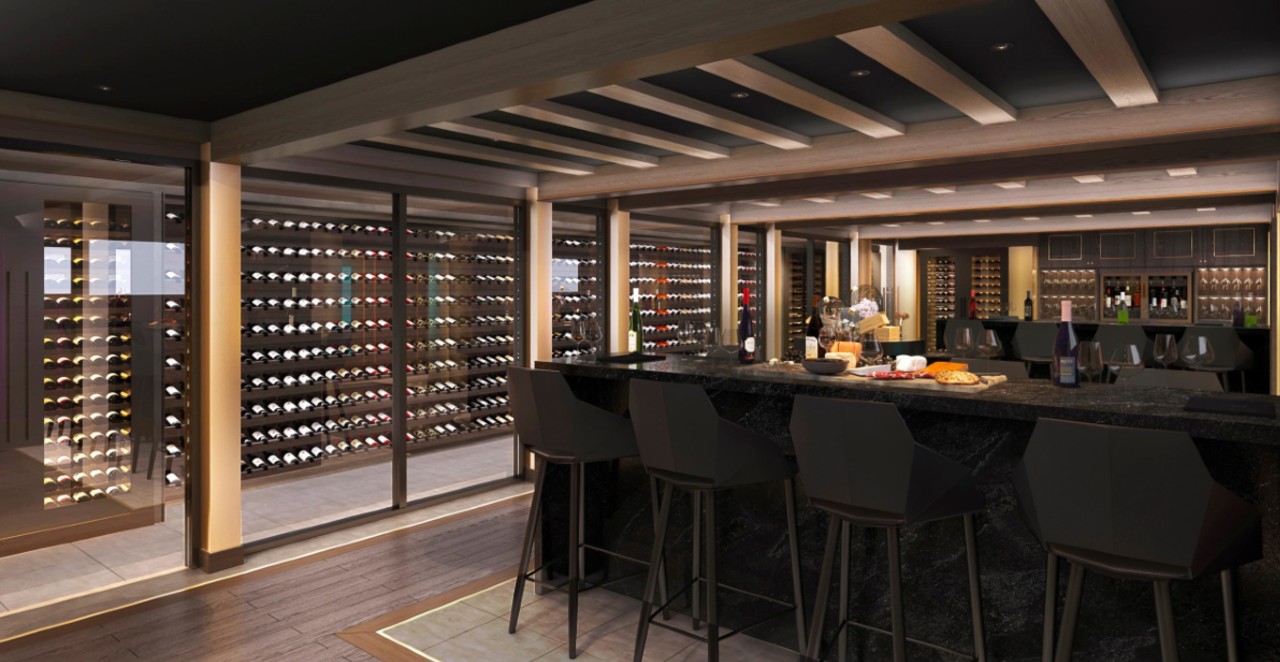 Smart and stylish dining options await…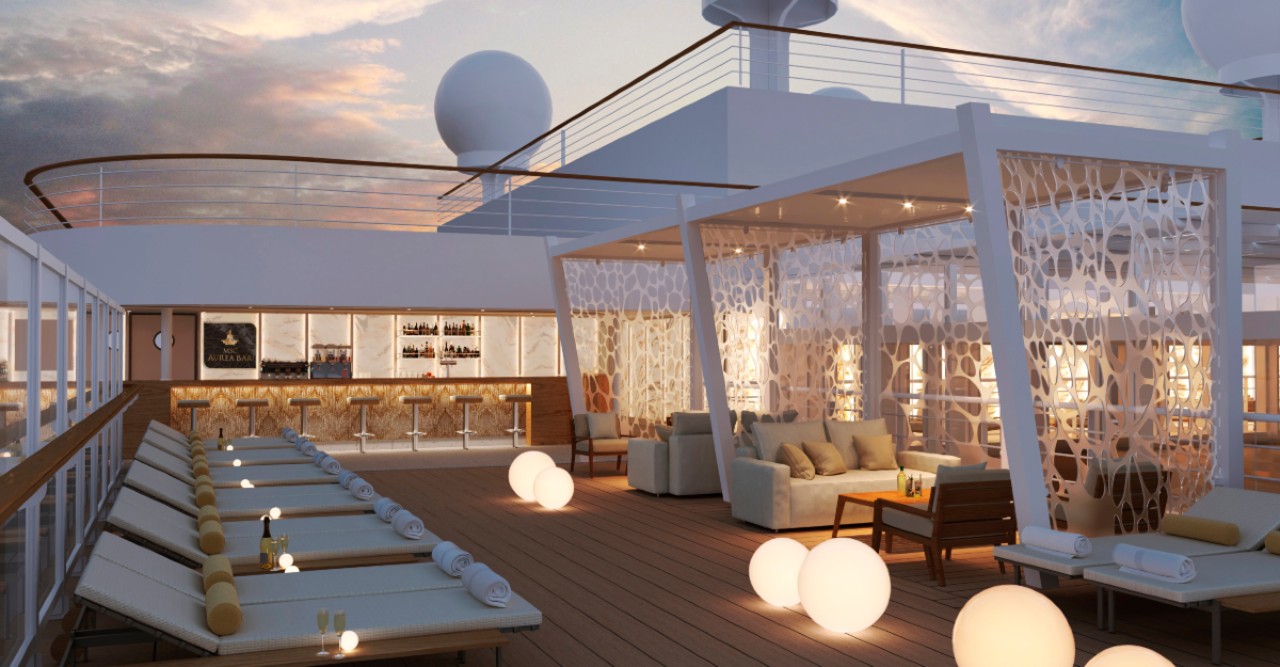 … with inviting outdoor spaces for drinking and socialising
Pierfrancesco Vago, MSC Cruises' executive chairman said, "Our long-term goal is to achieve a zero-impact cruise operation and this is the journey we are on today.
"As we work with our partners to identify new technologies that will bring us closer to this goal with each new ship that we build and bring into service, we continue to equip our ships with the latest and most effective technologies in the market."
MSC Cruises has announced that it is partnering with several industry leaders in a research project that promotes low-carbon shipping by combining progressive energy technologies and innovative ship design.
Led by the University of Vaasa, the CHEK Consortium – deCarbonising sHipping by enabling Key Technology symbiosis on real vessels concept designs project – involves, in addition to MSC Cruises, the World Maritime University, Wärtsilä, Cargill, Lloyds Register, Silverstream Technologies, Hasytec, Deltamarin, Climeon and BAR Technologies.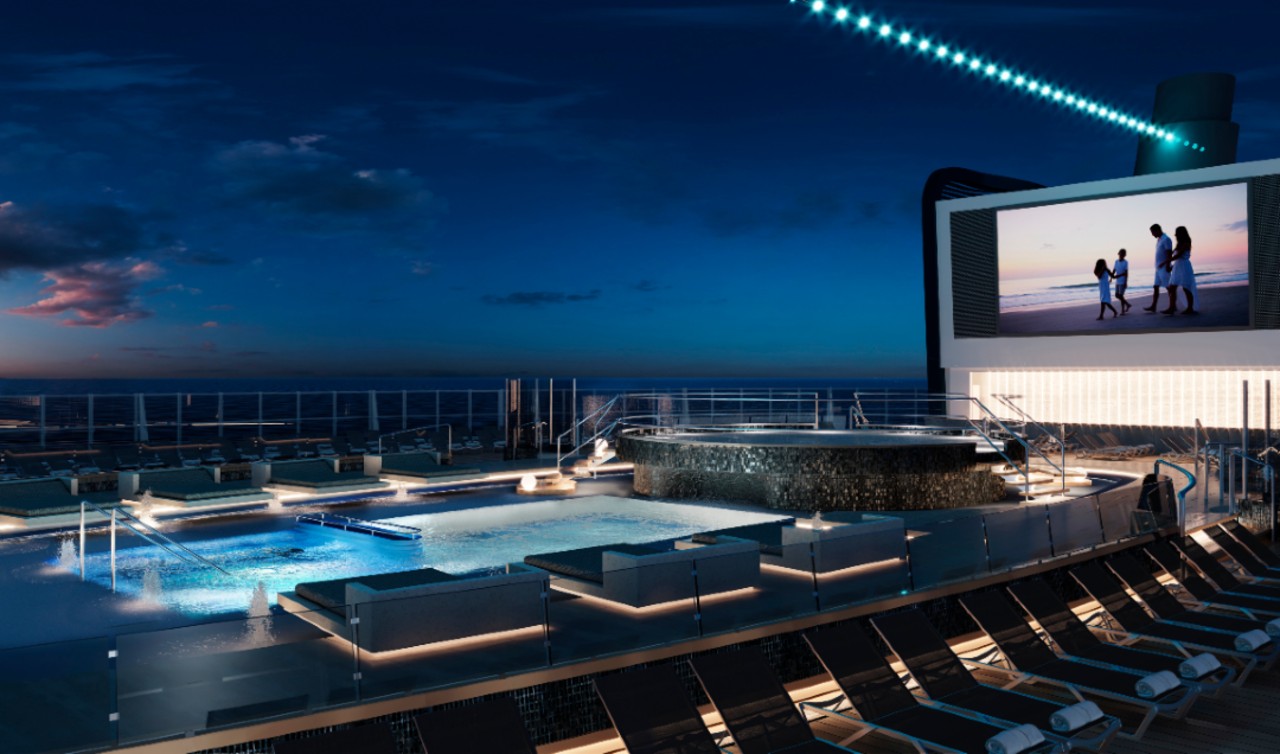 Catch a movie on a balmy summer's evening on MSC Seashore
Looking ahead, in 2022 MSC World Europa, the company's first LNG-powered vessel, will be delivered. In 2021, work will begin on a second LNG ship, the fifth Meraviglia class ship.
MSC World Europa will be amongst the most technologically advanced cruise ships in the world, with a range of environmental innovations. Amongst these is a 50-kilowatt, LNG-powered solid oxide fuel cell technology project that offers a potential to reduce greenhouse gas emissions by a further 25% compared to a conventional LNG engine.
As sustainable, non-fossil-based fuels like bio LNG become available, MSC Cruises anticipates their widespread deployment on its LNG-powered ships to further reduce greenhouse gas emissions.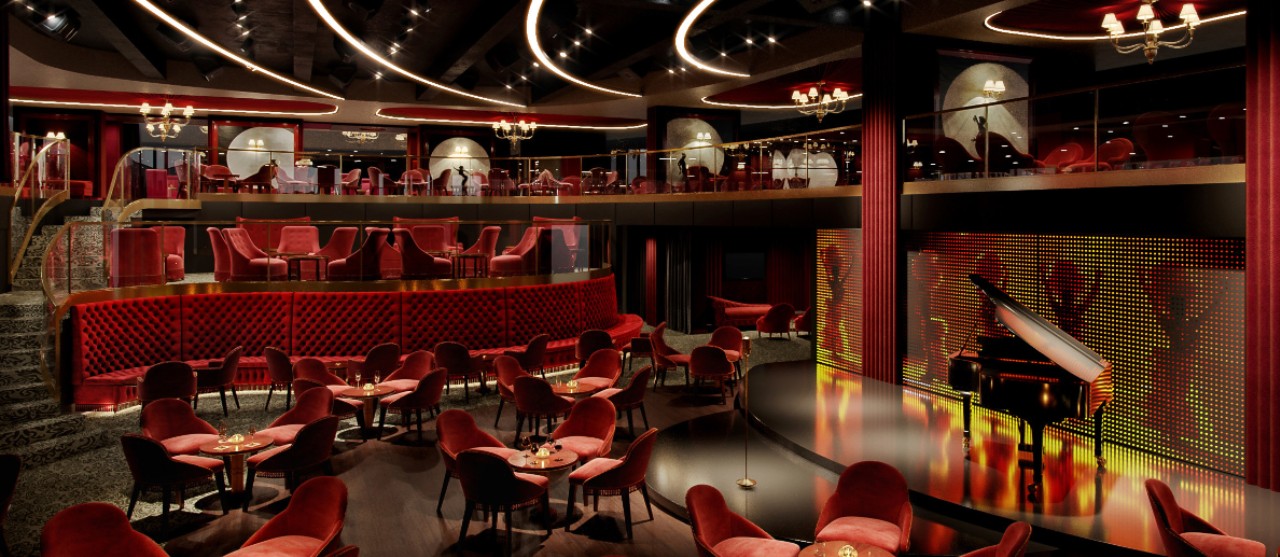 The entertainment on MSC never disappoints
New health & safety protocols
Thinking about booking a cruise on MSC Virtuosa, MSC Seashore or indeed any of the MSC fleet in the future? Then you'll want to know about their new health and safety measures.
The MSC Cruises protocol is based on nine key elements, many of which have been adopted by other cruise companies, the Cruise Lines Industry Association and international airlines and airports.
Testing of all guests at least twice per voyage

Testing of all crew at least three times before embarkation and weekly on board

Only protected shore excursions, as organised 'social bubbles'

Ventilation with HVAC fresh air

Contingency response that does not burden local health infrastructures

Isolation space on board and tracking and tracing including close contacts

Masks

Physical distancing – aided by reduced capacity of the ship

And COVID-19 prevalence monitoring
A 10-night cruise on MSC Virtuosa from Lisbon round trip, departing on 24 October 2021 costs from £749pp (cruise only). Visit www.msccruises.co.uk or contact your travel agent.