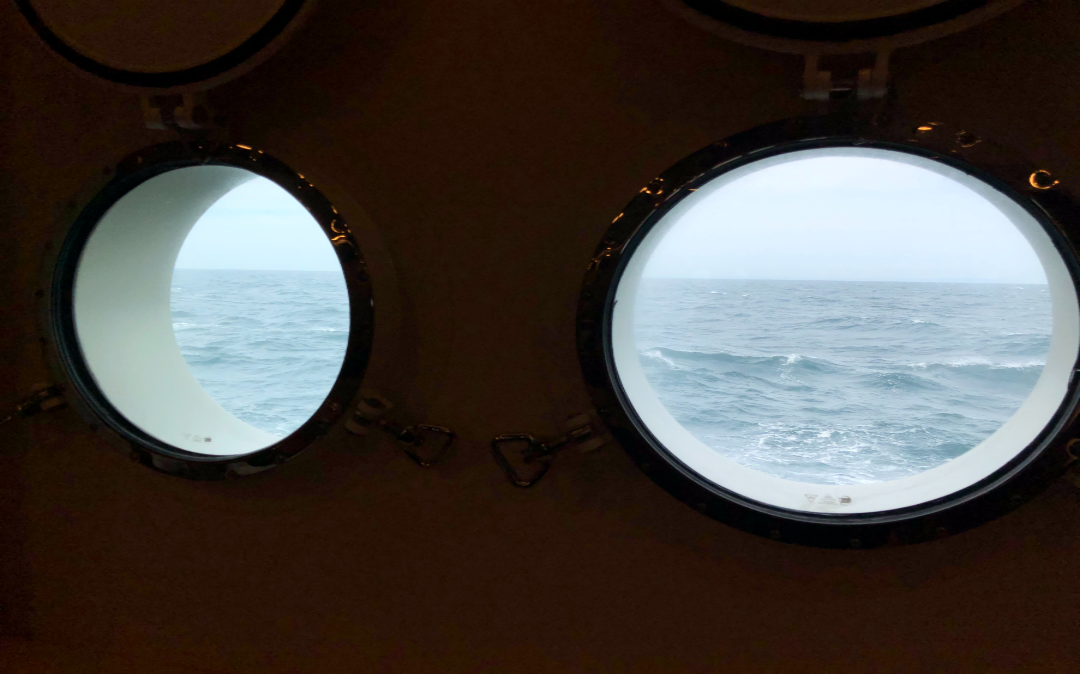 Modern romance: 5 things we loved about Golden Horizon
In July we joined the inaugural cruise of Tradewind Voyages' new ship Golden Horizon – here's what we loved about our voyage on the world's largest sailing vessel
After an 18 month dry spell without any cruises in my life, unsurprisingly I had a great time on Tradewind Voyages' new small ship Golden Horizon back in July.
For once, the weather was on our side as we left the famous white cliffs of Dover behind, and literally sailed into the sunset on the maiden voyage around the British Isles.
Even the ships' recent 'arrest' at the port seemed like history once we'd set sail.
This 272-passenger square rigged ship – the largest in the world – has romance and traditional maritime elegance in spades. A luxury offering without stuffy formality, it's a proper sailing experience and nothing like the sophisticated floating hotels we also know and love.
Built as a near replica of the France II (the second largest commercial sailing ship ever built), there are five masts and the largest amount of sail above water – 6347 metres to be exact – which would fill a football pitch if laid down.
So what was so great about cruising on Tradewind Voyages' Golden girl? Aside from the fact that high heels are discouraged for safety reasons (wedges are your friend, ladies), there's a great deal to love about this striking ship. Let's find out:
Specially composed music brings the sail away drama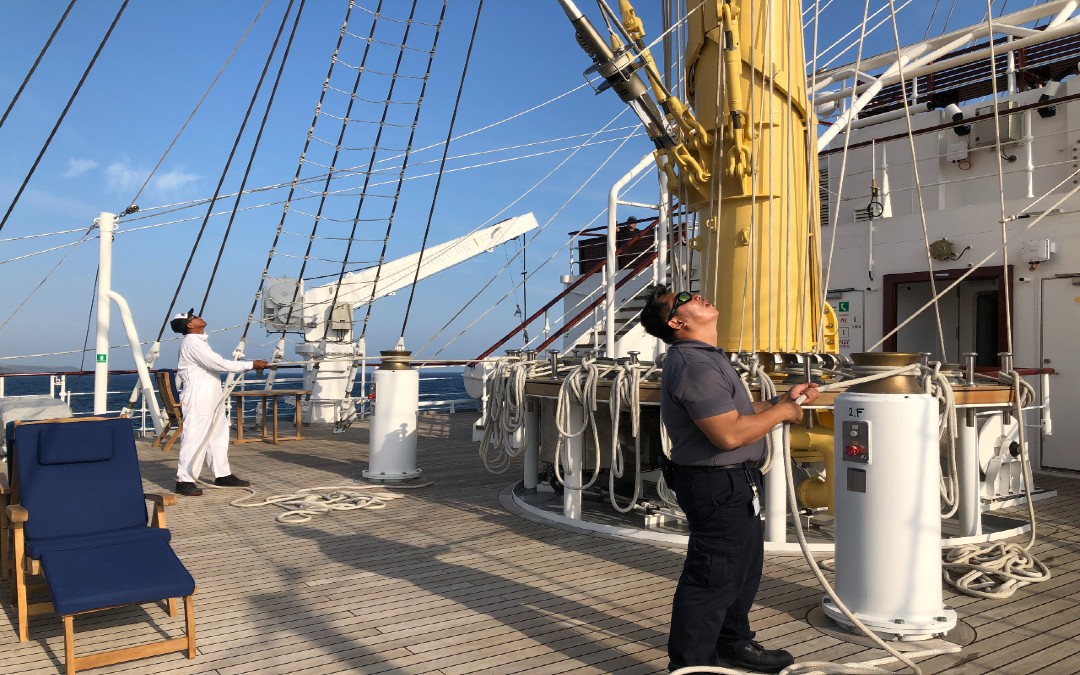 The deck crew prepare for sail away on Tradewind Voyages Golden Horizon
Who doesn't love a sail away? It's the time to socialise with your fellow shipmates with a glass or two in hand, while you watch the ship slip away from port and can finally celebrate the start of your holiday.
On Golden Horizon, you should prepare for a sail away like no other you'll have experienced before.
You'll soon know what's happening as the specially composed (for Tradewind Voyages) classical music starts up – your attention will then be diverted upwards, as you watch the majestic sails leisurely start to unfurl one by one.
It's rather special, pretty unique and a definite cruising moment – you won't forget it in a hurry, I can tell you!
Mother nature is the ships' compass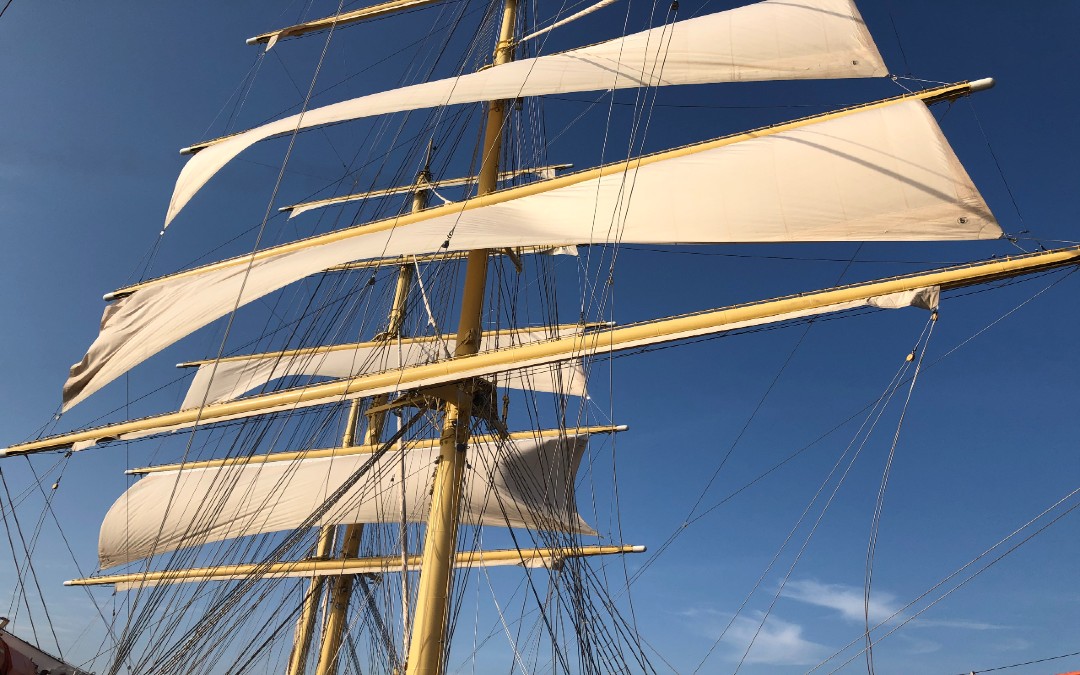 The sexy, creamy sails are a real show-stopper when they start to unfurl 
Golden Horizon is all about exploration and sailing the world in an authentic, sustainable way. Guided by the sun, prevailing wind and currents, the aim is to sail without using engines as much as possible – around 70 per cent each season.
I was surprised to learn that the ship can go faster under sail than when powered by its engines – who knew?
This beautiful ship turns heads wherever she goes – while we were at tender in Cowes and Plymouth, a steady stream of yachts took the opportunity to get up close and personal with the good ship Horizon.
By the way, if you want to talk ship with the captain, there's an open bridge policy at Tradewind Voyages so you're free to chat to Captain Szalek and his officers, as long as they are not undertaking important navigational manoeuvres.
In the coming months, Golden Horizon will sail to off-the-beaten-track locations around the world including the Mediterranean, the Caribbean, Indonesia and Australasia.
'People appreciate the fact that it's a large ship with a boutique feel and lots of amenities – the masts may be classic, but it's extremely 20th century underneath' Alan McGrory, CEO, Tradewind Voyages
Out on deck is where it all happens
Well it would be rude not to, wouldn't it?
Golden Horizon is an intimate, authentic sailing vessel which captures the romance of maritime traditions from years gone by, so you won't find gimmicks, waterparks, robot bartenders or casinos on board.
Many of the guests are sailing enthusiasts and they aren't too bothered that there are no stabilisers on the ship (usual with this type of vessel but those without reliable sea legs might want to take note) – they actually enjoy a bit of swell and to feel movement, although they were out of luck until the last night when we sailed back to Dover and it was a little bumpy!
With wooden decking as far as the eye can see, the split-level top deck is the hub of the ship and there's always something going on – the ropes and winches which set the masts are fascinating (and make for great pics), while the popular pool bar buzzes of an evening.
There's plenty of sun loungers, and deck games and yoga classes at certain times – there's little better to set you up for the day than a downward dog al fresco, let me tell you.
The decor is nautical but very nice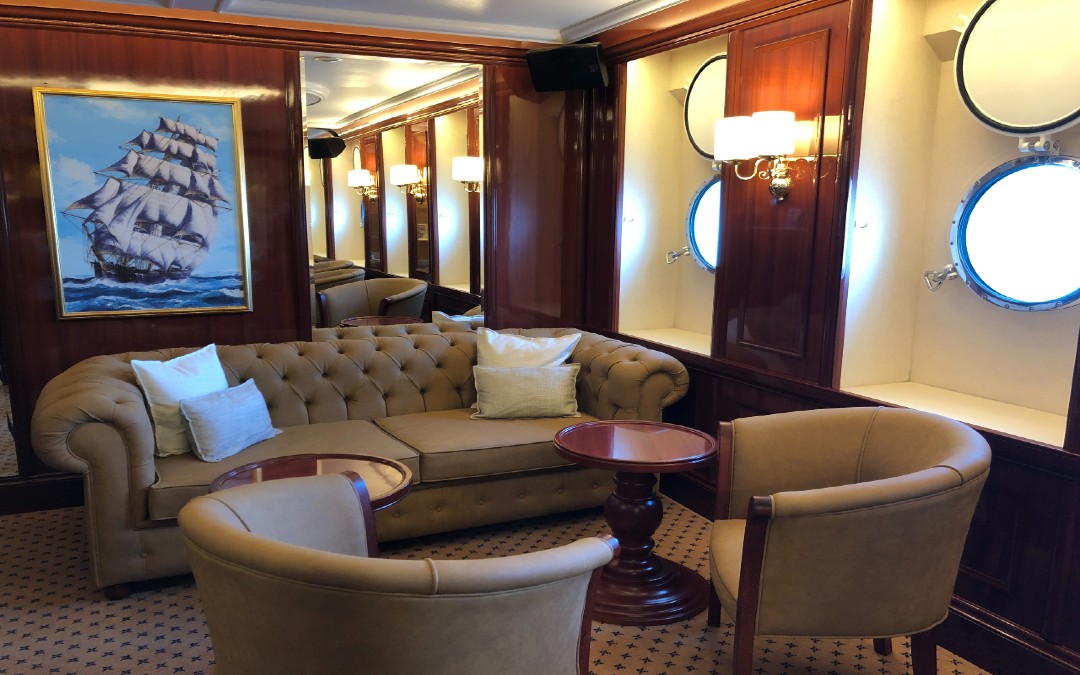 The whisky bar shows off the ships' nautical design to great effect 
The ship's interior is elegant and traditional with nautical knot carpeting, teak wood furnishings, gleaming brass and maritime paintings. Note, however, that there's no lift on board.
There's 140 sea facing cabins in total, ranging from porthole cabins to single cabins and balconies, plus four budget-busting luxury suites with fireplaces and butler service. Children aged nine and over are allowed to sail.
My porthole cabin (no balcony) on the gallery deck was very homely with all the creature comforts you need – a large double bed with huge pillows, a gold and marble bathroom with Noble Isle toiletries and a powerful shower, robes and slippers, complimentary mineral water, tea and coffee making facilities, WiFi, USB charging points and a TV with free movies for rainy days.
Wellness and watersports are a focus
Like being active when on a cruise? This could be your perfect ship, as there is an excellent watersports marina platform staffed by knowledgeable crew and located at the stern.
Complimentary activities on offer include stand up paddle boarding, snorkelling, kayaking, sea bobs (for an additional charge) and windsurfing.
You can also swim depending on the conditions, and there's wetsuits on hand should you need them.
A pretty unique feature is the 4.35 metre saltwater dive pool where you can enjoy a taster scuba session or even work towards your PADI qualification.
There's also a good-sized spa using marine-based Thalgo products and offering facials, body wraps, pedicures and a hydrotherapy bath. It's well worth making time to enjoy the free facilities including sauna, Hammam and snow room – something you might well have to pay for on other lines.
Tradewind Voyages' 'Eat Well, Live Well' ethos means that food is simply prepared and veering towards the healthy – fresh, seasonal produce is served when possible, and there's a good choice of options for vegans and vegetarians.
Actually, the menu isn't lacking in indulgent treats, although those wishing to watch the waistline can opt for a fresh fruit plate instead of a calorific dessert.
Shhh! Don't say we told you but in the very unlikely event of mid-afternoon hunger pangs, the piano lounge serves a small selection of canapés and cakes.