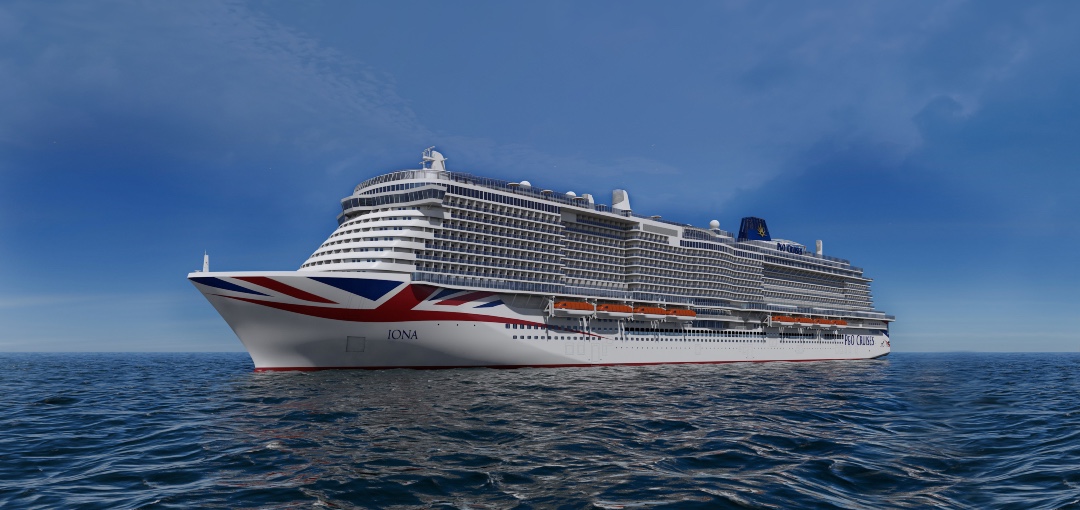 She's a whopper! Britain's Biggest Ship Iona Sails Into P&O Cruises' fleet
P&O Cruises' new ship Iona is the biggest ship ever built for the British market and has a SkyDome, gin distillery and even a hidden nightclub
We all know that size matters – especially when it comes to cruise ships. And we're all in for a huge treat now that P&O Cruises has welcomed Iona, the biggest ship ever built for the UK market, into its fleet.
The mega-ship was originally scheduled to become P&O Cruises' flagship last April, ready to set sail to the Norwegian fjords on her maiden voyage this summer.
Instead, after months of waiting and delays because of the coronavirus pandemic, the 5,200 passenger ship was handed over in an official ceremony with Meyer Werft shipyard in Germany on 9 October.
Weighing in at a whopping 185,000 tonnes, measuring 345m in length and with 17 passenger decks, Iona is set to showcase her ground-breaking facilities on board on her maiden season heading to Northern Europe, Spain, Portugal and the Canary Islands.
Sailing to Norway, around the Mediterranean and to the Canaries for some much-needed winter sun, the newest member of Britain's favourite cruise line offers everything you could wish while exploring the world.
But with a spectacular 'pleasure dome' on the top deck packed with innovative onboard entertainment and state-of-the-art facilities, Iona will make it hard for guests to prise themselves off the ship to go ashore.
P&O Cruises president Paul Ludlow said: 'Iona's delivery is a very positive signal for the future of cruising.
'She is now officially part of the P&O Cruises fleet and we are focused on readying her to welcome guests during her new maiden season to Northern Europe, Spain, Portugal and the Canary Islands from our home port of Southampton.
'While our operations are currently paused until early 2021, Iona will not be sailing for the moment but we look forward to our guests experiencing this game-changing ship as we will continue to offer unparalleled holidays at sea while also upholding the latest approved travel protocols.'
Promising the wow factor at sea, Iona's crowning glory, the SkyDome on decks 16 and 17, has a 'hidden' nightclub, a four-screen cinema, and pool with a retractable stage. There will also be nightly aerial performances, immersive shows, informal dining and deck parties.
The glass dome, which has been designed by award-winning British engineers Eckersley O'Callaghan, the team behind London's Embassy Gardens Sky Pool and Bulgari's flagship New York boutique and is the first of its kind at sea, means the show can always go on whatever the weather.
Designed to let passengers have the best possible views while cruising through some of the world's most spectacular regions, guests also have a vantage point from the stunning three-deck-high Grand Atrium, which has glass walls to allow panoramic views and let the sunshine and natural light flood in.
The Grand Atrium is also home to P&O favourite, The Glass House, with a curated wine list and menu from wine expert and food writer Olly Smith, afternoon tea from P&O Cruises Food Hero and celebrity master pâtissier Eric Lanlard, while contemporary Indian fine dining restaurant Sindhu will feature along with Brodie's Bar – just four of the 30 venues to eat and drink onboard.
With so many dining options, there's a sports deck with a retractable glass roof, to help passengers stay in shape. There are also four swimming pools, and 18 whirlpools, along with a wrap-around promenade deck for walks – or runs – in the sea air.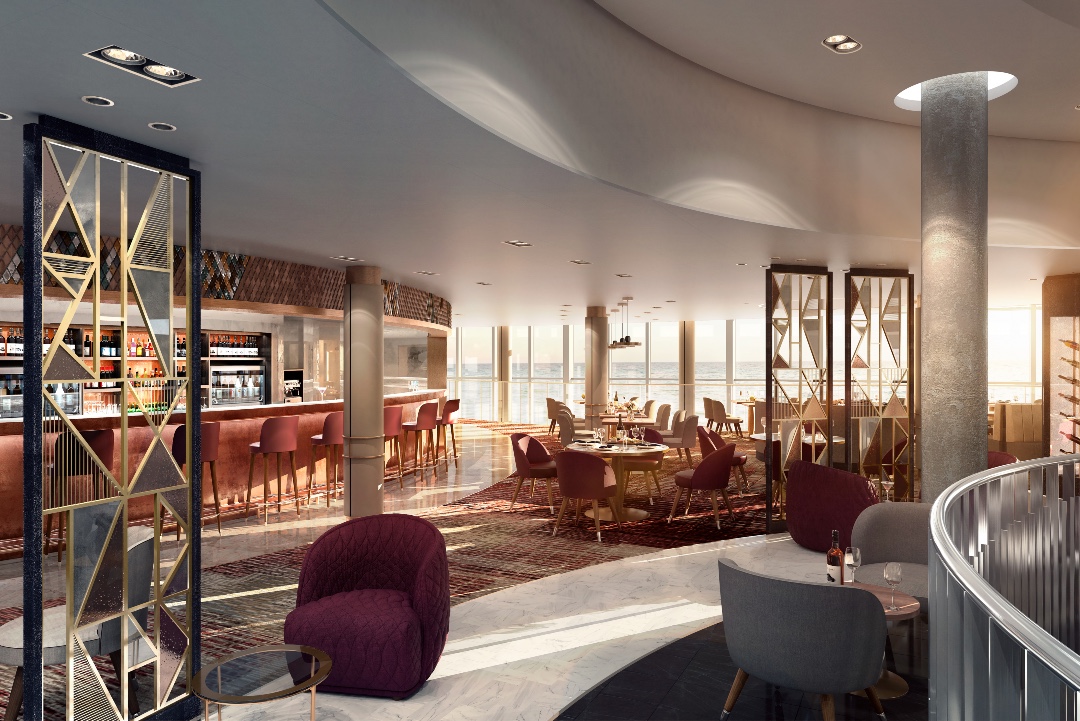 The Glass House on Iona has a curated wine and food menu from Olly Smith
In a ship of so many firsts, it's no surprise that Iona is the first in the fleet to have 'Conservatory Mini-suites' which bring the outside in thanks to a versatile and flexible new space.
Iona has 95 of these suites which have a conservatory-style extra room that can be used as an entertainment extension to the cabin or an outdoor place to chill.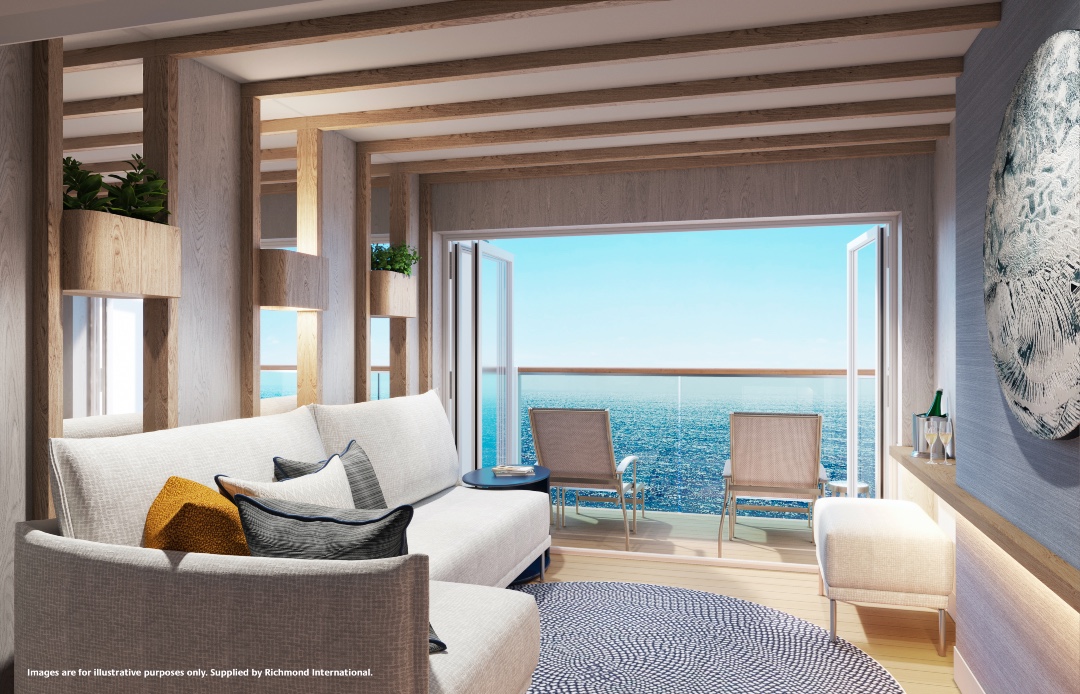 Iona's world-first Conservatory Mini Suites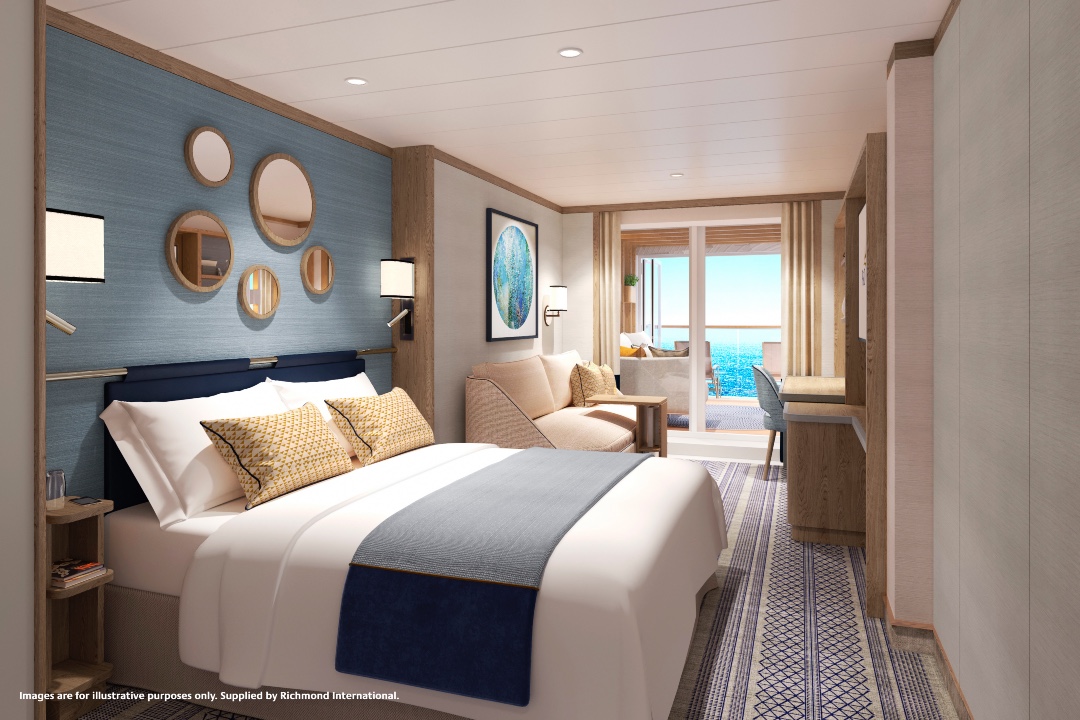 The space is ultra flexible to bring the outside in
Ludlow said: 'Iona's Conservatory Mini-suites certainly make the sea the star, creating a peaceful and flexible space for our guests to enjoy a wonderful ocean view, feel cocooned and breathe the sea air. From sunrise to sunset, these cabins offer our guests a tranquil escape in luxurious surroundings.'
Iona – named after an island in Scotland's Inner Hebrides and which celebrates the geographic diversity of the UK­ – is packed with environmental innovations, too.
She is powered by liquefied natural gas (LNG) both at sea and when at port, significantly reducing greenhouse gas emissions and helping to protect the environment.
She's already making such a splash in the cruise industry that a sister ship for Iona will be launched in 2022.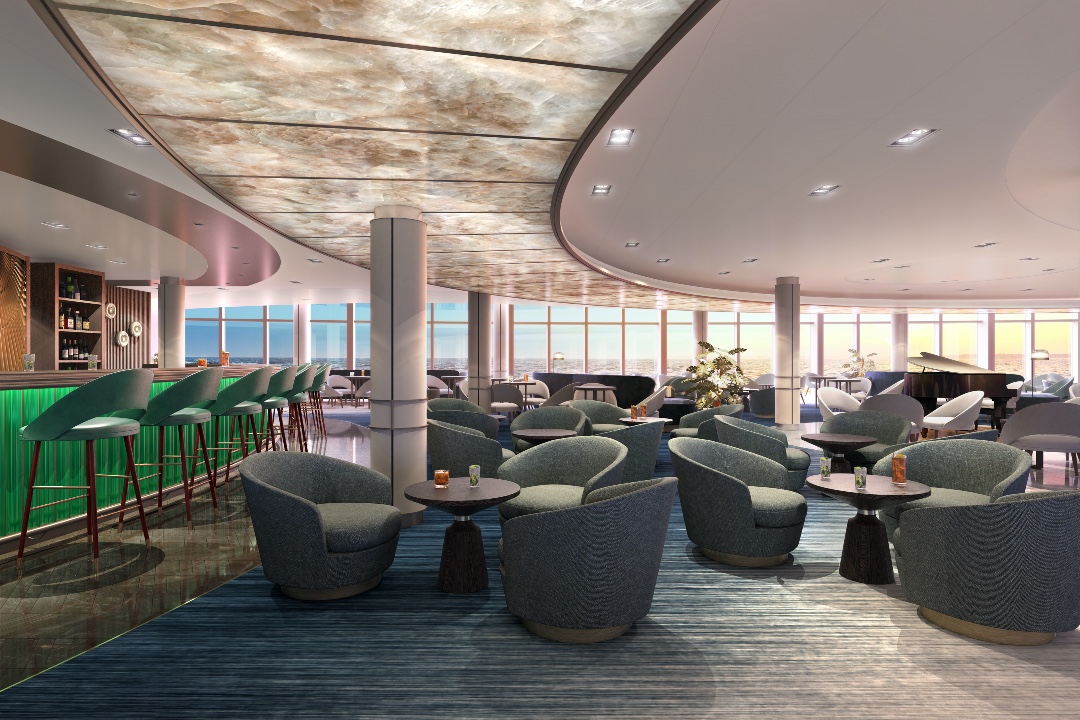 Time for a tipple onboard Iona in the cocktail bar 
From a fun gelateria serving award-winning ice cream to The Quays, a multi-venue dining piazza, The Boardwalk Diner where American classics meet Southern soul food (think hot dogs, eggs over easy and southern-fried chicken with a side of slaw) and Fusion, full of authentic Asian dishes, there's plenty for all the family to enjoy. And most come with dramatic sea views, of course.
Iona also offers plenty to entertain children from toddlers to teens. The Reef onboard activity programme keeps children aged six months to 12 years happy throughout the day and evening.
Scene gives teens aged 13 to 17 their own cool place to hang out, while the Night Nursery allows parents the chance to enjoy Iona's extensive array of dining and entertainment options without little ones in tow.
There's also The Club House where families can play games and enjoy entertainment and game shows, family-friendly shows in the Headliners Theatre and extraordinary pop-up performances, including aerial and circus performances, in the Grand Atrium and SkyDome.
And once you venture off the ship there are plenty of new shore excursions aimed at families. Why not try one of the following?
Explore the Atlantic: What wonders lie in the depths of the Atlantic Ocean? You can find out (without getting wet) in Norway's Ålesund on the Atlantic Sea-Park On Your Own shore experience. The Atlantic Sea-Park, one of Europe's largest saltwater aquariums, is built into the coastline and offers scenic views across the ocean to the nearby islands. Gaze into 11 large landscape aquariums filled with north Atlantic sea life from various ocean depths. There are opportunities to get hands-on at the open touch pools, watch the seals and penguins play and peer into the gargantuan tank that holds seven million pints of seawater.
Float through a Fjord:  Kids – young and old! – will love connecting with the wilderness as they explore the waters of the Geirangerfjord – one of Mother Nature's masterpieces – on the Geirangerfjord Kayaking guided adventure in Norway. They will hear fascinating stories of the region as they glide by crashing waterfalls and tiny farms clinging to the emerald hillsides. At Preacher's Pulpit, they will peer up at the sheer cliff face that climbs almost 610m into the sky from their vantage point on the fjord. They can also fill their lungs with the pure air and gaze out towards the famous Seven Sisters waterfall, which thunders dramatically down the mountainside.
Zip through the treetops: What do zip-wires, bridges, Tarzan swings, a flying car and a spider's web have in common? They can all be found on the In Between Branches adventure in Cádiz, in Spain. Located in the Roche pine forest, just a stone's throw from one of Cádiz's most beautiful beaches, the Entre Ramas Adventure Park offers hours of fun for families with 58 games spread over six circuits of varying degrees of difficulty. Families will be given a demonstration and a safety briefing by specialised instructors who will teach them to move safely through the park, before heading off on an adventure that will have them climbing ladders, balancing on bridges, soaring between trees on a zipwire and more.
Have a ball: No matter which team they support, a visit to Camp Nou – Europe's largest football stadium – is sure to be an unforgettable pilgrimage for any football fan. Camp Nou is home to F.C. Barcelona, known locally as Barça, which has more than 100,000 members. The stadium was built in 1957 and extended in 1982 to accommodate an astonishing 98,000 fans. On arrival at the stadium, guests will walk through the visiting team's changing room and continue along the corridor where players enter onto the ground. They can also check out the press and interview rooms and the Barça Museum, which displays memorabilia and trophies.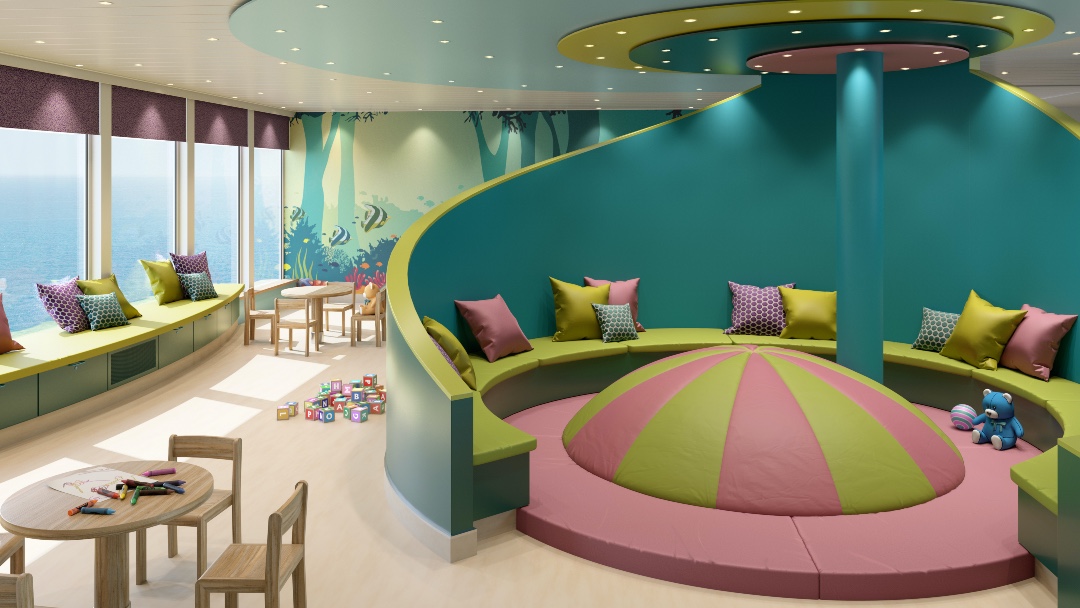 Iona's nursery is a fun place to be at sea
A 12-night cruise (G201) on Iona departing Southampton on 3 January, 2022 to Spain and Portugal starts from £779 per person, calling at Gibraltar, Alicante, Barcelona, Cadiz and Lisbon. Prices are based on two adults sharing an inside cabin on full-board. A seaview cabin starts from £899pp per person.
Visit www.pocruises.com or call 03453 555 111