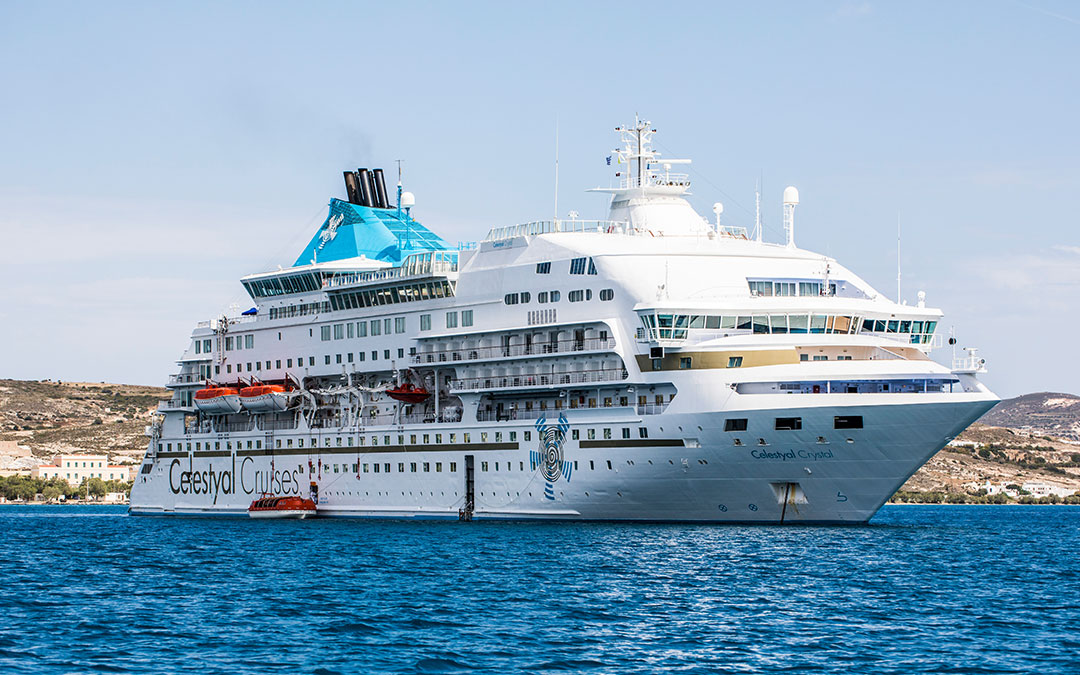 'You visited how many islands?!' Hopping around the Aegean sea in style with Celestyal Cruises
Hopping around the Greek islands doesn't need to be a logistical nightmare – in fact, cruising on Celestyal Crystal is a total breeze
We're descending the steepest of stairs. 588 stairs to be exact. As we go, we navigate ascending tourists, slippery stones (with the potential to take us down if we're not careful), donkeys and equal amounts of donkey dung.
It's a bit of a mission, but the only alternative to waiting in the extremely long line of cruise passengers for a cable car.
While I'm worried about slipping, I'm equally distracted by the stunning view of Santorini's famous caldera, created 4000 years ago, right in front of me – it seems incredible to think that riding a donkey up or down the stairs was once the only way to reach Santorini's capital, Fira, which sits at an altitude of 220 metres.
Twenty minutes later and we're back on terra firma at the Old Port, waiting for the tender to take us back to our home for the week, Celestyal Crystal.
Accommodating 1200 passengers and with nine decks, Celestyal Crystal is one of the Greek cruise line's two vessels sailing around the Greek islands. It's quite a traditional looking ship, with classic teak decks and an intimate atmosphere.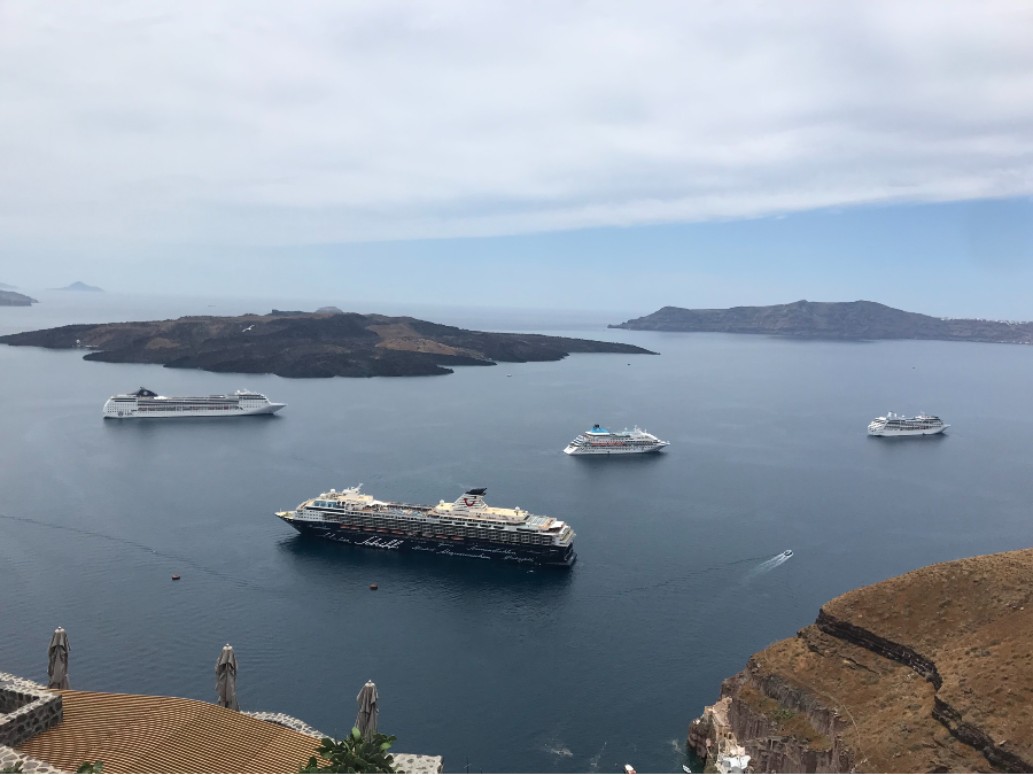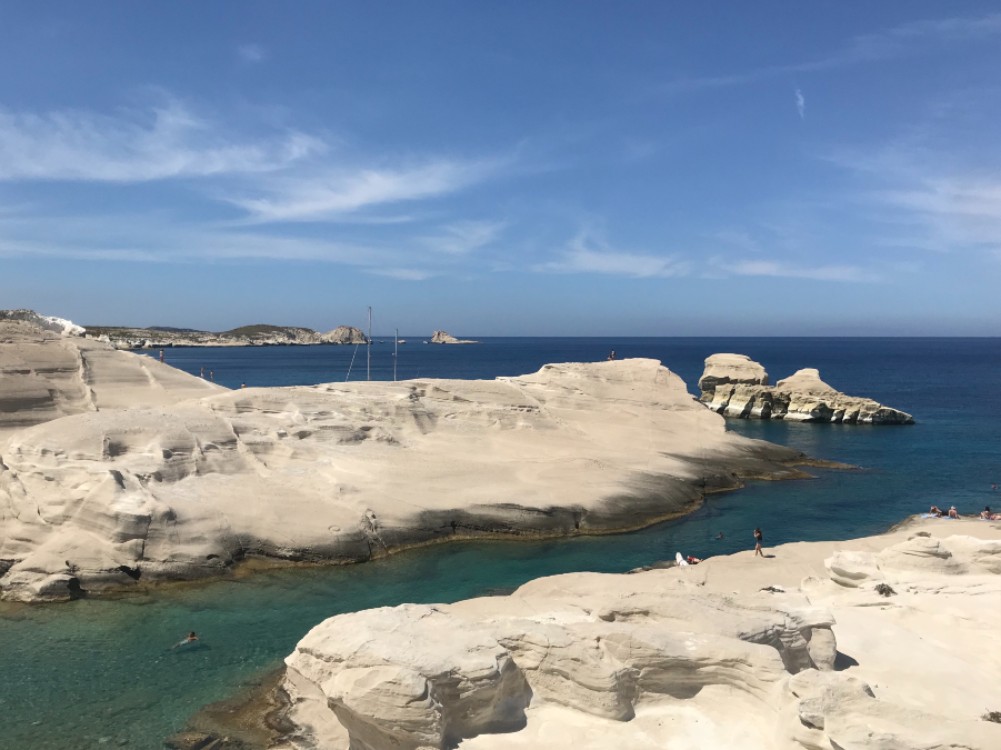 Sun worshippers may find it useful to know that there are no loungers around the small pool, but there are plenty of loungers at the aft on decks 6, 7 and 8.
The line cruises in the Greek islands, the East Mediterranean and the Adriatic, with the Greek cruises loved for their ports of call, plus the excellent value, all inclusive packages that include all meals and drinks, selected excursions, service charges and gratuities.
Crystal is by no means the most contemporary, luxurious or high tech of vessels, but most people are on board for the destinations, and the length of time the ship stays in some ports. Let's face it, there are a lot of stunning Greek islands, so a cruise is a brilliant way to tick off a few in one go.
There are not many balcony cabins on board, but nevertheless rooms are spacious, homely and always spotlessly clean thanks to the highly efficient and helpful cabin stewards. 
On our 7-night Idyllic Aegean cruise, the ship overnights in both Santorini and Mykonos, an absolute bonus when you're in destinations that have as much to offer visitors when the sun goes down as during the day.
Sailing out of Piraeus, our itinerary calls at five destinations in total – Mykonos, Milos, Santorini, Heraklion and Kusadasi (Turkey). Sounds hectic but the pace is perfect and gives you more than enough time to see the highlights.
Glad to be back in cosmopolitan Mykonos, we wander around town and Little Venice before the early summer heat builds, then relax on Platys Yialos beach near the new cruise port where we're docked, before a stray rain shower prompts us to make an early-ish return to the ship for dinner.
With the entire evening at our disposal, we decide to dip our toes in Mykonos' infamous nightlife. We head back out for a stroll around the now buzzing cobbled streets before stopping for a couple of drinks at the colourful and theatrical Lola's bar. It's such a relaxed few hours it almost feels as though we aren't on a cruise at all.
There are not many balcony cabins on board, but nevertheless rooms are spacious, homely and always spotlessly clean, thanks to the highly efficient and helpful cabin stewards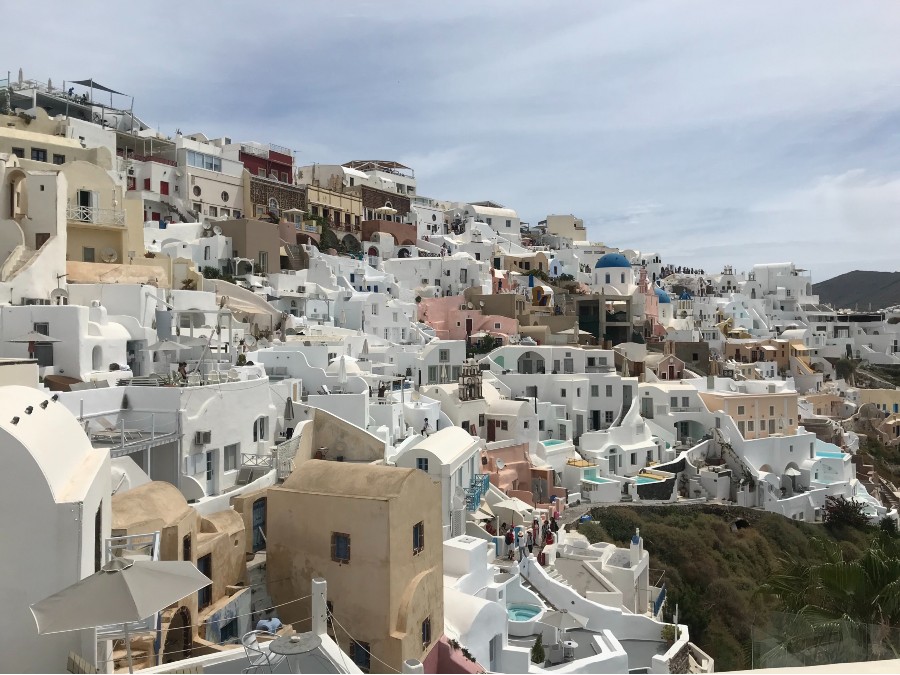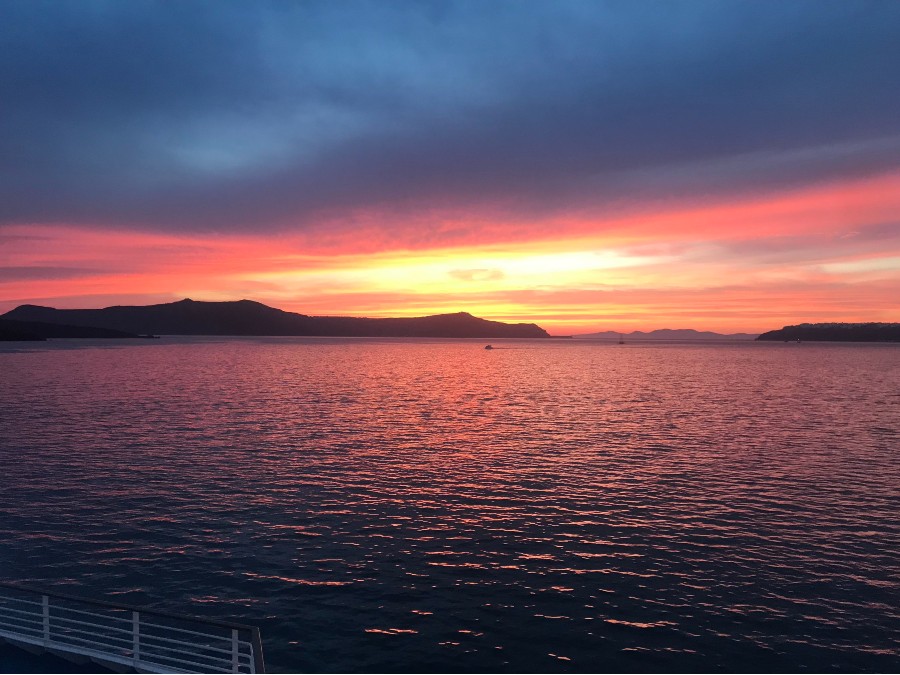 With two formal dining rooms and two buffets, you have plenty of choice when it comes to food. We stick to the buffet for breakfast and lunch for the sheer selection of often locally-inspired food and the option to dine al fresco.
Both formal restaurants offer local fare, a pleasant atmosphere and are generally of a good standard – my partner doesn't drink, but I really enjoy the local Greek rose wine, while the desserts are worth a special mention of their own.
Evenings on board are as low-key or lively as you want: kick back with a cocktail under the stars at the Thalasso bar at the ship's aft, watch a show or throw some shapes on the dance floor with friends. Just be warned – with no sea days in which to recover, you burn the midnight oil at your peril…
If the pace does get a bit too much, the spa is an excellent place to unwind, and unlike some of the larger ships, prices are very attractive – I enjoyed one of the special deals which included a back, neck and shoulder massage, facial massage and scalp and foot massage. Utter bliss.
Tendering just outside Milos, we are taken aback by the incredible lunar landscapes at Sarakiniko beach and make time for a swim in the inky Aegean Sea. Relatively under the radar, Milos will soon see more cruise ships including this Cycladic island in their itineraries following a recent tourism drive, with Celestyal leading the way last year.
It's a brief but thoroughly enjoyable visit, and later that evening, as we have a midnight departure, we're back on the tender to sample the island's laidback nightlife, with harbourside drinks, followed by a leisurely stroll around the town.
The following evening, we get to experience the much talked about poolside barbecue, which sees a swarm of hungry passengers feasting on slabs of prime meat with healthy salad accompaniments, teamed with local Greek music and of course desserts including the traditional favourite, sweet and sticky baclava. It's a lively and popular evening, and we round off our feast with a cocktail in the Thalasso bar.
Kusadasi (Turkey) provides one of the cruise's cultural highlights in the impressive ancient city of Ephesus, where we wander the expansive grounds and view the immortal relics of the Hellenistic, Roman and early Christian era. Visiting in early June, we are also thankful that the summer heat hasn't fully kicked in.
We round off our trip with more culture and a visit to Athens' most valuable asset, the Acropolis, followed by a hearty lunch at the contemporary Greek restaurant Manh Manh nearby, before heading to the airport to catch our flight home.
I last visited the Greek islands eight years ago, and this excellent value cruise has made me wonder why I hadn't returned sooner. One thing's for sure, I definitely won't be leaving it so long next time.
An excellent value way to island hop
The all-inclusive experience means little nickel and diming
The two overnight port stops
Locally-inspired cuisine for every taste
The service, especially from the cabin stewards
Sarakiniko beach on Milos – mystical and moonlike
The international vibe of Mykonos town
The caldera views on Santorini
Athens: make sure you book a pre or-post cruise stay as this historical city has so much to offer
A seven-night Idyllic Aegean cruise on Celestyal Crystal round trip from Athens costs from £759 per person based on a 3 April 2021 departure. The price includes all meals and drinks onboard, three shore excursions, port taxes and gratuities. Call Celestyal Cruises on 0800 411 8038 or visit celestyalcruises.uk