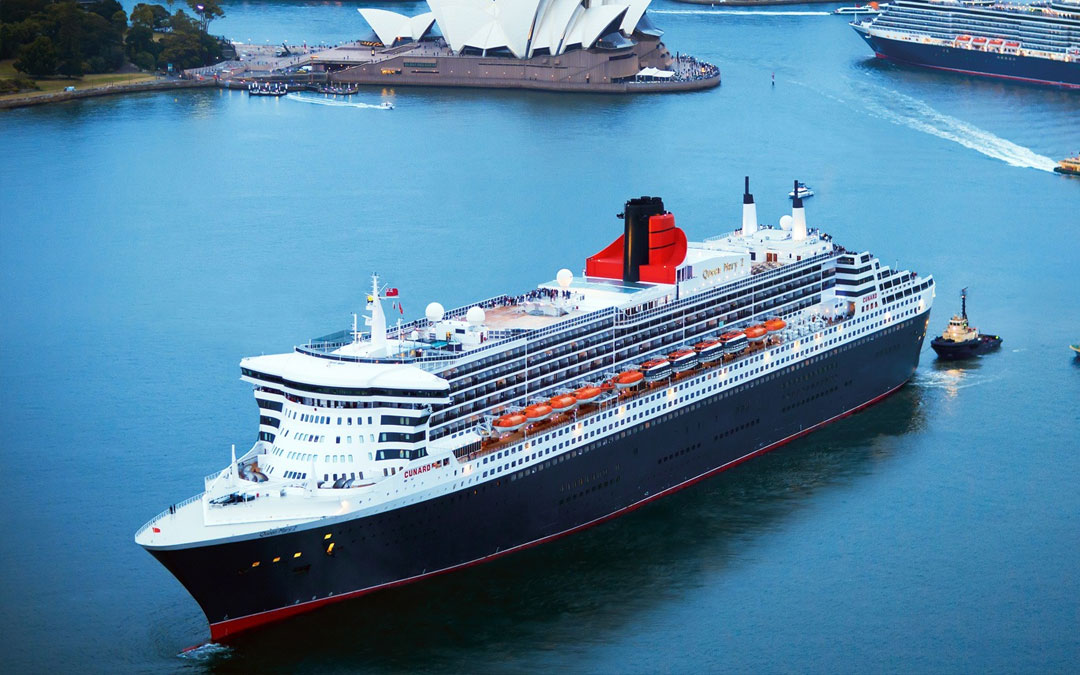 The romance of a transatlantic crossing on Cunard's iconic QM2
It didn't take much for Queen Mary 2 to win over steadfast anti-cruiser James Brown, when he embarked on a transatlantic crossing on the flagship liner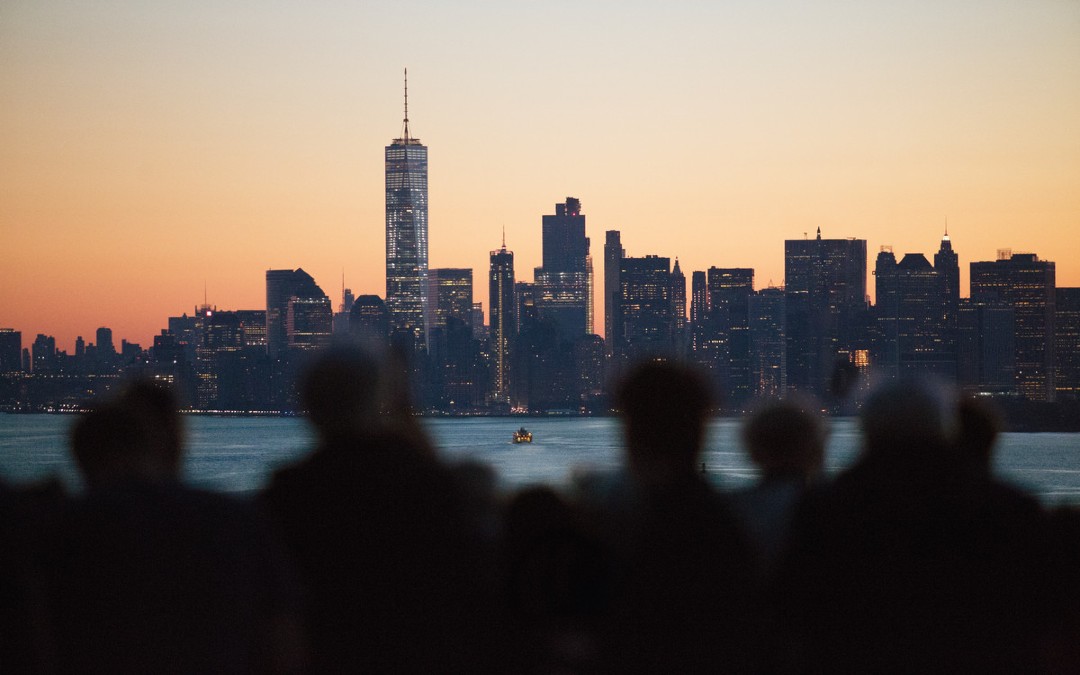 A transatlantic crossing is a special way to visit the Big Apple
I'm not going to mess around with some nautical-themed introduction, I'm just going to come out and say it: I loved my transatlantic crossing on the QM2. In fact, I've been quite evangelical ever since, and have recommended it to lots of friends, particularly those who are curious. 'I've heard that it is good, would you do it again?' 'Yes, absolutely and you should too. It's a great way to get to New York.'
Part of the satisfaction came from this not being my kind of thing, and the surprise at how much I warmed to it. I was last on a cruise ship 25 years ago, sailing from Hong Kong to Mumbai for a newspaper story on the maiden voyage of P&O Cruises' Oriana. I remember we visited many ports and countries but it essentially felt like a hot beach holiday at sea, and after a while the food started to taste the same and the casino seemed the only place to go at night.
By day eight we had started hiding from people we didn't want to see any more. There was lots of sunbathing and free ice creams but also regular moments when my then wife and I would stand in a totally empty, unstocked bar, and wished there were more people our age to play and drink with.

I'm now 54 and the crossing felt more momentous. With nothing but grey late Autumn waves to look at for a week, the ship had to hold its own in terms of interest and entertainment – and it did. There were things I felt very comfortable with like the library, the spa and the sea, and things that were new to me, such as wearing a jacket and tie for dining with people we'd never met before. 
We were so engrossed we didn't notice we'd begun to slip away from dock. As a kid I crossed the North Sea by ship eight times in four years, so there was a nostalgic feel to leaving the port behind
Checking in at Southampton port had only heightened my initial sense of not being part of this scene. The huge corrugated structure was full of people, but I was impressed with how quickly we were processed. Much easier than an airport.
On board, we mustered and were given a safety talk. Then we were off to our stateroom where an attendant called Rommel explained that there was free 24-hour room service, and after that I didn't really remember anything else he said – I was too busy fantasising about midnight snacks. Although as it turned out, the quality and availability of food in the restaurants meant we only used it twice. 

We acclimatised to our floating home and set off to explore what a transatlantic crossing and the QM2 had to offer. The decor in the public areas included rich burgundies and browns with gold handrails and lots of helpful signage. There was a luxury retail area and glass cases boasting displays of Godiva Chocolates.
The stairwells and larger walls feature interesting information about the history of the ship, the various transatlantic speed records and so on. We were so engrossed we didn't notice we'd begun to slip away from dock. As a kid I crossed the North Sea by ship eight times in four years, so there was a nostalgic feel to leaving the port behind.

Despite being as slim as a cricket stump, my girlfriend Em loves buffets and it took little encouragement for her to investigate. After a quick tea, we set off to explore as many decks as possible including a guided tour of the spa, during which, in the cause of investigation, I put myself down for a seaweed wrap. This turned out not to be a vegetarian snack at all, but, in fact, a detox treatment in a flotation tank.
I would come to spend a great deal of time in the Canyon Ranch Spa. It was high-end expensive but the massages were excellent. The pool was more plunge and relax than doing lengths and there were three different types of sauna and steam room.  
When the weather kicked up mid-crossing you could lie on a massage bed and not know a thing about the size of the seas – you noticed it more when in the pool, but even then it was more warm, exciting wave machine than anything to worry about.

At the queue for dinner, I was surprised to notice my crew neck jumper and smart shoes and trousers weren't going to hit the mark, so I popped back to put on a jacket, shirt and tie. I returned to find we'd been seated with two other couples who had ticked the box saying 'mixed company'.
Our dining companions included a hotel owner and his new girlfriend, an immigration lawyer from London, and a retired property developer and his wife from Surrey. We had enough different experiences and stories to tell that the coming together made for good company which was a relief. We ended up eating together three times.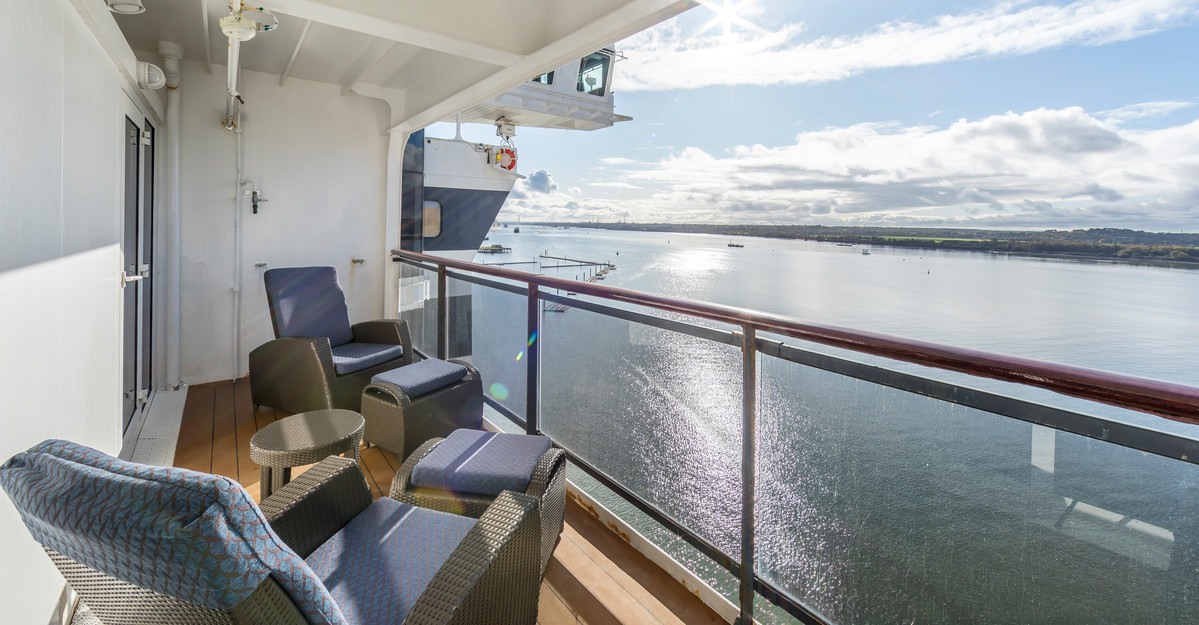 One of the suite balconies on QM2
Em and I dined twice in the buffet and once in the more upmarket dining room, where the waiter proudly told me the carving knives were from Sheffield, like it was a magical place. At all levels the food was good, the buffet and fine dining room very good. On the eve of our departure an American friend had told us to 'get ready to eat,' and sure enough, the meals were appetising and varied enough to keep us coming back in anticipation. 

As well as the food, we enjoyed walking all the way round the ship on the promenade deck, doing yoga, watching the high seas from the games room and reading on our balcony with a blanket over our legs.
Every lounge invariably offered tea and cake, some with quiet musical performances. When not reading, eating or walking, I'd spend a lot of time just looking out to sea. A transatlantic crossing and the ocean, even in autumn when there's no sun to illuminate it, is engrossing. 

We met some really interesting people on the decks and in the dining areas, including serial cruisers and Atlantic crossers, and never really wanted for anything. I came away a total convert.
One of the best things about our journey was New York at the other end. We docked in Red Hook in Brooklyn, took some final deck photos in the hot morning sun, and headed to our AirBnB before exploring the shops and cafes and walking to the playground named in tribute to my old friend, the late Adam Yauch of the Beastie Boys.
New York had a lot going on at the time that you won't find on a cruise ship, from the Velvet Underground exhibition to a rare live performance of Generation Sex (half Generation X, half Sex Pistols) – it was a nice change of pace.
After a few days in Brooklyn, we moved on to Greenwich Village and watched films and bands and did all the things I normally love doing in New York. The big difference was in the past I'd always raced to get there. This time, we took our time on the QM2 and it seemed all the more exciting. I will definitely do a transatlantic crossing again.
A seven-night Westbound Transatlantic Crossing on Queen Mary 2 (M019) costs from £989 per person based on a 19 April 2021 departure from Southampton, including flights. Visit www.cunard.com or call 0344 338 8641